Cheapo Vegas - Casino Boy's Las Vegas Hotel Deals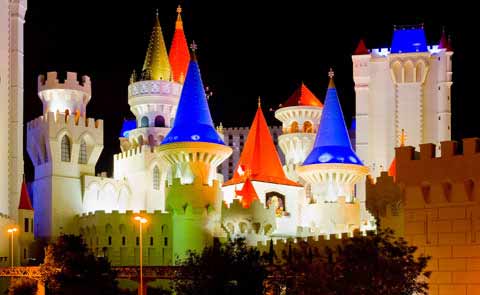 Most Popular Hotels in Las Vegas
Las Vegas hotels can get quite expensive, but some of them top the charts when it comes to guest satisfaction. From the high quality service to the luxury suites and all the fancy amenities in between. These Vegas hotels house the elite, and somehow not even the snootiest find a way to complain. Check out Las Vegas coupons for a great value on rooms at these luxury Vegas hotels.
Wynn Las Vegas: This is one of the Las Vegas hotels that will never disappoint, unless you're broke, then you probably won't even have a reason to be there. If you have the cash, the rooms, the casino, the restaurants and the nightclubs are some of Vegas' favorites. Who knows, if you hang out here long enough people might even assume you're rich and someone might talk to you!
Caesars Palace Las Vegas: One of the most iconic hotels on the Las Vegas Strip (No, Ceasar didn't actually live there), guests of the Caesars Palace Las Vegas are given the royal treatment at fairly reasonable prices. With so much to do at Caesars Palace, you may never leave the hotel. Between the hilarious show Absinthe, the Colosseum and the beer garden on the Spanish Steps, guests are sure to have a great time.
Off-Strip Hotels in Vegas
Staying off the Vegas Strip has it's advantages. You probably get more bang for your buck and experiance the original Las Vegas. Plus, you can easily go to the Strip and ruin someone else's sleep, but not too many people will be doing the same to you.
Hard Rock Hotel & Casino: Like any other hard rock music-centered joint in America, this place attracts a younger party crowd. Yeah, you'd think most of the 21 year olds stay on the Strip, but this is one of the Vegas hotels that attracts young people looking to meet other young people. They know all about this joint's reputation and the good times always roll at Hard Rock.
Rio All Suite Hotel & Casino: The Rio isn't too far from the Vegas Strip, you could even walk there if you wanted, but there's a shuttle for us lazy bones that don't care for all the extra walking after pigging out at the buffet all afternoon. The rooms are spacious and there's a ton of them. If you don't like the Las Vegas view you get from your room, ask for another room with one of the other 50 billion views they have.
Las Vegas is home to some of the best hotels and Casino Boy knows about all the best Vegas hotel deals for any and all travelers. Whether you're looking for great family-friendly Las Vegas hotels, luxury Vegas hotels, or the cheapest of the cheap Vegas hotels, you can find them here on Cheapo Vegas. Casino Boy will help you discover the truth behind all the fluff Vegas hotels like to feed tourists so you can be sure to have the best Las Vegas experience. He also has the inside scoop on getting the best cheap Las Vegas hotel rooms and Las Vegas coupons around - perfect for all you thrifty Cheapos out there!
Hotel Information
Hotel Rates

1 Promo

Address:

3735 Las Vegas Blvd S Las Vegas, NV 89109

Address:

3799 Las Vegas Blvd. South Las Vegas, NV 89109

Address:

3131 Las Vegas Blvd. South Las Vegas, NV 89109

Address:

2880 Las Vegas Blvd. South Las Vegas, NV 89109

1 Promo

Address:

3730 Las Vegas Blvd S Las Vegas, NV 89158

1 Promo

Address:

3850 Las Vegas Blvd. South Las Vegas, NV 89109

Address:

3950 Las Vegas Blvd. South Las Vegas, NV 89109

Address:

3555 Las Vegas Blvd. South Las Vegas, NV 89109

Address:

3600 Las Vegas Blvd S Las Vegas, NV 89109

Address:

3355 Las Vegas Blvd S Las Vegas, NV 89109

Address:

3900 S. Las Vegas Blvd Las Vegas, NV 89109

Address:

3400 Las Vegas Blvd Las Vegas, NV 89109
Ah, Las Vegas hotels. Full of all the fun, excitement and money throwing you can think of. Well, maybe not all of those things you can think of, but there's a lot of it. When people come to Vegas, they spend most of their time in at least one of these hotels, and a usual trip will have them bouncing from place to place. This is the one city where the hotel is the reason to travel. Hotels are a great reason to travel, but don't take travel tips for granted, even if you're a seasons Vegas veteran!
Some of the most popular Las Vegas hotels are known for their convenience, amenities, and friendly staff. These hotels go out of their way to make sure guests enjoy their stay, but that costs a pretty penny in Las Vegas. Hotels like the Aria, the Wynn, and the Bellagio never fail to please, ane even us Cheapos can afford to stay there with great Las Vegas deals.
There are also middle of the line Vegas hotels that all offer different amenities, be it convenience, a great casino, good restaurants or a bathroom with a sewing kit. The MGM Grand, Hard Rock and Monte Carlo all have some good features and you can probably stay for under $100 a night.
Our favorite hotel category is of course all the cheap Vegas hotels scattered throughout the city. Yep. You can come to Vegas and still have enough money at hand to drink heavily and gamble excessively, assuming you have money to do that with, of course.