Circus Circus Las Vegas
Golly gee whillikers, please don't send in the clowns! Or any more of those awful children!
---
A Quick Look
Location: The Strip
Hotel Class:

Room Price:

Hotel Size:3,773 rooms
Casino Size:100,000 sq. ft.
Gaming:Yes
Nightlife: No
Pool:

Buffet:

Best Show:
---
Book Now

Circus Circus Deals
AAA Members Save 10%
From $22 a night!
Save 10% with your AAA card at the Circus Circus with this special offer! Find rooms from under $22 a night through 2012 when you book 2 nights or more in Las Vegas!
Booking Directions:
Click on the green "Use Promo" button to the right... Locate and click on your desired promotion... Choose your dates and book your deal!
Offer Expires: 131 days
Promo Code: NAAAX2
Use Promo
iHeartRadio Summer Smash Sale!
From $25 a night!
Attending the iHeartRadio Music Festival this September? Save 40% on hotel rooms, plus receive a discount-friendly coupon book with over $150 in savings when you book a room at Circus Circus with this special offer! Rooms start from $25 a night!
Booking Directions:
Click on the green "Use Promo" button to the right... Locate and click on your desired promotion... Choose your dates and book your deal!
Offer Expires: 131 days
Promo Code: XIHRT12
Use Promo
$15 Food and Beverage Credit at Circus Circus
From $23/night!
If you're going to stay at Circus Circus, might as well get a food and beverage credit! Use this promo code for a stay through January, 2013 and receive a $15 food and beverage credit! Rooms start as low as $23 a night.
Booking Directions:
Click on the green "Use Promo" button to the right... Locate and click on your desired promotion... Choose your dates and book your deal!
Offer Expires: 6 days
Promo Code: ZFBF12W
Use Promo
The Skinny
Circus Circus Las Vegas is still as fresh as it ever was and there are still kids everywhere. Because of its highly recognizable name, awesome skyline and relatively cheap rates, Circus Circus Hotel and Casino often draws people for their first trip to Vegas. And if your family is big enough, for their second, third, forth and ninth trips. It's perfect if you're traveling with small children that you want to leave unattended.
Reviews
Most Recent Reviews
Our user reviews are from real registered users.
Quick Facts
Near Attractions
Check-in at 3pm
3000+ Rooms
Check-out at 11am
High-Speed Internet
On-Site Restaurant
Near Restaurants
Parking
Check-In Age - 21+
Info
Location:
2880 Las Vegas Blvd. South
Las Vegas, Nevada 89109
View Map
Room Quality:
The tower rooms are decent, especially in the newest Circus Circus Hotel and Casino addition, the West Tower. The Circus Circus Las Vegas amenities include fancy beds and flat-screen TVs. Skyrise Tower rooms are almost as nice but also the most garish and brightly colored. They aren't horrible or anything... just covered in loud colors and wacky prints. The Casino Tower has muted colors, dark woods, attractive furniture and bedspreads.
Service Quality:
If you have kids, this place offers all of the amenities you want - and lots of them. Check out the Circus Circus Adventuredome indoor amusement park, the midway arcades, the seasonal swimming pools, and kid-friendly pizza restaurants.
What You Get Bottles of in the Bathroom:
The usual: shampoo/conditioner and a bottle of lotion. They don't even shape the bottles like clowns or pink ponies or nothing.
Clientele:
Families, families, children and people who love children. Oh and those few hardcore deal hunters willing to stay anywhere if the rates are low enough.
How's the Pool?
The pool areas at Circus Circus Hotel Vegas are okay, nowhere near the nicest pools on the Strip, but if you're a kid, they're fantastic. They are usually a nuisance for adults due to the number of kids.
Resort Fee:
Circus Circus Las Vegas has a $8.95 nightly resort fee that goes toward that free high-speed Internet in your room and a series of free perks the kids will love including two free rides at Adventurdome and two free midway games.
Is it Worth It?
The kids are crazy, the colors are a little too loud, but honestly if you are a hard core bargain hunter the low prices at Circus Circus make dealing with all of that totally worth the savings.
Hotel Amenities
Air-conditioning
Airport Transportation
Ballroom(s)
Bar/Lounge
Business Services
Concierge Service
Dry Cleaning
Event Catering
Fitness Center
Free Fast Internet
Jacuzzi
Restaurants
Room Service
Multilingual Staff
Security Guard
Shoe Shine
Wedding Services
Table Games:
Circus Circus Hotel and Casino has Blackjack, craps, roulette, Let It Ride, Pai Gow, and a few oddball games like Casino War! They have a couple fairly substantial pit areas, and these are some of the few Circus Circus Vegas places where you can avoid the kiddies.
Bet Minimums:
Games mostly start at $5 but they may have a $3 table if you can find it. Watch out for those single deck BJ games, because they pay you a dismal 6:5 on blackjack and double on ten or 11 only - avoid! Craps has lousy double odds. Roulette chips can be had for a buck with a $4 min.
Machines:
Circus Circus Las Vegas has slots from a penny on up to $25. There is very little full-pay poker, but there are some varieties of slots exclusive to Circus Circus Hotel and Casino, with special circus themes. Oh, boy!
Cocktails?
Fair. Maybe this place's social conscience keeps them from getting the parents too drunk, but we doubt it. Rather, we suspect that at Circus Circus Vegas they don't want to give out too much of the good stuff for free.
Who Gets Comps?
The Circus Circus Vegas Player's Club is decent in cash, better in comps. At the tables, you better be playing $25 hands if you want any comps to rack up. Also be exceptionally polite. No burping! But if you absolutely must, burp quietly. And if you absolutely must burp the alphabet, do all 26 letters. It's rude not to.
Number of TVs:
Circus Circus Hotel and Casino Las Vegas has about 33 TVs, mostly for race betting. There is one big screen in the mix.
Number of Seats:
About 45 seats around tables and four big comfy booths at the Circus Circus Las Vegas sports book. Hurray for booths. There are also four desk seats with individual TVs.
Number of Betting Windows:
Circus Circus Las Vegas has seven windows with electronic boards for odds and lines.
Free Drinks?
Not anymore, or at least the drink service is inconsistent. Don't rely on it.
Snack Bar?
No snack bar at Circus Circus Las Vegas but the Casino Cafe coffee shop is right nearby.
Other Notes:
Minimum bets are $5 sports and $2 for racing at Circus Circus Hotel and Casino. The Circus Circus sports book is noisy and small. It's just off the casino floor and it has no enclosure.
Number of Tables:
There are seven tables, but usually they don't have anyone playing on more than a few.
Comfort of Chairs:
Eh, the Circus Circus chairs are just alright.
Closed Room or Open to Casino?
It's an open room off the casino floor with glass partitions and fairly close to the sports book.
Game Spreads and Limits:
Hold-em at $3-$6 and No Limit at $1-$2. The no-limit isn't always going.
Beginner Games or Classes:
No classes, but the friendly poker staff will teach you the basics if you ask nicely. They will not help you cheat the other players, even if you ask really, really nicely about a million times. Trust us.
How Crowded is the Room?
There are always at least one or two games going. On the weekends or busy weeknights, you might have a short wait for a game, but it's rarely more than fifteen minutes.
Comps?
Plenty of free drinks, and a $4 food credit (plus line pass - wahoo!) for four hours of play. Also, five hours a day will get you casino rate at Circus Circus Hotel and Casino.
How Good Are the Players?
The quality of players varies wildly. There are some older, solid locals and regulars, then there are tourists who have never played before in their lives.
What Else Do I Need to Know?
The games at Circus Circus have bad beat jackpots and hand of the day jackpots. They also offer single-table tournaments and a daily no-limit tournament.
Circus Circus Las Vegas Guest Rooms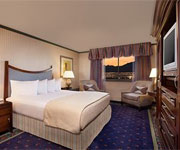 Skyrise Tower
The Skyrise Tower rooms at Circus Circus Hotel and Casino are the ugly stepchildren of the hotel. Skyrise Tower rooms have 375 square feet, in-room safes, wireless Internet, televisions with cable and pay-per-view movies and that's pretty much it. Have your choice of two queen beds or one king bed, but don't expect to escape those brightly colored carpets.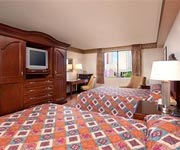 Manor Motor Lodge
We like the cheap prices at Circus Circus but when the chance to stay a half a block away presents itself, Casino Boy says do it. The Manor Motor Lodge has its own separate parking lot and the 351 square feet rooms kick it up a notch with new 27 inch televisions, an electric in-room safe, wireless Internet, an alarm clock, iron/ironing board, hairdryer, and your choice of two queens or a king. Not to mention the swanky armoire and extra furniture.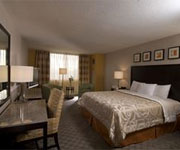 West Tower
"Go west young man" happens to apply at Circus Circus Las Vegas too. For some extra classy digs get a king or two queens in the West Tower and enjoy 375 square feet of marble counters, pillow top mattresses and a brand new 32 inch plasma television with cable and pay-per-view.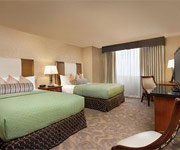 Casino Tower
For all those high-roller wannabes out there the Casino Tower rooms get you those extra perks like black-out curtains and air-conditioning that you won't find in the regular Circus Circus lodgings. Not only do you get complimentary toiletries, but you also get exclusive electronic check-out, like a boss. And whether you get two queen beds or one king, don't forget to bring a pack because smoking is all the rage in Casino Tower rooms.
User Average Review
Overall:
Service:
Cleanliness:
Location:
Room Quality:
Based on 3 reviews
Rating Distribution
67.0% recommended it
Circus Circus Las Vegas Reviews