Luxor Vegas
Jeepers! This place could get even the best mummies to unwind!
---
A Quick Look
Location: The Strip
Hotel Class:

Room Price:

Hotel Size:4,427 rooms
Casino Size:120,000 sq. ft.
Gaming:Yes
Nightlife:

Pool:

Buffet:

Best Show:
---
Book Now

The Skinny
The Luxor Vegas is an Egyptian-themed Strip resort, with an emphasis on Criss Angel's Cirque show. Yeah, the two don't seem immediately related but who cares when the place has such a cool and fun vibe. And how about that serious beam of light that points straight into the sky at night.. they don't have that in Egypt now do they!? The location of the Luxor Hotel Las Vegas is on the south end of the Strip but it's near a few other major casinos and easy to walk to and from.
Reviews
Most Recent Reviews
Our user reviews are from real registered users.
Room Upgrade for FREE at Luxor
NEW!
Stay at the Luxor Las Vegas through August, 2013 with this promo code and receive a complimentary room upgrade! Rooms are ridiculously cheap... as low as $28 a night!
Booking Directions:
Click on the green "Use Promo" button to the right... Locate and click on "Make a Reservation" and proceed to book online... Enter the promo code and book your stay!
Offer Expires: 227 days
Promo Code: LTRIP
Use Promo
All Inclusive Luxor Vegas Package
Free Tickets!
Luxor Las Vegas is offering guests to the hotel everything they could need on their stay through October, 2013 with the All Inclusive package. For just $249.99 a night, receive the following:
All day buffet pass
2 Criss Angel Believe tickets
2 Titanic: The Artifact Exhibition tickets
2 Bodies... The Exhibition tickets
Two spa passes
LAX admission
Booking Directions:
Click on the green "Use Promo" button to the right... Locate and click on "Make a Reservation" and proceed to book online... Enter the promo code and book your stay!
Offer Expires: 318 days
Promo Code: PALL1
Use Promo
Quick Facts
Check-in at 3pm
4000+ Rooms
Check-out at 11am
On-Site Restaurant
Parking
Check-In Age - 21+
Info
Location:
3900 S. Las Vegas Blvd
Las Vegas, Nevada 89109
View Map
Room Quality:
The rooms in the pyramid at Luxor Hotel and Casino are cool because of the slanted windows, and because you get to ride the inclinator up to them. That's right, a diagonal elevator. Plus, you get to bump your head on the window every time you try to look out. They are average sized rooms (actually a little larger, but you lose some space because of the slanted wall). The rooms in the non-pyramid towers are less exotic in shape, but they are larger, nicer and have tubs and separate showers. The twin queens have separate soaking tubs and showers. The Luxor Las Vegas towers are also a slightly longer walk to the casino. Rooms have hairdryers and irons. Pyramid mini-suites cost more, but you can relax in your own bubbling Jacuzzi tub. Now that's romantic!
Service Quality:
The service at Luxor Hotel Las Vegas is fair. This is one of the biggest hotels in the world, so they've seen every request you can imagine. Except some of ours involving a Sit'n'Spin, vacuums and a goat. If it's a busy weekend, the wait can be long for extra towels or more soap. Like most large places, check-in can be a long and boring wait at Luxor Las Vegas. Room service is good.
What You Get Bottles of in the Bathroom:
Shampoo, conditioner and lotion, possibly more. It's standard for a big, fancy hotel. You also get nice, fluffy towels but you're not supposed to keep those (wink, wink). The mini-suites do right with fancier shampoos, bath salts, gels, exfoliants and nicer lotion.
Clientele:
Young to middle-aged flock to Luxor Las Vegas. This place doesn't draw the big high-rollers, but you will see plenty of people betting big sums of money.
How's the Pool?
The pool at Luxor Hotel and Casino is pretty good, with a decent pyramid theme and lots of palm trees. In the winter the Luxor pool may be closed, in which case they will send you next door to the Excalibur (not to Mandalay Bay).
Resort Fee:
$18 per night. You get high-speed Internet, fitness center access, local and long distance calls and daily paper.
Is it Worth It?
The Luxor might be a little cheesy with the Egyptian decor but they've got great Vegas deals, fun nightlife and a perfect location.
Hotel Amenities
Air-conditioning
ATM/Banking
Ballroom(s)
Bar/Lounge
Concierge Service
Conference room(s)
Dry Cleaning
Express Checkout
Fitness Center
Free Guest Parking
Free Fast Internet
Multilingual Staff
Restaurants
Room Service
Shoe Shine
Sauna
Wedding Services
Spa
Table Games:
They have lots of games, including the regulars, at Luxor Hotel and Casino. The casino is sort of confusing to get around, but it's a pleasant place to play if you've got the money.
Bet Minimums:
$10 to $15 most of the time for tables, but if it's a hopping time, like a Saturday night, you can expect to see that go up more. Craps is likely $10 with 3x4x5x odds. Roulette is $1 chips with a $10 min. If you like single-zero roulette, you can get into it for $25 minimum.
Machines:
Nickels to $100, with just about every variety of game you can imagine. Luxor Las Vegas has lots of those crazy, multi-line nickel machines that are so popular. For the most part, we have heard the slots are tight, and there is very little full-pay video poker.
Cocktails?
Good. You can get drunk enough to demand call the waitress Nefertiti, if you tip her well. Nickel players tend to be ignored, so if you play the nickels, be vocal.
Who Gets Comps?
The M Life club serves for all MGM Properties. Go big and be loyal if you want your room taken care of.
Number of TVs:
19 flat screen TVs plus five big screens are spread out for sports and racing.
Number of Seats:
110 chairs, 52 of which have individual TVs, but they are old CRTs that take up most of the table. The remaining seats are for sports and they are the more comfortable ones at Luxor Las Vegas.
Number of Betting Windows:
About eight windows for race and sports.
Free Drinks?
The Luxor Hotel Las Vegas waitresses aren't fast about it, but they do serve free drinks to people who wager and ask for drink chits.
Snack Bar?
Nope, but the Backstage Deli is nearby.
Other Notes:
This is just a small, decent book, worth checking out if you're staying here or at the Excalibur. It is often not crowded.
Number of Tables:
11 poker tables at Luxor Hotel and Casino.
Comfort of Chairs:
Pretty average, actually. At least our butts didn't complain.
Closed Room or Open to Casino?
Open but isolated, so it stays fairly quiet. It's non-smoking and far enough from smoke to be breathable.
Game Spreads and Limits:
Hold-em $2-$4 and up, a $1-$2 no-limit game with $40-$200 buy-in.
Beginner Games or Classes:
Luxor Hotel and Casino has classes offered every day in the afternoon.
How Crowded is the Room?
Not too busy. Probably you'll wait a bit for a table on weekends, but for the most part the action has migrated to either of the places next door.
Comps?
Free drinks while playing. Comps are $5 for four hours of play. Poker room rate for rooms after five hours.
How Good Are the Players?
Average to below average. A pretty safe place to play on the Strip for beginners. In fact, we would classify the poker room at Luxor Las Vegas as a beginner joint.
What Else Do I Need to Know?
This is the Bruce Buffer poker room. What does that mean? Not a lot, other than a guy who announces fight matches has attached his name to the room and the felts. There are frequent no-limit tournaments.
Luxor Las Vegas Guest Rooms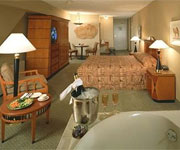 Spa Suite
The spa suites at Luxor Hotel are located in the pyramid, that's right - cool elevator and slanted windows included. You have your choice of one king or two queens, and each suite has an eponymous spa tub complete with views of Vegas. There's a separate living space with a couch, armchair, dining set, and fridge. There's pay-per-view TV and free wireless Internet access if the nightlife at Luxor doesn't entice you enough. The bathroom has a shower and no bath (just use the spa in the living room!), but you get free toiletries. You can also find some neat Luxor Vegas deals for these rooms.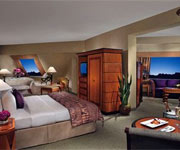 One Bedroom Luxury Suite
One bedroom luxury suites are in one of Luxor's two 22-story towers. It's pretty huge with about 780 square feet and no slanted walls and a king bed. The separate living room has a couch, armchair, TV, wet bar, fridge and dining set. They give you pretty decent bathrobes and slippers, but you don't get to keep them. The bathroom is pretty large and you have a shower and a jetted tub, a phone for those long bubble bath conversations, dual sinks and free toiletries.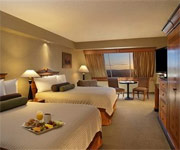 Pyramid Deluxe
This Luxor room is in the pyramid and has views of the atrium. It's not exactly the Hard Rock Hotel and Casino pool, but it's there's always something going on down there to spy on. The pyramid deluxe rooms come with the option of one king or two queens and are 420 square feet. There're pay movies and free wireless Internet. The bathroom has a shower but no tub, lots of marble and free toiletries.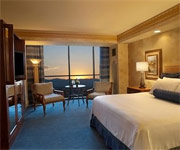 Tower Deluxe
The tower deluxe suites at Luxor are in the, well, the towers. What an original name. They're 450 square feet and have the option of watching pay movies. There's also free Internet access so you can work on your email while you watch those movies. There is a separate bath tub and shower in the bathroom and they give you free toiletries too.
User Average Review
Overall:
Service:
Cleanliness:
Location:
Room Quality:
Based on 9 reviews
Rating Distribution
67.0% recommended it
Luxor Las Vegas Reviews