Nightlife in Vegas | Clubs, Nightclubs, Club Crawls, Bars, VIP Passes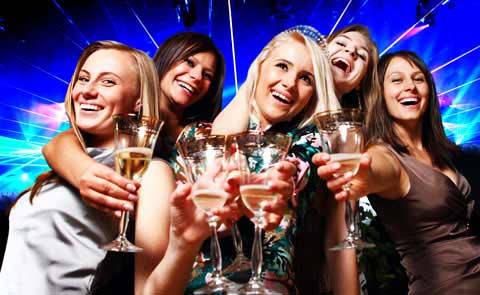 Most Popular Clubs on the Vegas Strip
Dance Clubs: 1 OAK, One of a Kind is one of the newest spots in the Las Vegas nightlife scene at The Mirage Hotel. It snows out on the dance floor here, so you get a nice cool down while you're dirty dancing up a sweaty storm. Almost every club in Las Vegas is going to pack the girl with ladies first, so be ready for that and don't complain, fellas. I mean, they have to let some guys in too.
Light nightclub: Light Las Vegas is one of the latest hotspots on the Strip. Light at Mandalay Bay is the first nightclub to feature Cirque du Soleil performers. World famous DJs frequent this 38,000 square-foot venue all year round. Light nightclub is fully equipped with a booming sound system, a LED video screen wall and, you guessed it, plenty of lights.
Lounges: The Chandelier at the Cosmopolitan is a lounge inside a huge chandelier, naturally. This is one of the trendiest lounges in one of the hippest hotels on the Strip . They've got great mixologists and beautiful people love to pregame here. Make sure to try a fire breathing dragon martini if you really want to blend in.
Ghostbar at The Palms - 360 Views!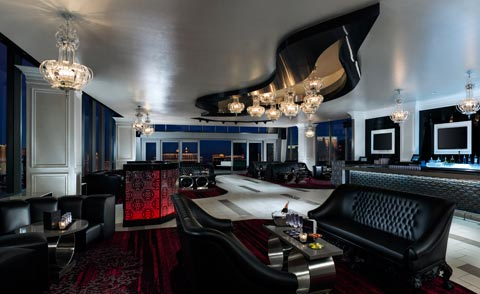 Downtown Clubs
Frankie's Tiki Lounge: Here we have the result of Vegas does Hawaii. If you've never been to a a Tiki Lounge in the middle of the desert before, well, you're not the only one, but you're missing out on something special. This is not your average glammed out Vegas lounge. Oh no, this is far more than a Vegas lounge. With surf music, fruity but strong drinks, and island decor, this is a tiki hut that knows how to do a theme right in Vegas. Vegas sure does love their themes, and this place really sticks to it.
The Griffin: Here's a Downtown lounge in the Las Vegas nightlife scene. Cozy up to the firepits, but don't get too cozy! Fire is dangerous! Snuggle up in the booths or next to your date though, that's inviting and safe unless you're date leaves, and in that case I guess you're still getting burned. No worries though, their jukebox has tunes for everyone so you're bound to have a good time. This is a hipsters hangout, so wear your trendiest flannel.
Don't Tell Mama: Here's a Vegas bar with a piano player. They aren't playing classical music, but they do play the classics, and encourage everyone to sing along. The bartenders don't mind shouting out the tunes, and most of them have really good voices that you won't have to be drunk to enjoy. Don't tell mama what you end up doing here, but if she ever decides to come to Vegas without you, don't keep this place in the dark from her.
Las Vegas Nightlife is legendary to say the least. Everyone has a wild story of a chance celebrity encounter or memories of dancing to the beats of the best EDM DJs in the world. Patrons roll into town to hit the best Las Vegas nightclubs all weekend long. There are some more tame Las Vegas bars and lounges for those of us who would like to be in bed before 4am. Waiting in line is a total buzz kill and we're too cheap to be slippin' Benjamins to the bouncer. But, there are some VIP nightlife companies that can manage to get Casino Boy to the front of the line with some Vegas nightclub passes at the best Las Vegas clubs on the Strip.
$ - Drinks under $5 $$ - $6- $10 $$$ - $11- 15 + cover $$$$- Over 15 + cover
Why do you come to Vegas? To gamble, drink, and meet crazier people than you thought could ever exist? Whatever reason you have for visiting Las Vegas, nightlife in Vegas is full of adventure and surprise. You never know who you'll meet or what you'll see and experience in all of the bars, lounges and clubs. They know you came here to have the time of your life, so every place that hosts nightlife in Vegas is committed to trying to be the best in their trade.
Yeah, some of the Vegas nightclubs are known for the meaner-than-average bouncers who don't let the boys in promptly or keep the girls from taking off their shoes when they've danced too hard. Most of the places charge a lot for small drinks, but some have a lot of kick in their small packages...even if bigger is usually better. The most popular nightlife in Vegas are places all over the Strip, and these are the places that can get away with charging an arm and a leg to get in the door and get drunk while you're there. In Vegas, shelling out a few bucks to get into the best Vegas clubs for "free" may be worth it. There are a handful of club promoters that offer VIP club passes that include no wait, no lines, no cover and even transportation to and from clubs, free drinks for the ladies (sometimes the guys too), table and bottle services and more.
The dance clubs in Vegas are known for their elaborate and glamorous venues. Everything in these places is expected to be over the top and the best venues don't usually disappoint. Well, they disappoint the Cheapos that are expecting to get drunk and all the girls that wore less than usual and still have to pay for their drinks. The lounges on the Strip are usually glamorous as well, and the ones everywhere else are more laid back. There are bars of all sorts to choose from. Whatever you're in the mood for, there's something here. Possibilities for nightlife in Vegas are endless. Endless as in, you won't have to stop partying the whole time you're here.
Make sure to save some money so that you can do nightlife in Vegas the right way by saving with Cheapo Vegas! We have plenty of special hotel deals and promo codes just waiting for your use.