Hard Rock Hotel and Casino
Woohoo! Live fast and die young! But be comfortable here while you do!
---
A Quick Look
Location: Off-Strip
Hotel Class:

Room Price:

Hotel Size:1,037 rooms
Casino Size:45,000 sq. ft.
Gaming:Yes
Nightlife:

Pool:

Buffet:

Best Show:
---
Book now for great deals!!

Other Hotels like Hard Rock Hotel & Casino
Hard Rock Hotel & Casino Deal Finder
* Room Rates shown above reflect the average nightly rate for a 2 night stay with the calendar date as the check-in date, our visitors should verify actual rates, promotions and deals directly with the hotel as we make no guarantees regarding rates, but only provide them as a convenience.
Book Now
The Skinny
The Hard Rock Hotel and Casino Las Vegas is easily one of our favorite party hotels off the Strip. Why? Well, have you ever seen MTV's Spring Break programming? That's pretty much what it looks like at their pool, minus the tacky VJ's and boy bands. (We're talking circa '90's here, for the younger Cheapos.) The rooms here are quite nice, the pool is fantastic, and the restaurants and casino ain't bad either.
Reviews
Most Recent Reviews
Our user reviews are from real registered users.
Quick Facts
Near Attractions
Check-in at 4pm
100+ Rooms
Check-out at 11am
On-Site Restaurant
Near Restaurants
Parking
Info
Location:
4455 Paradise Rd.
Las Vegas, Nevada 89169
View Map
Website:
https://www.hardrockhotel.com/
Room Quality:
The rooms are a nice size, very clean and tastefully furnished, IKEA style. The two-bed rooms come with two queens, and the one-bed rooms have kings. Two big French doors open up onto the pool (at least those on the pool side do), or a view of the Strip or valley. There is no balcony, though, just doors that open up onto a protective railing. Rumor has it that room service will bring you Oreos and milk if you pay them enough. Stay in the newer tower if you get a chance, the bathrooms have tubs large enough for two, functional faucets, marble floors, counters and walls. You get a robe in the rooms, but you can't keep it for free. Flat screen TVs and a stereo too. You can't keep them, either. Looking to go fancier than a regular room? Try the larger, swankier suites in the HRH Tower. The smallest suites are over 700 square feet and have 2000-song jukeboxes, a couple TVs and the bathrooms have big 'ol tubs that seat two.
Service Quality:
Good. If you aren't old, they will treat you like you belong there. It helps a lot to have a goatee (boys) or fake boobs (girls). Vice versa isn't much help. Take your I.D., though, because they are really scared of being raided thanks to their reputation a hot spot for the youth.
What You Get Bottles of in the Bathroom:
It's all snooty Gilchrist and Soames stuff, which is actually made in Indiana. The bottles used to be larger than average hotel fare, but they have cut back and now the bottles are nothing special.
Clientele:
Single fraternity and sorority members in their 20's, looking to become unsingle or at least get some action. There also is a perpetual cougar advisory. And, of course, sort of creepy older guys trolling for young women impressed by the appearance of wealth.
How's the Pool?
Top notch. Hard Rock Hotel and Casino in Vegas is a great place for picking up chicks or guys, which is what this place is all about. It looks like it came right out of MTV Spring Break. There are sand beaches along a meandering stream-like pool, and plenty of places to ogle the opposite sex. There is a bar area with swim-up blackjack. Just bring lots of sunblock in case you get on a roll with the opposite sex. We have body-image issues, so we'll be the guys in the T-shirts down to our knees.
Resort Fee:
You gotta pay to party like a rockstar. $22 per night resort fee at Hard Rock Hotel and Casino. It includes internet, a daily newspaper, access to the fitness room, round trip shuttle to fashion show mall, local, domestic long distance and toll free calls, notary service and boarding pass printing.
Is it Worth It?
If you love to party this is the place to be, and the prices aren't that bad either. If you are looking for a classy and luxurious experience, this isn't the best spot for you.
Hotel Amenities
Air-conditioning
ATM/Banking
Ballroom(s)
Bar/Lounge
Business Services
Car Service
Concierge Service
Conference room(s)
Dry Cleaning
Event Catering
Express Checkout
Fitness Center
Multilingual Staff
Parking Garage
Restaurants
Room Service
Sauna
Security Guard
Wedding Services
Table Games:
The casino has many tables of all the popular games like blackjack, roulette and craps. The blackjack once had generous rules, but no longer does and now some are 6:5. The jerks! If you want to watch go-go dancers while you wager, check out the little Hell's Belles area of the casino.
Bet Minimums:
Five bucks or higher for craps, with 3x4x5x odds. Blackjack starts at $10, but don't go looking for tables at those rates on weekend nights when the LA jackasses hit the town. Roulette is played with $1 chips and a $5 minimum. They often have a few sucker games for $5, like Caribbean Stud and No-bust 21.
Machines:
The Hard Rock Hotel and Casino Las Vegas has slots from a penny to $100. The slots have "rock" themes with as well as all the typical lame slot themes based on old TV shows and movies.
Cocktails?
Fair cocktail service. The waitresses (who are often very pretty) here are more likely to get a big tipper drunk, and a big tipper means $5 a drink. In our experience, if you're just an Average Joe who tips the average amount, they won't be back very often.
Who Gets Comps?
We've gotten a couple of free nights here, but only because they thought we were someone we're not. Mostly, you need to be playing the black chips to get free rooms. At the slots, the Rockstar club gives you decent rebate in play. They also rate $10 and up bettors at their tables. Not sure what they do with that information, but we know they will rate you if you ask.
Number of TVs:
A wall of TVs, none of which are huge, but all are close enough to read the fine print in the male enhancement ads.
Number of Seats:
They have about 75 seats at the Hard Rock Hotel and Casino in Vegas. They are big continuous and stuffed. Nicely comfortable.
Number of Betting Windows:
About seven, backed up by electronic signboards.
Free Drinks?
You need to get a free drink chit when you place your bet, then pray that the ballgame you're watching doesn't go into extra innings.
Snack Bar?
No snacks, and no snack bar nearby.
Other Notes:
$5 will get you in the sports action, $2 for racing.
The sports book at Hard Rock Hotel and Casino Las Vegas is managed by Cantor, who claims it is a sports book and sports bar. Really, though, it's just a small-sized joint with easy access to hooch.
Number of Tables:
Eight tables fill this nice, but small, room. The Hard Rock Hotel and Casino Las Vegas tried going with a really great poker room, but have scaled it back considerably.
Comfort of Chairs:
The seats are very comfortable, high-backed suede with rollers. This setup is not only comfortable but safe as the high backs will keep you from spilling out when you go careening across the room after a huge win.
Closed Room or Open to Casino?
This is an open room across from the casino floor. There is plenty of ambient noise and obnoxiously loud music to make your eardrums bleed.
Game Spreads and Limits:
No limit is $1-$2 and $2-$5 are regulars, with $3-$6 and $4-$8 limit less regular. They may get a mixed game going if there is enough interest.
Beginner Games or Classes:
No, but they will teach you if it is slow and you ask nicely.
How Crowded is the Room?
This room does not get the action the Hard Rock Hotel and Casino Las Vegas had hoped. Occasionally they may get as many as five tables going, but its usually between one and four with little noise.
Comps?
It's a tiered structure with the lowest limit games netting a buck an hour for you, and the fancier games getting you $1.50. They also have high hand jackpots, which is a comp of sorts, but only for good players. So, not us.
How Good Are the Players?
The players at Hard Rock Hotel and Casino in Vegas are generally pretty poor. For now, a few sharks may be prowling the $2-$5 and up no limit games. But at the lower limits, you're going to find a lot of yahoos who come down from their rooms and are filling time until the nightclubs open. Late weekend nights have to be a virtual feeding frenzy.
What Else Do I Need to Know?
This is a good room with plenty of space. It's nice except for the noise and the number of lookyloos. There are two deep-stack daily tournaments.
Hard Rock Hotel and Casino Guest Rooms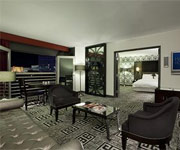 Casino Tower Deluxe Suites
The Casino Tower Deluxe Suites at Hard Rock Hotel and Casino Las Vegas have one king bed, a fancy plasma TV with lots of sweet channels and pay-per-view movies for those of you with extra cash. Free Internet access, an extra touch to draw in the young crowds. This room also has an in-room safe and minibar. Oh and don't forget the designer toiletries they provide you with.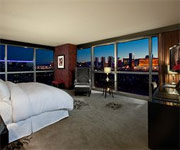 Mountain View Room
The Hard Rock Hotel and Casino in Vegas has Mountain View rooms with your choice of one king or two queens. You get the real deal - in-room safe, free wireless high-speed Internet, snazzy plasma TV with cable and pay movies, a CD player if you left your mp3 player at home, and a super expensive minibar to get the party going. The morning after is made a little easier with epic blackout curtains and quick electronic check-out. Oh yeah and in case the name of the room wasn't clear enough, you get a lovely view of the mountains.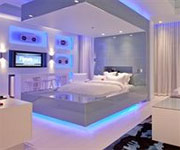 Pool View Rooms
For those of you who happen to be more voyeuristic the Hard Rock Hotel and Casino offers Pool View rooms with, well, pool views. Get your room with one king or two queens depending on how cozy you and your friends want to be. It's the same deal here, in-room safe, free Internet, plasma TV, CD player and minibar. The black out curtains are nice but we won't judge if you'd rather keep your pool view unobstructed. Oh and definitely take advantage of the electronic check-out.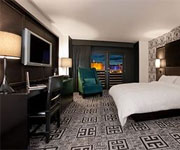 HRH Tower City View King
The sparkling lights of the Vegas Strip can be very romantic, or just remind you of the party you're missing while you're up in your hotel room. Either way these rooms are pretty nifty with your choice of one king or two queens. You also get a minibar, in-room safe, and basic technology including free Internet, plasma TV and CD player. The electronic check-out is nice but if you sleep all day with the help of the black out curtains even a gadget won't save you from the hotel staff. This is one of the bigger rooms at the Hard Rock Hotel and Casino featuring HRH Tower Suites, so make sure to find Hard Rock Hotel and Casino promo codes to make the price manageable.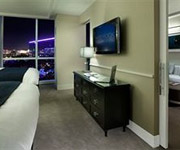 HRH Tower Pool View
Why take the Casino Tower pool view rooms when you can have the HRH Tower pool view rooms? I mean, if you're loaded this is the best place to sit and stare at the party below. Just don't forget Hard Rock Hotel and Casino promo codes if you aren't loaded. These rooms have either one king bed or two queen beds, free Internet, plasma TV, minibar, black out curtains, designer toiletries, CD player and in-room safe.
User Average Review
Overall:
Service:
Cleanliness:
Location:
Room Quality:
Based on 2 reviews
Rating Distribution
100.0% recommended it
Hard Rock Hotel and Casino Reviews