Las Vegas Golf Deals
Desert Pines Golf Club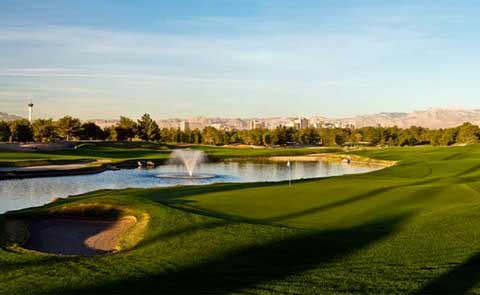 Our Favorite Cheap Vegas Golf Courses
Casino Boy's favorite golf courses in Vegas are the ones that are always cheap. And believe it or not, the budget Las Vegas golfer actually has plenty of options when it comes to cheap places to play golf in Las Vegas. No, they're not 4-star TPC level, but they'll definitely provide you with everything you need for a decent round. Well, aside from actual golf skills.
Boulder City Golf Course: Located about 30 minutes from the raucous civilization that is Downtown Las Vegas, the Boulder City Golf Course is an old-school affordable Nevada golf course out in the boonies near the Hoover Dam. T

his par-72 course s

pans more than 6,600 yards and is famous for its slick greens and fairways. Rates start as low as $60 for 2- 4 players in the AM. Psh - we'll take it.
Eagle Crest Golf Course: Off the beaten path (by a long-shot) in Summerlin stands the Eagle Crest Golf Course. As far as Vegas golf courses go, this one's sort of a mini - it's a par-60, no-frills course for those who like to golf in Vegas quickly and get on with their lives. OK, you CAN go for 72, but their executive course is most popular, and is on the top of the list of Vegas golf courses great for beginners.
Bali Hai Golf Club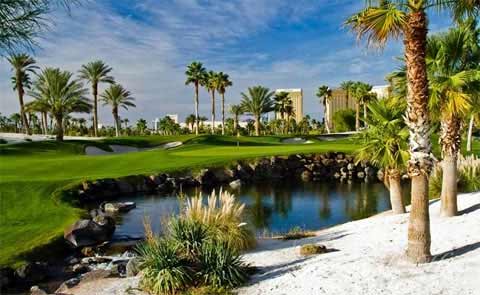 Golf Courses Vegas Style
Have you ever noticed that most tourists in Vegas do whatever it takes to pretend they're not actually in Vegas? The most popular hotels on the Strip actually have themes that transport you through time and space with their decor. In Vegas theme hotels you can pretend you're in Venice, Paris, Rome, or even Camelot. What many people don't know, is there are also themed Las Vegas golf courses. Check out these venues to golf in Vegas but feel like you're golfing somewhere else.
Desert Pines Golf Club: Travel to the Carolinas at this place to golf in Vegas. What does that mean? Really just that you'll see lots of pine trees instead of rock cliffs and sand while you golf here. It's a par 3 course and pretty fancy as far as golf in Vegas goes, but you can also get a great deal here which is perfect for us Cheapos.
Royal Links Golf Club: We can't all be royalty, but Vegas sure makes us feel like we are. Check out this course if you're too Cheapo to fly all the way across the pond but you still want to try your best on all the most exciting holes from the British Open golf courses in England.
Bali Hai Golf Club: As the only golf course on the Las Vegas Strip, Bali Hai is ideal for golfers wanting to hit the links just steps from their hotel rooms. Don't think you'll be on a course that looks like Nevada, though. These links are set up to send you straight to the South Pacific, palm trees and all! Each hole here is harder than the last one, so don't think that just because it looks like paradise the golfing will be a breeze.
Believe it or not, even Casino Boy likes to hit the range occasionally - even if his swing would suggest otherwise. He's also has the inside scoop on cheap Vegas golf courses, tee times and advice on how to get the most bang for your buck when it comes to golf in Vegas. Sure, Las Vegas golf courses may be all polo shirts and visors, but that doesn't mean you have to shell out mad cash to swing some clubs and sip on some classy drinks! Seriously, check out our listings for the best cheap golf in Vegas.
Golf is traditionally a rich man's game, but the good news is you don't have to be a doctor or a lawyer to hit the links in Vegas! They even let us Cheapos on golf courses in Vegas, and that's saying something. Not only does Las Vegas have some of the best golf courses in the country, but they also have some of the best discounts.
There are some excellent Las Vegas golf courses that are pretty cheap even without discounts. Grab your argyle socks and preppy polo shirt and pick up tee times at Boulder City Golf Course or Eagle Crest Golf Course. They might be far from the Strip, but their daily rates make Casino Boy start dreaming about rolling greens.
If you want to stay close to all the Las Vegas action there are some great golf courses in Vegas pretty close to the Strip. Maybe some of that Vegas magic has rubbed off on them, but all we know is that they have some awesomely extravagant themes that make us feel like we aren't golfing in Vegas at all! Enjoy Carolina pine trees at Desert Pines Golf Club, the tropical South Pacific atmosphere of Bali Hai Golf Club or the challenging British Open holes at Royal Links Golf Club.
And don't forget to keep your eyes pealed for Las Vegas hotel promos that can get you awesome deals at these three Las Vegas golf courses. You can often find Las Vegas hotel packages that will get you rooms at some of the best Las Vegas hotels, and include lower rates for golf in Vegas.