Las Vegas Weddings
Weddings at The Bellagio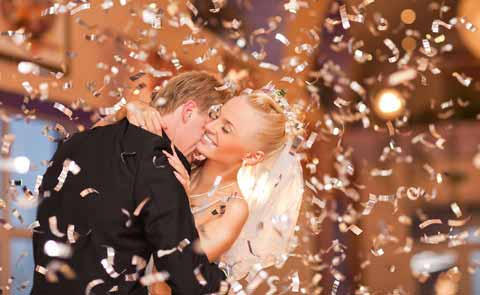 Traditional Vegas Weddings
Granted the majority of the world doesn't think traditional high class wedding when they think Weddings Las Vegas but you'd be surprised just how lovely a wedding in Las Vegas can be. If you and your special someone didn't meet at the poker table last night and don't want to be married by celebrity look-a-likes (we can't imagine why) there are a bunch of spiffy places in Vegas for a full-blown traditional wedding in Vegas service.
Hard Rock Hotel and Casino: A Hard Rock Hotel and Casino wedding can be transformed into anything you want. They have traditional wedding packages and also a hard-rock option with black flowers and rock-n-roll style, but will cater to whatever kind of wedding the special couple would like, complete with reception and wedding planner. If you're going to make the biggest mistake of your life, you may as well do it in style and there is no place better for Las Vegas Weddings than the Hard Rock Hotel and Casino Las Vegas.
The Bellagio: The elegance and class of The Bellagio Hotel is unmatched in Las Vegas. Every girl's dream is to feel like a princess on her wedding day in Vegas and this gorgeous venue can help that dream come true. Who cares that you are marrying a lazy oaf? If he makes it happen at The Bellagio, it will be worth it. Get married on the stunning Terrazza Di Sogno and have the infamous Bellagio fountains timed to go off during your first kiss as husband and trophy wife.
Graceland Wedding Chapel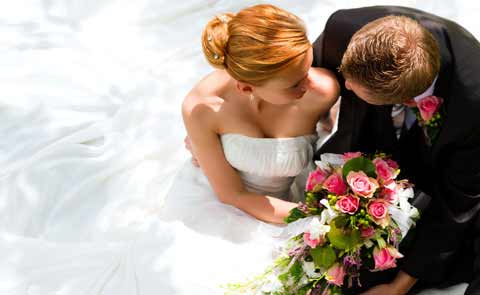 Themed Vegas Weddings
For all you weirdos looking for weddings in Las Vegas, there are a ton of wacky themed weddings in Vegas to choose from. If you can dream it, they can do it. Scary. Are you a closet Goth? No problem. There is a wedding in Vegas to satisfy even the most ghoulish brides.
Viva Las Vegas Wedding Chapel: Themed Weddings in Las Vegas are the specialty at Viva Las Vegas Weddings. With over 30 themed wedding packages, this place is the mecca for goofy, out-there weddings Las Vegas. If they happen to not have your theme of choice already made, they will try to accommodate any wacky theme you would like for your special day. We recommend the Graveyard or Pirate Themed Wedding Package. Aaaarrrrr!
World Famous Drive Up Wedding Las Vegas: Looking for a super quickie wedding in Las Vegas? How about one where you don't even have to get out of the car? It's basically the McDonald's of weddings in Las Vegas ceremonies. Would you like cheese on that? Say your nuptials in true American fast-food style with a drive-up wedding Las Vegas style. Complete with flowers, music, and professional portraits. Plus, you never even have to get off your little dairy-aire.
As the number one destination for a wedding, Las Vegas weddings capture the feeling of class and romance, if that's what you're into. Otherwise, there are a bunch of not-so-classy Las Vegas wedding services available for the shot-gun types. Weddings in Las Vegas come in all forms from the simple elegance of a wedding in Las Vegas at The Bellagio to a wild party wedding in Vegas by Elvis and friends. Whatever your little heart desires, there's a Las Vegas wedding perfect for your nuptials.
| Wedding Service Details | Wedding Info |
| --- | --- |
| | Type: Chapels/Ceremony Region: Off-Strip Location: 607 S Las Vegas Blvd Las Vegas, NV |
| | Type: Chapels/Ceremony Region: Strip Location: 2901 Las Vegas Boulevard South Las Vegas, NV |
| | Type: Chapels/Ceremony Region: Downtown Location: 619 S Las Vegas Blvd Las Vegas, NV |
| | Type: Chapels/Ceremony Region: Off-Strip Location: 1205 Las Vegas Boulevard South Las Vegas, NV |
A wedding in Las Vegas comes with the connotation of wacky, trashy, and fast, but really, there are some amazing places to get married in Vegas. It's the number one wedding destination for a reason and it's not only to get married by Elvis. Vegas is home to gorgeous luxurious hotels, beautiful natural scenery, and lots of quaint Vegas wedding chapels to choose from.
If your bride is the type who wants to feel like a princess on her big day, Las Vegas might seem like a strange place for a destination wedding, but in actuality, there are a bunch of desirable locations for a lavish Vegas wedding. From grand hotels like the Bellagio and Caesars Palace to small chapels, Las Vegas can accommodate even the most intense bride-zilla aspirations. As of April 25th, 2013 The Wedding Chapel at Aria Las Vegas is also now open for elegant Las Vegas weddings.
For all those non-traditional brides out there, a wedding in Las Vegas is great to satisfy your wacky wedding wants. Vegas has themed wedding services galore from zombie to pirate; there is a themed wedding in Vegas to fit everyone's off-the-wall ideas.
Las Vegas weddings aren't always wild mistakes that happen after a winning streak on the casino floor. Sin City has every kind of wedding service imaginable and understands the importance of making that special day something to remember. No other city in the world caters to weddings the way Las Vegas does, so leave it to the pros and plan your big day amongst the glittering lights of Las Vegas.