Aria Las Vegas
Aria is Italian for "air". Hey, I'm Italian!
---
A Quick Look
Location: The Strip
Hotel Class:

Room Price:

Hotel Size:4,004 rooms
Casino Size:150,000 sq. ft.
Gaming:Yes
Nightlife:

Pool:

Buffet:

Best Show:
---
Book Now

Aria Las Vegas Deals
Aria's Winter Offer
$75 Dining Credit!
Book your stay at the Aria Las Vegas using this promotion and receive the best public rates along with the following:
$75 Dining Credit
$50 Spa & Salon Credit
15% off at the Porsche Design Store
Complimentary Porsche Design Gift Bag
Booking Directions:
Click on the green "Use Promo" button to the right... Locate and click on the "Hotel" Link and click "Special Offers"... Locate and click on your desired promotion, choose your dates and book your stay!
Offer Expires: 8 days
Promo Code: ARWNT56W
Use Promo
Complimentary American Breakfast at Aria
Two free breakfasts!
Receive two complimentary IN-ROOM breakfasts per stay. Beverage included. Valid on select dates.
Booking Directions:
Click on the green "Use Promo" button to the right...Locate and click on "Offers"... select your desired promotion and book your deal!
Offer Expires: 281 days
Promo Code: ARBFST6W
Use Promo
Shows to check out during your stay at Aria Las Vegas
The Skinny
The important things to remember about Aria Hotel CityCenter are that it's enormous and and full of luxury. So, don't get lost and don't break anything. CityCenter, where Aria is located, also has condos, shopping malls, luxury hotels, and you can walk to it all. The architecture at Aria Las Vegas is striking with its soaring three story lobby, awesome lighting at night and the public art is very cool to gawk at.
Reviews
Most Recent Reviews
Our user reviews are from real registered users.
Quick Facts
Near Attractions
Check-in at 3pm
4000+ Rooms
Check-out at 11am
High-Speed Internet
On-Site Restaurant
Near Restaurants
Parking
Check-In Age - 21+
Info
Location:
3730 Las Vegas Blvd S
Las Vegas, Nevada 89158
View Map
Room Quality:
At 520 square feet, the rooms at Aria Resort and Casino Las Vegas are more than half-again the size of an average hotel room. The rooms are done in neutral browns and whites. The bedding and furniture are plush and deluxe - just as you'd expect from such a luxury joint as Aria Resort and Casino at CityCenter. The differentiating thing here, besides the bathrobes, is the fancy technology. For this reason, some say Aria Hotel CityCenter is the best hotel in Las Vegas. Big flat screens, one-touch control of lighting, room temp, TV, drapes, room service and other stuff. If you can figure it all out, you can synchronize the room temp, volume and lighting to gradually wake you up. Bathrooms are all granite with separate showers and tubs. But, you sort of expect that nowadays, don't you? Want a view? You can pay extra for a "City View" room. Want a bigger room? Upgrade to a 920 square feet or an even bigger suite.
Service Quality:
Twice-daily room service at Aria Las Vegas means you can make a mess twice as often. The hotel is a swanky joint and they offer service commensurate with the other top-end players in town.
What You Get Bottles of in the Bathroom:
Shampoo and separate conditioner, lotion, mouthwash and, although they don't come in bottles, bathrobes that you can wear while you march up and down the Aria Las Vegas hallway playing the harmonica. Of course, you'll run into several other people with similar plans. Maybe you can start a band! Is it true that hairspray is included? Do people still use that stuff?
Clientele:
To some degree, Aria Resort and Casino at CityCenter poaches clientele from existing places on the Strip. With the fancy shopping in the complex and the high-end eateries, you can expect Aria Las Vegas to feature the mid30s and up crowd who drive German cars and wear a lot of silk.
How's the Pool?
There are three large pools at Aria Las Vegas, all shaped like ovals of some sort. Count on a lot of pool real estate and lots of palm trees to surround it. The pool is on a deck, not at street level, so between the deck and the pool size you might just feel like the regular Las Vegas crowds are beneath you.
Resort Fee:
Aria Hotel CityCenter's $28 per night resort fee goes toward in-room and campus-wide internet, in-room local and toll-free calls, Fitness Center access, a daily newspaper and airline boarding pass printing.
Is it Worth It?
The swanky and new vibe of Aria in the new CityCenter complex is definitely worth a splurge. Just don't forget it will be a splurge or you're wallet won't be too happy for the rest of the trip.
Hotel Amenities
Air-conditioning
Airport Transportation
ATM/Banking
Babysitting
Ballroom(s)
Bar/Lounge
Business Center
Business Services
Car Service
Complimentary Breakfast
Concierge Service
Conference room(s)
Doorperson
Dry Cleaning
Event Catering
Express Checkout
Fitness Center
Free Fast Internet
Free Guest Parking
Free Newspaper
Indoor Pool
Jacuzzi
Lakeside
Multilingual Staff
Parking Garage
Parkside
Pets Accepted
Restaurants
Room Service
Sauna
Security Guard
Shoe Shine
Spa
Wedding Services
Table Games:
All the usual suspects are at the Aria Las Vegas casino including craps, roulette, Pai-Gow, baccarat and a handful of other games.
Bet Minimums:
There are some $10 shoe blackjack games, not dealt from an actual shoe. But if it were, it would be a Mahnolo Blanik. Look for a $10 table or two at craps, it may open with 3x4x5x odds.
Machines:
The machines are all new and smell awfully nice. Few grubby hands have been all over them. Expect about 95% video machines with a wide range of games from pennies up to the $100 plus machines. There is very little, if any, full-pay video poker.
Cocktails?
The drinks are served fairly quickly and well. That is, as long as the cocktail waitress can find you. And as truly befits Aria Hotel CityCenter, you better start tipping two bucks a drink because $1 will make them sneeze at you.
Who Gets Comps?
Expect to be playing black chips to get noticed right away. Preferably a few black chips every hand. No matter what you play, use your card and track your play. The mail offers will come to fill up those 4000 rooms. The M Life slot club is meant to make you very loyal to the MGM casinos.
Number of TVs:
There are eight big screens, with two really giant, very nice ones. And if that's not enough, there are dozens of smaller flat screens. The room is separated into smaller areas, the two main ones each having a giant screen.
Number of Seats:
Aria Las Vegas has somewhere near 100 seats. What's important to note is that a lot of chairs are ridiculously plush and comfy. Some are set up lounge-style in small groups, and there are a few sofa-type seating areas too. Then, there's bar style high-seating: bah. The race book is its own area and has about 30 seats with individual TVs.
Number of Betting Windows:
Six windows total.
Free Drinks?
Yes, you get cocktails, but only if you throw around some big bucks. Don't make a bet? Bring in your own 40.
Snack Bar?
The Skybox Grill is next door.
Other Notes:
This is actually a small room for a huge casino. To its benefit, it's way in the back and not susceptible to loads of foot traffic. To its demerit, it's way in the back and you need to walk a long way to get to it.
Number of Tables:
There are 24 tables in the Aria poker room, making it one of the bigger boys on the Strip. It's a large room with a high ceiling and high-lighting, which makes it feel quite airy, even though the tables are packed together. A few tables are in a sectioned-off high-limit area.
Comfort of Chairs:
The Aria has high-backed chairs that look like they were made from your grandmother's drapes. At the same time, they are rollers and they're pretty dang comfy.
Closed Room or Open to Casino?
The room is partially closed off, with one open wall (with some, uh, distinct card sculptures) and it will mostly stay nice and quiet.
Game Spreads and Limits:
They have limit from $3-$6 on up, with an occasional mid-limit game. They have no-limit starting at $1-$3 and going up to $5-$10, and maybe beyond on occasion.
Beginner Games or Classes:
No, they aren't interested in teaching you bupkis. Come in, sit down and play cards.
How Crowded is the Room?
Not a terribly crowded room. In fact, with so many tables and so much local competition, the wait lists are only bad on weekends.
Comps?
Standard MGM Mirage comps mean $1 an hour and that's about it. If you play the bigger games you may be able to negotiate something else. We wouldn't know about that fancy stuff, though.
How Good Are the Players?
For now, Aria is full of tourists and the locals who prey on them. It remains to be seen if any local pros occupy the condos in the complex, and use this room as their office.
What Else Do I Need to Know?
Oh, the Aria Hotel CityCenter has a nice poker room. Very pretty. Prettier than the others? Well, that's like asking a father to tell you which daughter he thinks is best.
Aria Resort and Casino Guest Rooms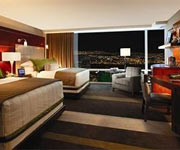 Deluxe Two Queens
Even the small rooms at Aria Las Vegas are big. This 520 square foot room comes with 2 queen beds and beautiful floor-to-ceiling windows with black-out curtains for those late Vegas mornings. Aria at CityCenter is known for its high-tech gadgets and this room comes with a DVD player, 42-inch flat screen TV, wireless Internet, and the coolest part - a 7-inch bedside touch-screen panel that controls lighting, room temperature, television/video systems, music, wake-up calls, the curtains, and room service. The bathroom has some of the most plush bathrobes in Vegas.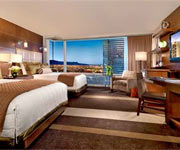 Deluxe City View King or Two Queens
The Deluxe City View King also has a whopping 520 square feet. For those technology nerds out there you get a 42 inch flat screen TV and to top it off, a bedside touch-screen panel that controls lighting, room temperature, television/video systems, music, wake-up calls, draperies, and room service requests. If one king isn't your cup of tea, book the Deluxe City View room with two queen mattress and enjoy the 520 square feet with the whole family. Let the kids go wild with that touch screen - as long as you don't mind crazy lighting, temperatures and sound at all hours of the night.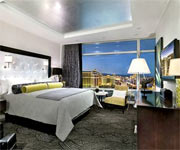 Penthouse City View
For those high rollers looking to really enjoy Aria Las Vegas at its finest, the penthouse suites on floors 25-56 have 1,465 square feet of luxury - including floor-to-ceiling windows with dazzling Sin City views. With all of the furnishings anyone could possibly need, the bedroom has a king bed, the living room has a giant couch and multiple lounge-type chairs, and the dining area has a table and four chairs. The living room has a 52 inch flat screen TV and there's a 42 inch TV in the bedroom. Each room has a nifty bedside touch-screen panel that controls lighting, room temperature, television/video systems, music, wake-up calls, curtains, and room service. This place has 1.5 bathrooms, so no one will have to wait for their turn. And if that's not enough pampering, enjoy the complimentary round trip airport limousine transportation, private hotel and casino check-in, an exclusive big-spenders-only lounge with food and beverages, private key elevator access, and personalized concierge service.
User Average Review
Overall:
Service:
Cleanliness:
Location:
Room Quality:
Based on 2 reviews
Rating Distribution
100.0% recommended it
Aria Resort and Casino Reviews