The Venetian Las Vegas
I knew Italy was expensive, but I thought it was because of all the pickpockets, not the blackjack tables.
---
A Quick Look
Location:
Hotel Class:

Room Price:

Hotel Size:4,027 rooms
Casino Size:120,000 sq. ft.
Gaming:Yes
Nightlife:

Pool:

Buffet:

Best Show:
---
Book now for great deals!!

Other Hotels like Venetian Las Vegas
Venetian Las Vegas Deal Finder
* Room Rates shown above reflect the average nightly rate for a 2 night stay with the calendar date as the check-in date, our visitors should verify actual rates, promotions and deals directly with the hotel as we make no guarantees regarding rates, but only provide them as a convenience.
Book Now
The Skinny
Want one of the best rooms in Las Vegas? These are among them. The title of best will always go to the newest Strip joint, but the Venetian Resort Hotel and Casino Las Vegas holds its own and does a decent job updating what it has. Conventioneers pack this place, as do high rollers. It leaves us low-rollers feeling so left out.
Reviews
Most Recent Reviews
Our user reviews are from real registered users.
Quick Facts
Near Attractions
Check-in at 3pm
4000+ Rooms
Check-out at 11am
High-Speed Internet
On-Site Restaurant
Near Restaurants
Parking
Check-In Age - 21+
Info
Location:
3355 Las Vegas Blvd S
Las Vegas, Nevada 89109
View Map
Website:
https://www.venetian.com
Room Quality:
These are big, fancy, show-offy rooms. Want to impress your parents? Hole them up at the Venetian Hotel and Casino Las Vegas. Want to impress a romantic interest? Just check in here and send faxes right from the hotel while he/she watches in awe. Enter the 650 square feet standard room through a marble foyer to see a sunken living room complete with writing desk, fax machine/copier, a flat-screen TV, table, an in-room safe, mini-bar and almost enough chairs for a baseball team. Since you'll be exhausted walking all the way across the living room, the drapes are electric. Then, in the bedroom area, there's another big flat-screen TV (bigger in twin queen rooms), canopied bed and another phone. But wait! We haven't gotten to the bathroom, which is bigger than our living rooms and has yet another, smaller flat-screen TV. Relax in the huge tub or separate shower. We'd spend so much time breaking stuff in the room that we'd never make it down to the casino. A roof-top garden awaits you if you want to just relax. There is not a lot of difference between the Venezia and Venetian Towers, but the hotel claims the Venezia is the quieter, more elegant of the two.
Service Quality:
If you need something, anything, the Venetian Hotel and Casino Las Vegas will have it. If you need something and you spend a lot of money in the casino, they will have it more quickly. The hotel caters to conventioneers, so the emphasis is on business services and they have them in spades. The Canyon Ranch Spa is enormous.
What You Get Bottles of in the Bathroom:
Oh, man, if you use it all you'll be attacked by bees thinking you're a big flower. Shampoo, conditioner, lotions, sewing kits and more. Our advice is to bring a big toilet kit or purse to haul all this booty home.
Clientele:
The rich and the wannabe rich. Actually, the Bellagio draws most of the wannabes, and the Mandalay Baydraws the newly rich, so the Venetian Resort Hotel and Casino Las Vegas is left with late-thirties to senior citizen folks with either loads of money or lots of credit. As we said, the emphasis is on the business people, so you'll see lots of monkey-suited, straight-faced executives looking for a corner of the joint where they can get good cellular reception.
How's the Pool?
Five acres of pool deck with a couple pools and hot tubs. While it's mostly plain old concrete, it's still plenty of swimming. They're not the best, but they're pretty to look at. It's also a great place to buy an overpriced cocktail.
Resort Fee:
The Venetian Resort Hotel and Casino Las Vegas charges a $20 resort fee per night per accommodation. Fiddlesticks.
Is it Worth It?
If you get a good deal (off-peak weekdays, anyone?) and split the room four ways, the top-notch atmosphere and relatively smoke-free environment is indeed worth a pretty penny.
Hotel Amenities
Air-conditioning
Airport Transportation
ATM/Banking
Ballroom(s)
Bar/Lounge
Business Center
Business Services
Car Service
Concierge Service
Conference room(s)
Doorperson
Dry Cleaning
Event Catering
Express Checkout
Fitness Center
Free Guest Parking
Multilingual Staff
Parking Garage
Restaurants
Room Service
Sauna
Security Guard
Shoe Shine
Spa
Wedding Services
Table Games:
Tons of tables, with about half working at the slow times, and most all during peak hours. It's swanky gaming that feels mostly like every other casino's gaming once you're playing. Craps is the standard 3x4x5x odds you find on the Strip. But, the blackjack games are fair, and you can find single zero roulette for the high roller. The Venetian Resort Hotel and Casino Las Vegas also have Let It Ride, Pai gow, Caribbean Stud and some oddball games.
Bet Minimums:
$10-$15 and up for blackjack and $5-$10 for craps, expect even higher on weekends. The Venetian Hotel and Casino Las Vegas is often among the highest minimums in town during peak times. A "High Limit Salon" is available for those bored with losing their money slowly.
Machines:
Thousands of machines, from pennies to $500, to serve you with robotic glee. All the machines are in great shape with a good mix of the latest. The Venetian Vegas Resort and Casino has very few or no full-pay video poker. There is a high-limit salon to separate the common slot-playing trash from the rich slot-playing trash.
Cocktails?
Poof-a-doo! Those are some some strong and tasty drinks served occasionally by hotties. Remember, tip accordingly, and once you're drunk, tip way more than accordingly and ask the waitress to marry you, then get sick.
Who Gets Comps?
They say no comps for regular players. That doesn't mean limited comps, it means none. High-rollers will still get suites, food and airfare, but anyone playing the slots or the tables at moderate amounts will get absolutely zero. And by moderate, we mean even people betting a couple hundred per hand.
Number of TVs:
About 41 total including those in a side area, with half of them for sports and half for the ponies. Three of the screens are big'uns, the kind that are bigger than our house. Thirty-six seats have individual TVs, but we don't think you can watch Powderpuff Girls on them.
Number of Seats:
About 150 seats. The seats are quite comfortable and this is a good spot to park your butt for a day of sports. Or, if you're like us, the comfort of your butt is less important than access to hooch and you sit at the nearby bar.
Number of Betting Windows:
Eleven, backed by big electronic signboards for odds and scores.
Free Drinks?
Sure, you get one free drink for every $50 or larger bet. So, that means it would take us about $800 in wagers at the Venetian Resort Hotel and Casino Las Vegas to get blotto.
Snack Bar?
No snack bar, but a good noodle shop next door. Get loaded on carbs before the big game.
Other Notes:
The Venetian Hotel and Casino Las Vegas sports book is a quiet room off the main casino. It's swank and we felt out of place in here, but it is also too small for a resort this size.
Number of Tables:
There are 50 tables in this mammoth room, but things can expand for special events. They have a sand-colored felt and a tan leather padding around the edges. There are also some nice sitting areas in the poker room with coffee tables and sofas. You know where to find us sleeping on our next trip to Vegas.
Comfort of Chairs:
The chairs are all right, about average. Certainly not as nice as you'd expect from this joint, though.
Closed Room or Open to Casino?
It's a room, but it's not really closed. It has a half wall separating it from the dirty, dirty slot players in the regular casino. It's not too noisy, but it can be if someone hits a jackpot.
Game Spreads and Limits:
Look for Hold'Em starting at $4-$8 and up, and $1-$2 up to $10-$20 for no-limit. So, this is a mostly low-limit room overall, but they do have a separate high-limit area. They also will deal stud and Omaha if they can get the players, but mostly look for the Hold'Em.
Beginner Games or Classes:
They offer classes, but not formally. Ask the poker room manager or find an open table with a dealer sitting at it and ask. Your best bet would be in the morning.
How Crowded is the Room?
This is a nice room, but there are nicer, and there are cheaper in terms of rake. So, it doesn't really fill a niche so much as address the popularity of poker. Expect a short wait, like a half hour, on weekends, or a longer wait if you are focused on a specific table. Their wait management system is pretty good.
Comps?
Expect nothing.
How Good Are the Players?
They deal some games at high enough limits that you'll see more sharks than fish. At the lower limits, the rake is gonna eat you up, but the players are loose, passive and bad. The fixed-limit games at $4-$8 are the weakest in the room.
What Else Do I Need to Know?
Look for some decent daily tournaments at the Venetian Resort Hotel and Casino Las Vegas. The room has some flat screen TVs showing sports, but they are pretty far from some tables. Also, check out the high-roller room with the luxe chairs and country club vibe. Pretty swank.
The Venetian Resort Hotel and Casino Guest Rooms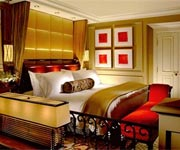 Luxury Suite
This 650 square foot luxury suite is actually one of the more "basic" offerings in the Venetian. Still, your one king bed will still be covered with Egyptian-cotton linens, with a sunken living room, LCD TV, and dining table for three to boot. The fancy-pants bathroom has a Roman tub and a separate glass-enclosed shower. Certain luxury suites located on floors 8-33 feature views of the Strip or the pool.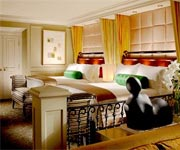 Bella Suite
One step up from the luxury suite, this 700 square foot suite features two queens and the same posh sunken living room and luxurious bathroom. Bella View Suites are also available.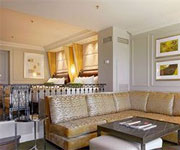 Rialto Suite
For the true ballers (and the impostors who are willing to pony up), this 1,100-square-foot suite offers two queens and a double-door entrance with a gorgeous Italian marble foyer, sunken living room, spacious walk-in closet, and even a private work area for the workaholics. Besides the standard posh bathroom and dining table for three, these suites also come with THREE LCD TVs so you will never miss a second of the game, or trash TV programming. The Rialto suites on floors 8-33 are available with views.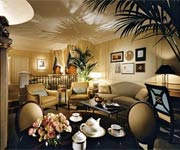 Venezia Bella Suite
Located in the Venezia Tower, this 700 square foot suite offers two queen beds with premium bedding and pillow top mattresses. There is also a separate sitting area, sofa bed, desk, and typical LCD TV/movie/cable options. An ensuite bathroom features separate bathtub and shower.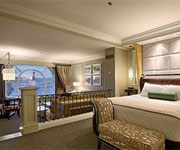 Piazza View Suite
Located on floors 3-33 for the non-view suites, and 25-36 for the views of the Strip and the pool, these suites are a full 1,400 square feet with one domineering king bed. The suite's doubled-door entrance features a powder room off the Italian marble foyer that girls will love. A semi-formal dining area with seating for four, a private work area, and a complete wet bar take this baby to a new level. Also comes with three LCD TVs, DVD player, and deluxe bathroom with a Roman tub and glass-enclosed shower.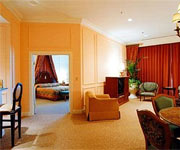 Prima Suite
Located only on floors 27, 29, 31, or 33, this 1,500 square foot suite is the king of them all. The king bed dressed in Egyptian-cotton linens makes this an ideal honeymoon suite. This suite features a double-door entrance with a powder room off the Italian marble foyer, as well as a semi-formal dining area, a private work area, and a full bar with seating area and an LCD TV. After the party is over, relax in the luxurious bathroom which is equipped with a jetted tub and an enclosed shower with 2 shower heads and bench seating. This thing is seriously bigger than our house.
User Average Review
Overall:
Service:
Cleanliness:
Location:
Room Quality:
Based on 4 reviews
Rating Distribution
75.0% recommended it
The Venetian Resort Hotel and Casino Reviews