Wynn Las Vegas
Oui Oui! It's like France, but without the rudeness!
---
A Quick Look
Location: The Strip
Hotel Class:

Room Price:

Hotel Size:2,700 rooms
Casino Size:111,000 sq. ft.
Gaming:Yes
Nightlife:

Pool:

Buffet:

Best Show:
---
Book now for great deals!!

Other Hotels like Wynn Las Vegas
Wynn Las Vegas Deal Finder
* Room Rates shown above reflect the average nightly rate for a 2 night stay with the calendar date as the check-in date, our visitors should verify actual rates, promotions and deals directly with the hotel as we make no guarantees regarding rates, but only provide them as a convenience.
Book Now
The Skinny
The Wynn Resort and Casino Las Vegas is, to say the least, a very nice hotel casino. The rooms are great and the public areas are fantastic, except for the overabundance of tassels. Lots of natural light, a beautiful waterfall and more flowers than at a president's funeral. Steve Wynn set out to conquer Vegas and, for all intents and purposes, he succeeded.
Reviews
Most Recent Reviews
Our user reviews are from real registered users.
Quick Facts
Near Attractions
Check-in at 3pm
2000+ Rooms
Check-out at 12pm
High-Speed Internet
On-Site Restaurant
Near Restaurants
Parking
Check-In Age - 21+
Info
Location:
3131 Las Vegas Blvd. South
Las Vegas, Nevada 89109
View Map
Website:
www.wynnlasvegas.com
Room Quality:
We'll talk about the Resort Room because it's the basic one and the only one they would ever let us near. These are about the same size as Rio and Venetianat 640 square feet. They are done in muted, dark colors like chocolate and other golden browns. Windows are floor to ceiling, which is fantastic for those of us who like for our feet to have a view. Beds are plenty comfortable, as are the sofa and table. The bathroom is on par with the other fancy places in town. Big soaking tub and separate shower, two sinks, private toilet (which our roommates always appreciate). Flat screen TVs in the living room and bathroom for those who can't get enough CNBC. Really damn swanky towels. We always get so worn out opening and closing drapes. The rooms have some odd-looking 80s touches in the furniture legs and other accoutrements, and the overall feel is pretty ostentatious. For the man or woman with spare cash to throw around, upgrade to the tower Suites where you get a private entrance and even fancier service. Who knows? Maybe some guy in a tux comes up and sings you to sleep.
Service Quality:
It's a bit obsequious, meaning there's plenty of employees but they are more interested in you knowing you're getting great service than anything else. Oh, and expect to pay for anything extra. Checking in to the Wynn Vegas Hotel Casino is as painless as a hotel this size can be.
What You Get Bottles of in the Bathroom:
Desert Bambu-brand bath amenities. That's supposed to sound fancy, but the brand only exists here at the Wynn Resort and Casino Las Vegas. So, for all we know, it might be Lifebuoy with a new wrapper. That's okay; we're plenty happy with a bar of Lifebuoy and a "Sanitized for your Protection" strip on the toilet that isn't already torn.
Clientele:
The rich who love to be seen, and the not-so-rich who love to be seen so long as their credit limit isn't maxed. This is a very showy hotel, and any understatement is lost because they keep yelling about how understated it is. Expect a lot of the California new wealth, loads of Lexus, Mercedes and BMWs driven by people in their late 30s through 60s.
How's the Pool?
One of the nicer pool areas in town, although meant more for hanging out than swimming. The main pool is a long pool with nice tile and a bridge overhead. It opens into a large, oval shaped pool. The cabanas are really expensive to rent, and have flat screen TVs. If Wynn Vegas Hotel Casino is all it's cracked up to be, there should be plenty to see right by the pool, and you won't need to watch Jerry Springer while there. "European" bathing is available for woman who like to tan their European mammaries.
Resort Fee:
Wynn Resort and Casino Las Vegas fee is $25/night- Internet access, local phone calls and long-distance, use of the fitness center. Well, that's pretty lame.
Is it Worth It?
You'll be spending an arm and a leg, so as long as they aren't the ones that you use every day, you won't regret giving them up.
Hotel Amenities
Spa
Restaurants
Sauna
Concierge Service
Free Guest Parking
Car Service
Business Center
Bar/Lounge
Room Service
Conference room(s)
Event Catering
Dry Cleaning
Express Checkout
Fitness Center
Wedding Services
Air-conditioning
Security Guard
Multilingual Staff
Business Services
Table Games:
Nothing surprising here. In fact, it feels a lot like the Bellagio. You'll find a lot of tables, dealing roulette, craps, blackjack, 3-card poker, Let-it Ride, pai gow, Baccarat and at least one of most of the oddball games, too. They even have had "War", which isn't what we'd call a "reinvention" of a Las Vegas casino. There is single-zero roulette in the high-limit areas, and there is blackjack in single-deck, double-deck and shoes. Single deck is the crappy 6:5. Not too classy, Wynn! Craps is 3-4-5x, which is standard and not as good as you can get. One plus is the poolside blackjack in the Cabana Bar for hotel guests.
Bet Minimums:
Expect $10-$25 at the blackjack table, the same at craps, and $10 or higher at most other tables. There are a few tables at the minimums and lots at higher rates. In the evenings, and especially weekends, minimums can go as high as $100.
Machines:
Well, the Wynn Hotel and Casino Las Vegas is a ritzy place. But they've still got penny, nickel and quarter slots. Then, they run way up to $5,000. No, we didn't accidentally add three zeros to that. Note to you: if you're playing $5,000 slots, you have a problem - either addiction or stupidity. There are a few decent VP machines but nothing we saw paid more than 100% back to the trained player.
Cocktails?
Outstanding cocktail service served by ladies in somewhat fancy outfits. But, it is as classy as near-nudity can be. The ladies are quite attractive. And be sure to get your hooch here for free because the bars charge per drink what we pay for our hotel per night.
Who Gets Comps?
Hiiiiiiiigh-rolllllawrs, that's who gets comps. The slot club pays back 0.22% but not in cash, just in more play. You can earn meals and rooms, too, but expect it to take a very long time for us cheapskates. For table players, ask to be rated at $50 and above. Expect to be a purple-chipper before any notable comps roll in.
Number of TVs:
Three big screens are comprised of four smaller screens each. There are also about 20 smaller TVs. Overall, the place feels like it could use a few more.
Number of Seats:
125 seats for the race fan, each with its own nice little TV with an interactive betting feature. There are about 50 seats for sports plus some VIP lounge seating. These may be the most comfortable seat sin any sports book in town. The leather was so buttery we tried spreading it on our toast.
Number of Betting Windows:
About 13 windows backed up by electronic signboards.
Free Drinks?
The cocktail waitresses at Wynn Resort and Casino Las Vegas only serve free drinks to folks making big bets. Boo! We only make big bets once we've had a bunch of free drinks.
Snack Bar?
No snack bar in the area, but there is the Zoozacracker deli nearby. It's too classy to sell hot dogs or popcorn, though.
Other Notes:
The sports book is an odd shape, with a chunk cut off for the bar. Sports are not as emphasized as racing here. Overall, the room is smaller and less spectacular than we expected, and a notch below the best on the Strip. The abstract art on the walls is out of place and looks pompous, as though sports images are beneath Wynn.
Number of Tables:
26 tables in the space for about 22. They are basic green felt with nothing fancy on them except Steve Wynn's name. Expect to find games 24/7 and almost all tables going at night. Nice lighting.
Comfort of Chairs:
These chairs are pretty good and comfortable, but not incredible. Simply above average. We were expecting something more exciting.
Closed Room or Open to Casino?
No, the room has a rail but is not closed. Still, it's quiet because they don't want anyone yelling or acting happy in this joint.
Game Spreads and Limits:
Stud, Hold 'Em and Omaha. Look for limits from $4-$8 up through the roof. No-limit starts at $1-$3 and goes up.
Beginner Games or Classes:
If you are a beginner, this is not the place for you. That is, unless you're keen on losing. Sure, there are other beginners here, but there are enough good players at all levels to take your chips.
How Crowded is the Room?
Are you kidding? The place is a madhouse. Expect to wait for almost any game on any night. If you get there in the afternoon, you might be able to jump in. The one beautiful thing is the electronic notification for people on waiting lists and hotel guests can check on the televisions in their rooms.
Comps?
$1 an hour in comps. La de da.
How Good Are the Players?
There are enough pros and very good players in the 10-20 and higher games to keep the schmucks out. Well, the schmucks who know better anyway. That means not us. Yeah, right, like we'll be playing $10-$20.
What Else Do I Need to Know?
This is one of the nicest poker rooms. It's well lit, comfy, but a little crowded. It's also sort of sterile. So, while it's nice, it's not one of our favorites.
Wynn Las Vegas Guest Rooms
Deluxe Room
The Wynn Hotel and Casino Las Vegas offers the deluxe room for those of us who can't afford the suites, but don't think that just because these are bottom of the barrel for the Wynn that they are affordable or anything short of luxury. You can choose from a variety of rooms with a king bed or two doubles, and with or without a panoramic view. The views are extra of course.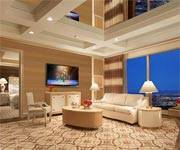 Suites
There are the choices of the Salon or Parlor Suites. You get a king bed with a pillow top mattress with premium bedding. These suites come complete with a desk, bedroom, living area, bathroom, with a separate bathtub and shower. The bathroom is also separate from the shower area, but there are no locks throughout the bathrooms, so don't expect too much privacy!
User Average Review
Overall:
Service:
Cleanliness:
Location:
Room Quality:
Based on 3 reviews
Rating Distribution
100.0% recommended it
Wynn Las Vegas Reviews