MGM Grand Vegas
Holy Hollywood! This place is as huge as Nicholas Cage's ego, and much, much larger than his talent..
---
A Quick Look
Location: The Strip
Hotel Class:

Room Price:

Hotel Size:5,029 rooms
Casino Size:171,500 sq. ft.
Gaming:Yes
Nightlife:

Pool:

Buffet:
---
Book Now

Shows to check out during your stay at MGM Grand Vegas
The Skinny
Just like the LA Basin,the MGM Grand Vegas goes on and on and on. It's the largest resort in a town famous for enormous resorts. That makes it perfect for go-getters who love quality, a great pool and a gaming floor that is close the elevators for that quick exit back to the room with your cash. And there's a reason the MGM is one of the most popular hotels on the Strip as it has great restaurants, cool clubs and a lot of entertainment options.
Reviews
Most Recent Reviews
Our user reviews are from real registered users.
Quick Facts
Check-in at 4pm
5000+ Rooms
Check-out at 11am
Near Attractions
High-Speed Internet
Pets Allowed
On-Site Restaurant
Near Restaurants
Parking
Check-In Age - 21+
Info
Location:
3799 Las Vegas Blvd. South
Las Vegas, Nevada 89109
View Map
Room Quality:
The West Wing has the smallest rooms: smaller than Grand Tower rooms at a typical hotel-room 350 square feet. They are in an older building, but do have nicer-than-average bedding and furniture, modern fixtures, a "boutique" hotel vibe, flat screen TVs in the bedroom and bathroom, and no bathtubs. The Grand Tower is preferable to us, because the rooms are an average 100 square feet larger. They are well-appointed. The king rooms have nice settees. The colors are light and the furnishings are fairly high quality with a modern feel. The bathrooms are spacious, with marble, but not fancy. No matter where your room is in this monstrosity, it'll be a long way from the front desk. For some, a hotel with absolutely everything under one roof is attractive. If that describes you, this is your place. For something a bit fancier, check out the Signature, which is sort of a hotel at the hotel that is all suites (for more dough, of course). Fancier beddings, jacuzzi tubs, flat-screen TVs, kitchenettes and just plain bigger rooms. Be forewarned that MGM Grand Hotel and Casino Las Vegas does not guarantee any room type, so you'll probably get what you book, but not always. Be on the lookout for MGM Grand promo codes that can help upgrade your room without the upgraded price.
Service Quality:
Good. MGM Grand Hotel and Casino Las Vegas is enormous and it's trying to please both the gamblers and visitors with kids. Room service is as fast as one would expect in a 5,000 room hotel. Also, avoid trying to check-in at rush hour because there are few casinos in the world with longer lines than this place when it's busy. Specifically, avoid Thursday and Fridays between 2 p.m. and 10 p.m.
What You Get Bottles of in the Bathroom:
Shampoo, conditioner, bath gel, plastic shower caps, lotion, and a "vanity kit" with Q-tips. We hope you packed light and brought a big suitcase for taking it all home.
Clientele:
The young and old converge in Las Vegas' largest hotel. There are very few locals mixed in with the wide range of tourists.
How's the Pool?
Big and nice, with a huge main pool and cool palm trees. It's crowded in the summer. The coolest part of the pool area is the lazy river. The pools are heated, and at least one is open all winter. The adults only "Wet Republic" is a swankier party pool.
Resort Fee:
MGM Grand Hotel and Casino Las Vegas has a $25/night resort fee which does towards Internet access in the guestrooms, a daily newspaper, local calling, and use of the fitness and business centers. Find some MGM Grand promo codes to get more bang for your buck when you stay here.
Is it Worth It?
It's a bit pricier than some of the other options on the Strip, but it's worth the upgrade.
Hotel Amenities
Spa
Restaurants
Bar/Lounge
Room Service
Air-conditioning
Wedding Services
Shoe Shine
Dry Cleaning
Ballroom(s)
Doorperson
Security Guard
ATM/Banking
Business Center
Business Services
Concierge Service
Free Guest Parking
Parking Garage
Multilingual Staff
Express Checkout
Conference room(s)
Event Catering
Sauna
Table Games:
As Las Vegas' biggest casino, they have a bit of everything. High-roller salons, and hundreds of tables for blackjack, craps, roulette, pai gow, the bad-bet Big 6 wheel, Let It Ride and on and on. The Asian high-rollers play in the salon for tens of thousands of dollars each hand, and get put up in fancy mansions behind the swimming pool. Oh, there is also a very small pit of non-smoking tables.
Bet Minimums:
Expect to see $10 and up (although we did see $5 tables off the main casino floor), and it can go high faster than you can say "I have to walk how far to the bathroom???" Carnival games (table games you've never heard of) start at $10, roulette is $1 chips with a $5 minimum. Craps is 3x4x5x odds.
Machines:
From pennies to $500. See, you start on the pennies, win a jackpot, move up to the quarters, and so on until you're playing the $500 machines. Then you lose it all. There is very little to no full-pay video poker. MGM Grand is home to the last working Sigma Derby in Vegas.
Cocktails?
Good, but with this much space it is not as fast as some of the smaller places. And, you can lurk in some corners where a waitress will never find you. Nickel players often have to be vocal to get attention. We never have a problem being vocal.
Who Gets Comps?
The big boys. We have not heard many reports of free room offers in the mail, or them showering low-rollers with undeserved buffet comps. The M Life slot club tries hard to make you very loyal to the MGM casinos.
Number of TVs:
About 36 big 60-inch flat screens with a dozen smaller ones. There are also three monster-screens. That is not to say they will eat you, just that they are rather large, like a monster.
Number of Seats:
About 104 in sports book, set up movie-theater style. In the back it's lounge style, with seats at small tables. About 50 seats are for the race room, each with its own little monitor. The seats are above average in the comfort game and are leather, or something like leather. Oh, and by the way, they have fancy "skyboxes" for their well-to-do clients.
Number of Betting Windows:
17, with electronic signboards.
Free Drinks?
Yes, but mostly just if you bet huge amounts. Unless you bet ponies. They get their hooch for cheaper bets.
Snack Bar?
Stage Deli for sandwiches and such. Find some MGM Grand Las Vegas promo codes for meals at the other restaurants here. You didn't just come to Vegas to eat at a deli after all.
Number of Tables:
Twenty-two tables makes it one of the bigger rooms in town. And, unlike most of the other rooms late to the game, this one is pretty dang nice. Expect games 24/7 with almost all tables going on weekends.
Comfort of Chairs:
The chairs are very good and the tables are cool.
Closed Room or Open to Casino?
Not really. There is the sports book to one side and some hipster nightclub on the other, so you're gonna get noise. Still, this is a nice room with cool tables and a vibe that attracts young, overconfident kids.
Game Spreads and Limits:
Texas Hold Em from $3-$6 up to some mid-level games for fixed limit. They also have several no-limit games available starting at $1-$2. They also say they deal stud, Omaha and mixed games, but mostly expect to find Hold'Em.
Beginner Games or Classes:
MGM Grand Hotel and Casino Las Vegas offers free poker lesson every day at 10:30am and 6pm. Get there on time for a good seat.
How Crowded is the Room?
It's a popular room, but it's also big enough that you usually have a short wait. Even on weekends, you likely won't have more than a half hour wait.
Comps?
The standard $1 per hour up to a whopping $10 a day. Whoop de doo.
How Good Are the Players?
Man, there are so many young kids with backward ball caps it'll make you cringe. In general, MGM Grand Hotel and Casino Las Vegas is a good room to fleece some kids, so long as you know how to play tight aggressive and go for the jugular with strong hands. Some of these knuckleheads will chase you to the river.
What Else Do I Need to Know?
Lots of fancy televisions, and a very nice computerized wait list. This is a hipster room, which is sort of good, but sort of lame if all you want to do is play poker without distractions. It's a non-smoking room, and they have table side massage and food service. Yeah, the other players at your table will be thrilled when you order a jumbo platter of onion rings.
MGM Grand Hotel and Casino Guest Rooms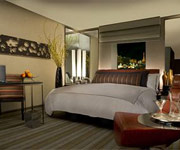 West Wing King
These rooms are in the quiet West Wing with easy access to The Strip. This 350 square foot room has a king bed with a pillow top mattress and two body pillows. A flat-panel TV, DVD player, telephone and Bose Wave clock radio are provided in the separate sitting area. Stay entertained even in the bathroom with the large mirror with 11-inch digital TV screen. You won't be able to bathe in a tub, but there's a shower for two, which is usually just as good. There's a separate toilet room with phone, so you don't have to miss a beat just to...take care of business. Don't bring the children along in this room, because rollaway beds and cribs are not allowed.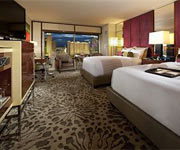 Tower Deluxe 2 Queen Beds
This 450 square foot guestroom comes with two queen beds, so the whole gang doesn't have to scrunch together for this trip, but after a go at the fully stocked minibar, who knows, you might all end up in one bed anyways. There's plenty of closet space for everyone to bring a full wardrobe, and the in-room safe will house all your valuables. Internet access is included in the resort fee, as well as access to several other amenities on site.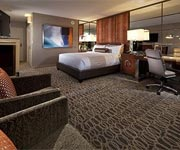 Executive Suite
This 675 square foot petite suite has one king or two queen beds. An extended living area has a sofa, armchair, coffee table, second TV, desk area, and wet bar with compact refrigerator, so you can practically have a whole other family living in your hotel living room, so make sure to charge them extra rent. The Italian marble bathroom has twin sinks and a separate tub and stall shower, for twice the cleanliness in half the time. Wireless and wired high-speed Internet access is included in the resort fee. 24-hour in-room dining available.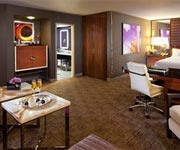 Tower Spa Suite
694 square feet make this the largest suite at the MGM Grand. The large sleeping area comes with one king bed and a swivel TV, turn it any way you like, don't think watching TV in bed is your only option. The extended living/dining area has a sofa, two armchairs, an ottoman, coffee table, desk, dining set and wet bar with compact refrigerator. This suite is just like a mini version of your own house, so kick off your shoes and make yourself at home. But you won't be the one doing the cleaning now, so take advantage of your housekeeping services. Then relax in your marble jetted tub, a feature that will make you realize you're definitely on vacation.
User Average Review
Overall:
Service:
Cleanliness:
Location:
Room Quality:
Based on 6 reviews
Rating Distribution
100.0% recommended it
MGM Grand Hotel and Casino Reviews