Bellagio Las Vegas
Oh Boy! Top of the list for me... can I give it a 6th star and another diamond?
---
A Quick Look
Location: The Strip
Hotel Class:

Room Price:

Hotel Size:3,933 rooms
Casino Size:116,000 sq. ft.
Gaming:Yes
Nightlife:

Pool:

Buffet:

Best Show:
---
Book now for great deals!!

Other Hotels like Bellagio Las Vegas
Bellagio Las Vegas Deal Finder
* Room Rates shown above reflect the average nightly rate for a 2 night stay with the calendar date as the check-in date, our visitors should verify actual rates, promotions and deals directly with the hotel as we make no guarantees regarding rates, but only provide them as a convenience.
Book Now
The Skinny
Hard to get much better than being a AAA Five Diamond Award-winning luxury Las Vegas hotel!! Dancing fountains, award winning casinos, fine dining and all the other good stuff that comes with luxury. When people talk about how mature Vegas has become, the Bellagio Hotel and Casino is often used as an example - and they're right. If your idea of the perfect hotel includes a bathroom you're proud to tell your neighbors about, then the Bellagio Las Vegas is the perfect place for you.
Reviews
Most Recent Reviews
Our user reviews are from real registered users.
Quick Facts
Check-in at 3pm
3000+ Rooms
Check-out at 11am
High-Speed Internet
On-Site Restaurant
Near Restaurants
Parking
Near Attractions
Info
Location:
3600 Las Vegas Blvd S
Las Vegas, Nevada 89109
View Map
Website:
https://www.bellagio.com/
Room Quality:
Rooms at the Bellagio Hotel Las Vegas are spacious at about 510 square feet, and the suites are even bigger and nicer. Tasteful furnishings, marble floors in the john, electric drapes, and all kinds of stuff to gawk at. The bathrooms have showers separate from the tubs, so you can sit in the tub and watch someone shower like rich people love to do. If you join the Bellagio Las Vegas slot club and put in your hours, they might send you some discounted room offers for slow times of year. Oh, we should not forget to mention the overpriced host fridge and three phones in every room, the robes, irons, flat-screen TVs, ginormous armoires and safes.
Service Quality:
If you're throwing money around, expect primo service at the Bellagio Hotel Las Vegas. This place is known for treating rich people like rich people.
What You Get Bottles of in the Bathroom:
As one might expect from the Bellagio Hotel and Casino, the bathrooms have lots of fancy European stuff like hand lotion, shampoo and bars of French-milled soap.
Clientele:
People who want you to know they are wealthy - or at least pretend they are. The crowd tends toward a yuppie demographic, but many downscale folks come to see how the other half lives. The rumor is that they frown on people who do not dress to their high standards, but they won't stop you from going in with shorts and a "Big Johnson" t-shirt. Trust us on that one.
How's the Pool?
The Bellagio Vegas Hotel has five pools with three whirlpools, and no kiddies around to splash you in the face. It's heaven for a lot of people. Some of the pools have fountains squirting out of them, for visual excitement. The very chi-chi can rent an overpriced poolside cabana and while away the days in comfort and style. One note - don't mix up the big old fountain out front for the pool. Security doesn't think it's cute at all. The Bellagio Las Vegas pools are heated and open year-round.
Resort Fee:
$28 a night for in-room high speed and wireless internet, In-room local and toll-free calls, Fitness Center access, and airline boarding pass printing. What's next... a "Bellagio Fountain Fee!?"
Is it Worth It?
This place is all about luxury so it's gonna cost you, but come on - if the goal is to live like a king, a night at the Bellagio is definitely worth it.
Hotel Amenities
Air-conditioning
Airport Transportation
ATM/Banking
Ballroom(s)
Bar/Lounge
Business Center
Business Services
Car Service
Concierge Service
Conference room(s)
Doorperson
Dry Cleaning
Event Catering
Express Checkout
Fitness Center
Free Guest Parking
Indoor Pool
Jacuzzi
Lakeside
Multilingual Staff
Parking Garage
Parkside
Restaurants
Room Service
Sauna
Security Guard
Shoe Shine
Spa
Wedding Services
Table Games:
Whatever you want, they got. Blackjack, craps, roulette, Three Card Poker, Let It Ride, Pai Gow, Baccarat. If you want to gamble while sitting in the most comfortable chairs in the Western United States, this is the place for you. For you super-duper high-rollers, check out Club Prive, Bellagio Las Vegas' high-limit lounge. God knows, we can't.
Bet Minimums:
You won't get a seat on one of the fancy leather chairs at the Bellagio Las Vegas for less than $10, and usually it takes more, especially on weekends. Roulette has $1 chips with a $10 minimum bet. Craps is 3x4x5x.
Machines:
There are many slot machines of all the latest varieties from the penny on up (you have to put in dollars, though). The weird thing is how quiet the Bellagio Las Vegas slots are. They have roped-off areas where the high-rollers can play for $500 a hand.
Cocktails?
Pretty good drink service can be expected at the Bellagio Hotel Las Vegas. You won't get anything for standing around gawking at the big flower chandelier, but if you're betting money, they'll be happy to cloud your judgement for free.
Who Gets Comps?
Plan to drop a ton of dollars into the slots before you'll turn anyone's head. The M Life slot club is meant to make you very loyal to the MGM casinos.
Number of TVs:
Nineteen. Four of them are great big ones, composed of 16 integrated screens. These can show one event, or be broken down into smaller configurations. One or two of the monsters go for sports, and two or three for racing. The Bellagio Hotel Las Vegas also has a separate sports lounge with 26 more screens.
Number of Seats:
150-180 or so, including some swanky lounge-type booths. Many of the seats at the Bellagio Las Vegas are reserved, but not all of them. They have by far the most comfortable chairs in town. Bellagio Las Vegas also has 99 seats for race have individual TVs.
Number of Betting Windows:
15, with big fancy electronic signboards and everything.
Free Drinks?
Rarely. This is Bellagio Las Vegas, after all.
Snack Bar?
There's a snack bar right next door. It's creatively named "Snacks". Well done Bellagio Las Vegas.
Other Notes:
Like the 21 Club in New York, you feel like a big, rich, cigar-chomping hotshot watching sports here.
Number of Tables:
30 regular and five high-limit tables in their very own room. If you've got the dough, you can have a little privacy. This is a non-smoking poker room.
Comfort of Chairs:
High, with a bonus swivel factor! Because poker isn't much of a money-maker for the casino, they don't give you a fancy leather seat. For that you need to play slots. But they do have soft cloth chairs that are probably nicer than anything you've got at home.
Closed Room or Open to Casino?
The room is closed off and also pretty isolated. The hi-limit tables at the Bellagio are really tucked away, but the regular room, while not Walden Pond, offers plenty of quietude.
Game Spreads and Limits:
7-Card Stud, Hold-em, Omaha 8, Mixed Games (hi-lo, lo-ball, etc.), they spread from limit $4-$8 up to $30-$60 and no-limit up to $5-$10 or higher if they can get the players.
Beginner Games or Classes:
No. The Bellagio is too hoity-toity for beginners.
How Crowded is the Room?
This joint can get crowded, but put your name on the list and they'll have you seated in half an hour or so. Well, maybe an hour for the low-limit games. Use the time waiting to take advantage of their lovely restrooms, so you can start the game relaxed and ready to win win win!
Comps?
A buck an hour, although it varies up to two bucks, and you can only use the comps at the Bellagio buffet, coffee shop and snack bar.
How Good Are the Players?
Among the best in Vegas. Although, at the low-limit tables you can find some suckers who just thought it would be fun to play at Bellagio.
What Else Do I Need to Know?
5-10% rake, depending on the game. Thanks to the TV, there are daily no-limit hold 'em tournaments, but they are pretty high-skill and large entry fee.
Bellagio Las Vegas Guest Rooms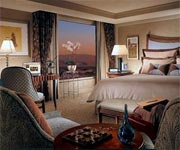 Deluxe Room
This classy room has your choice of one king or two queen beds with pillow top mattresses, down comforters and leather headboards. They have 510 square feet of nifty Mediterranean decor. The bathroom has marble and a wood vanity, and don't forget the glass-enclosed stall shower and separate tub.These rooms are only found on floors 4–28 and have pool or mountain views. Make it a Lake View Deluxe Room for an exclusive chance to spend your days staring at the Bellagio fountain show instead of enjoying the city.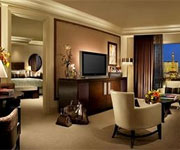 Bellagio Suite
Bellagio suites feature one king sized pillow top mattress with a down comforter and leather headboard. They are 1,020 square feet with a living room/dining room that has a couch, two armchairs, a coffee table and a half-bathroom. Suites have pool or mountain views and are located on floors 29–36. There are two TVs, a VCR or DVD player, an overpriced minibar, and two bathrooms with their own 11-inch TVs to keep you occupied plus fluffy bathrobes and slippers. The best part? One of the bathrooms has a marble jetted tub.
User Average Review
Overall:
Service:
Cleanliness:
Location:
Room Quality:
Based on 3 reviews
Rating Distribution
100.0% recommended it
Bellagio Las Vegas Reviews