Rock of Ages Las Vegas
The worldwide smash hit that has set the Vegas Strip on Fire! Vegas's Best Party!!!
---
A Quick Look
Show Type: Musical
Rated:

PG13

Dates: Ongoing
Price:
---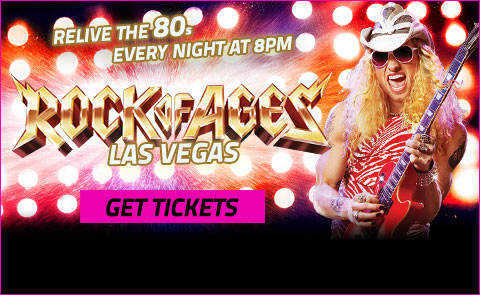 Not what you're looking for? Check out more Musical shows!
The Skinny
Vegas' Best Party! A worldwide smash hit featuring 28 memorable '80s rock anthems that ignited a generation is setting the Vegas Strip on fire! It's the story of Drew, "a city boy from South Detroit", and Sherrie, "a small town girl", and set in on L.A.'s infamous Sunset Strip in 1987. Big bands, big egos and big hair at the Venetian!
Reviews
There are currently no reviews!
Be the first to write a review!
Write a review
Our user reviews are from real registered users.
Quick Facts
Rock of Ages Las Vegas is set on Sunset Strip during the 1980's and features all the top metal hits and power ballads from Journey, Styx and many more.
Featuring the most eyebrow-scorching '80's rock anthems ever, including: We Built This City, The Final Countdown, Here I go Again, along with 24 more anthems.
Offering the best 1980's music, Rock of Ages Las Vegas is filled with comedy and non stop entertainment.
Show Website:
https://www.rockofagesvegas.com/?utm_source=vegastourist&utm_medium=banner&utm_campaign=rockofages
Info
Show Dates:
Ongoing
Performance Times:
Tues. - Fri. + Sun. 8:00pm, Sat. 7:00pm and 10:00pm
Running Time:
2 hours
Location:
The Venetian Las Vegas
The Venetian
3355 Las Vegas Blvd S.
Las Vegas, Nevada 89107
View Map
Age Restriction:
14 & Up.
Features:
Rock of Ages Las Vegas is a hair metal infused, glam rocking adventure set in the 1980's so you can experience all your favorite good times again. So head to the back of your closet, put on some eyeliner and start partying. This boy meets girl story takes the landscape of the 1980's and turns it into a night to remember. Hitting a fevered pitch with a few laughs thrown in, the Rock of Ages Las Vegas will leave you head banging for the rest of the time you are in Vegas.
What To Know:
Rock of Ages Las Vegas brings all the rock classics that you come to expect with enough energy to fluff up your hair from the guitar riffs alone. With a musical including covers like: Journey, Styx, Bon Jovi and much more what are you waiting for?
Rock n Roll: Rock of Ages at the Venetian in Las Vegas has everything you could hope for in a rock opera in Las Vegas - scantily clad women singing, the best music period, and pyrotechnics that may leave your big hair singed.

Music Performed Like You've Never Seen Before: The 1980's are alive and well at the Venetian with hits like Don't Stop Believin', The Final Countdown and Keep on Loving You you might forget what decade it is.
Inside Knowledge:
Casino Boy does not believe it is a real concert without waving a lighter in the air. Luckily The Rock of Ages Musical has got it covered, offering a free LED souvenir "lighter" to make sure everyone knows just how much you are enjoying the show.
Do's and Don'ts:
Do Participate: Give something back to the performers by waving that lighter and singing your heart out.
Do Expect to Laugh: The Rock of Ages at its core is the most powerful 1980's show around, but that does not mean when you are not rocking you won't be laughing.
Don't Bring the Kids: There is enough adultish content including stripper poles and the occasional lap dance to suggest you may want to keep the kids at home or back in the hotel room watching Roadrunner reruns.
Don't Worry, Be Happy: There are no bad seats in this small, intimate theater, so where ever you sit you will be blown away. Rock on!
Is it Worth It?
Can you really put a price on rocking out to loud rock music with big hair girls dancing all around you? Cheapo Boy says no.
User Average Review
Overall:
Acting:
Ambience:
Production:
Story:
Based on reviews
Rating Distribution
0.0% recommended it
Rock of Ages Las Vegas Reviews
There are currently no reviews! Be the first to write a review!
Write a review
Show Hotel
-->
More Musical Shows You May Like