Rio Las Vegas
Holy Guacamole! Where else does your host carry fruit on her head?
---
A Quick Look
Location: Off-Strip
Hotel Class:

Room Price:

Hotel Size:2,500 rooms
Casino Size:120,000 sq. ft.
Gaming:Yes
Nightlife:

Pool:

Buffet:
---
Book now for great deals!!

Other Hotels like Rio Las Vegas
Rio Las Vegas Deal Finder
* Room Rates shown above reflect the average nightly rate for a 2 night stay with the calendar date as the check-in date, our visitors should verify actual rates, promotions and deals directly with the hotel as we make no guarantees regarding rates, but only provide them as a convenience.
Book Now
The Skinny
Even though the Rio Las Vegas is about as Brazilian as a senior center's Mardi Gras party, it's nice here. Large rooms, a great pool, and loads of restaurants. It's not one of the hotels on the Strip, but it's close and the shuttle there is free!
Reviews
Most Recent Reviews
Our user reviews are from real registered users.
Rio Vegas Bottle Package Promotion
New!
How does free liquor sound? Book a stay at Rio Las Vegas with this promo code for two or more nights and have your choice of whiskey, rum or vodka! Find rooms starting at just $35 a night.
Booking Directions:
Click the red "Use Promo" button to the right... Locate 'Room Deals' in the left hand column, click 'Promotions: View all promotions'... Click on your desired promotion, enter your dates, click on the blue 'Check Rates' button and book your deal!
Offer Expires: 99 days
Promo Code: IRBOT
Use Promo
Quick Facts
Check-in at 4pm
Near Attractions
2000+ Rooms
Check-out at 11am
High-Speed Internet
Pets Allowed
On-Site Restaurant
Near Restaurants
Parking
Check-In Age - 21+
Info
Location:
3700 W Flamingo Rd
Las Vegas, Nevada 89103
View Map
Website:
www.riolasvegas.com
Room Quality:
The rooms at Rio Hotel Las Vegas are big at 600+ square feet. Most of the room is in a huge bedroom area. There are a king or two queen beds, a sofa and a table with two chairs. Each room has an iron, ironing board, hair-dryer, safe, refrigerator, separate dressing area with two sinks, and large bathroom. The views can be spectacular because the windows are wall to wall, floor to ceiling.
Service Quality:
Fair. The Rio All Suite Hotel and Casino Las Vegas is humongous! They have their priorities, and their guests are on the top.
What You Get Bottles of in the Bathroom:
Shampoo/conditioner and hand lotion. Hey, Rio Las Vegas! Where is our old favorite, the sewing kit? It disappeared. Las Vegas' cost-cutting measures are killing us and our pants.
Clientele:
Folks in their 30s to 50s stay at the Rio All Suite Hotel and Casino Las Vegas. There are a lot of rich and wannabe rich Californians. All the men seem to be required to own Tommy Bahama shirts and smoke cigars. The women often wear slinky black dresses, and an extraordinary number have fake boobs. If you have fake boobs, you'll fit right in. Unless you're a guy.
How's the Pool?
Bring a buck because you can't get to a Rio Hotel Las Vegas pool without someone showing you to a chair and giving you a towel. If you're thinking about sneaking in, think again. The pool is closed in winter. There is also the Sapphire pool area which is swankier and allows for topless bathing.
Resort Fee:
UnliThere's no resort fee here, a rarity in Vegas! Maybe you can find Rio Las Vegas promo codes for all the rest of the deals.
Is it Worth It?
You get a lot of room to dance around in, and it's a short trip to the Strip, but without the high prices of staying on the Strip. In short, it's worth the lower prices.
Hotel Amenities
Air-conditioning
ATM/Banking
Ballroom(s)
Bar/Lounge
Business Center
Business Services
Conference room(s)
Dry Cleaning
Event Catering
Express Checkout
Fitness Center
Multilingual Staff
Free Guest Parking
Parking Garage
Pets Accepted
Restaurants
Room Service
Sauna
Security Guard
Spa
Wedding Services
Concierge Service
Table Games:
You name it and they have it: roulette, craps, blackjack, mini-baccarat, Caribbean Stud, Let It Ride, Pai Gow, and plenty of carnival games. They offer 3x4x5x odds on craps. It is a good place to gamble if you want a fancy atmosphere and attractive employees, and you don't mind losing a bit more.
Bet Minimums:
All we ever see is $5 for Let it Ride, $10 for craps, and $10 for blackjack, at the lowest. Roulette is a $10 min. Pai Gow is the same. Don't forget that a lot of their tables pay 6:5 on blackjack.
Machines:
Slots from a penny to $500. The fact is that the Rio is a great place to stay and eat, but the gaming is just ok. Heck, somebody has to pay for all of the fruit on Rio Rita's head. You're not likely to find a full-pay VP machine, but from time to time there are some on the casino floor.
Cocktails?
The Rio All Suite Hotel and Casino Las Vegas cocktail service is pretty standard for Vegas.
Who Gets Comps?
At the tables they will treat you coolly if you even asked to be rated at below $25 a hand. If you play $50 for four hours you will get a meal and a room discount. $150 or more for four hours and they will consider giving you a free room. Although, a consistent slot or table player may see some mailers for free rooms at the Rio All Suite Hotel and Casino Las Vegas.
Number of TVs:
32, but some show keno, which is probably as much of a sporting event as televised poker. Two big screens, which switch between racing and sports, depending on the importance of the day's events.
Number of Seats:
About 60 race desks, 40 of which have little TVs, seven booths in the back of the room and about 20 little tables in the Sports Deli.
Number of Betting Windows:
About 13. The sports signboards are electronic, but the race board is on the screen. And the minimum bets: $5 sports, $2 for racing, sometimes.
Free Drinks?
Sometimes. Occasionally a cocktail waitress will even ask you if you'd like a drink if you're there to take notes for a web site. If you're betting, ask for a drink ticket when you place your bet, though, and see what they say.
Snack Bar?
Sports Deli next door serves up grub right next door. Mah Jong is also close by for noodles.
Other Notes:
When Rio All Suite Hotel and Casino Las Vegas casino added its poker room to keep up with the hold-em craze, they hacked off a chunk of this room. Why couldn't they take out some slots?
Number of Tables:
Rio All Suite Hotel and Casino Las Vegas has ten tables packed into a section of what used to be the sports book. Most times about half to eight tables are running.
Comfort of Chairs:
They say World Series of Poker on them. Whoop-de-doo.
Closed Room or Open to Casino?
This room is wide open and pretty noisy. A three-foot high wall partially "separates" it from the sports book but not the casino. One table in the way back has yet another three foot wall around it.
Game Spreads and Limits:
Hold 'Em, Hold 'Em and more Hold 'Em. They deal what you see on TV because the clientele is mostly rookies who want to win big like they've seen on the boob tube. Games are 4-8 and up with a $1-$2 and $2-$5 no-limit game usually going as well.
Beginner Games or Classes:
There are free poker lessons but you need to make a reservation.
How Crowded is the Room?
Crowded. Expect an hour or more wait on busy weekends.
Comps?
A buck an hour up to eight bucks a day. How generous...
How Good Are the Players?
If you play tight-aggressive, you can make a fortune here because this place is crawling with loose jokers who know far less about poker than they think.
What Else Do I Need to Know?
They host the World Series of Poker here.
Rio Las Vegas Guest Rooms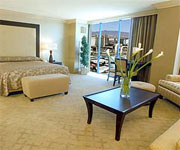 Deluxe room
Featuring Las Vegas views from floor-to-ceiling windows, these suites range from 600 to 630 square feet, and each comes with one king bed, or two queens for a little bit more. Kick back with something from the minibar in the sitting area, or relax in bed watching movies or playing games on the 32-inch TV. The marble bathroom has a shower/tub combination, as well as a vanity in a separate dressing area.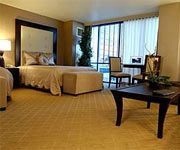 Strip View Rooms
With panoramic views of The Strip from floor-to-ceiling windows, this 600- to 630-square-foot suite comes with one king bed. You get a minibar, Internet access for a charge, and a 32-inch TV. But if you ever decide to leave the room, lock your valuables in the safe and head out to explore. Make a note of which room is yours so when you're walking down the Strip you can keep an eye on all your stuff that wouldn't fit in the safe.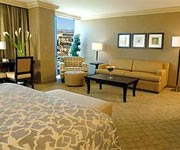 Masquerade Tower Room - Pet Stay
Las Vegas views from floor-to-ceiling windows and 600- to 630-square-feet of room with one king or two queen beds. Pretty much the same as the rest of the rooms, the minibar, large sitting area, a safe, TV, and bathroom with a separate dressing area. With this room, smoking is permitted, and bonus, you can bring your pet! Don't let your furry friends miss out on all Vegas has to offer!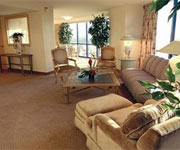 Masquerade Suite
Featuring those great Las Vegas views from floor-to-ceiling windows, there's one king bed in a 1,600-square-foot suite! Do the math, that's plenty of room for dancing around, entertaining, whatever you want to do with it! Mix a drink at the wet bar or mini bar and get the party started. You get a special upgraded sound system and 32-inch TV. The main bathroom has a jetted tub and walk-in shower, as well as a vanity in a separate dressing area as well as a second half bath. You're sure to come up with plenty of ways to use up all this space!
User Average Review
Overall:
Service:
Cleanliness:
Location:
Room Quality:
Based on 3 reviews
Rating Distribution
100.0% recommended it
Rio Las Vegas Reviews