Vegas First Timers Guide: Which Sin City myths are true - and which are FALSE
---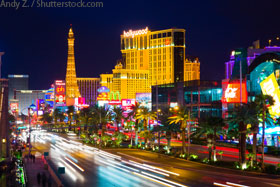 For those of you who have never been to Las Vegas, we acknowledge that there are a lot of myths surrounding the city, many of which remain just that - myths - until one actually visits the hallowed grounds of Sin City for the first time.
For instance, any first-timer in Las Vegas would assume, based on TV and movies, that there is never any traffic on the Strip. They might also assume (via Con Air) that said lack of traffic would allow one one to safely land an airplane on Las Vegas Boulevard. Spoiler Alert: Neither of these are true. With that out of the way, let's move on...
While some Las Vegas myths and stereotypes need to be experienced in person, many more do not. And as Vegas insiders, we decided to throw all you newcomers a bone when it comes to what myths are true - and which are NOT - in Las Vegas.
Without further ado, it's time to debunk some misguided, pre-conceived notions people often associate with the city before ever visiting...
1.) Everyone in Las Vegas is good looking!
This is painfully false. And did you really think that? What's the matter with you? You're shallow. Moving on. Wait, someone once said they get better looking after a few beers...
2.) If you gamble, they give you free drinks!
This is true, though we prefer the freebies at the bar rather than waiting for a cocktail waitress. We're all about efficiency! And booze... And tip the waitress!
3.) Las Vegas buffets are really cheap!
Las Vegas buffets are really not that cheap overall, especially on the Strip. However, the farther off Strip you go, the cheaper the food (and just about everything else) gets. Don't do a Vegas buffet without some sort of coupon or 2-for-1 deal, unless you really believe you can eat $40 worth of crab legs. It's not out of the realm of possibilities - we're just sayin'.
Also, take advantage of the food and beverage deals offered from time to time by Vegas hotels. You're gonna' eat anyways, right? Let the casino pay for it.
4.) The strip clubs give you a FREE ride to their clubs! In limos!
This is true. And awesome. Though not necessarily the limo part - it depends how many bros people you have in your party. (Not all clubs abide - check out the Sapphire and the Spearmint Rhino and call them DIRECTLY for your free ride.)
5.) The pool parties are insane! And their topless!
Yup - insanely expensive. And crowded. Like buffets, don't hit up a Vegas pool party without a room and pool deal or some sort of comped coupon. Seriously, if you pay $40 to get into a pool party (the going rate for guys to get in at a lot of pool parties) PLUS drinks, then we're not sure you're Cheapo material ...
OH, and as for that topless part? Well, that's true at SOME - but not all - Vegas pools. Keep your top on before confirming that you're in an adult-only Vegas pool. Guys, you are probably safe.
6.) They'll throw you out of the casino if they think you're counting cards!
That's true too, but, let's face it - that stuff's a little over our head, anyways. I mean, we were told there would be no math when we went to Vegas. Which explains how we completely lost track of our checking account.
7.) O'Shea's The Imperial Palace has the cheapest beers on the Strip!
We're not sure why you're yelling at us. But yes - now that the days of $1 beers are over at the gone-but-not-forgotten O'Shea's Casino, the cheapest beer we've found on the Strip without plugging in a $10-spot into the video poker machines is at the Imperial Palace Geisha Bar on the casino floor. You can get a size-able pitcher of Coors Light for <$10 anytime, any day of the week.
(Calling all Veteran Cheapos: PLEASE tell us where you've had the cheapest beer on the Strip in the comments section below. The people wanna' know.)
8.) The slots are looser Downtown!
This is true, and it's actually a fact; the Nevada Gaming Control Board actually certifies how loose slots are at each casino. Some of the loosest slots in Vegas can be found at El Cortez, the Las Vegas Club and the California - all of which are located in Downtown Las Vegas. If you're looking to hit it big on the slot machines, consider the Downtown area over the Strip.
9.) There's smoke everywhere. Seriously. Everywhere.
Well, not everywhere. A few Las Vegas hotels that don't allow smoking include the Vdara, the Trump and the Westin. Not coincidentally, these three hotels are non-gaming as well. See a correlation there?
10.) You can drink anywhere in Las Vegas!
This isn't quite true. You can have open containers on the Strip and on Fremont Street Downtown, but, THAT'S IT. This isn't a big deal though because, seriously, if you've never been to Vegas before you're pretty likely to end up staying on one of these streets. Just remember that before you wander (or stagger?) off the Strip, beer in hand, you could be looking at a ticket. You've been warned!
There you have it, first-time Cheapos! These aren't the only myths we'll be busting this summer on Cheapo Vegas, but we thought that this was a good start if you're planning an upcoming vacation in Vegas. As for you Vegas veterans, comment below or visit us on Facebook and Twitter to drop a little knowledge on which Vegas myths are proven - and which ones need to be debunked for first-timers.