Flamingo Vegas
Just what are those orange and pink light structures supposed to be? I think they look like flamingo butts.
---
A Quick Look
Location: The Strip
Hotel Class:

Room Price:

Hotel Size:3,642 rooms
Casino Size:70,000 sq. ft.
Gaming:Yes
Nightlife: No
Pool:

Buffet:

Best Show:
---
Book now for great deals!!

Other Hotels like Flamingo Las Vegas
Flamingo Las Vegas Deal Finder
* Room Rates shown above reflect the average nightly rate for a 2 night stay with the calendar date as the check-in date, our visitors should verify actual rates, promotions and deals directly with the hotel as we make no guarantees regarding rates, but only provide them as a convenience.
Book Now
The Skinny
The Flamingo Vegas is a good value for those among us who are looking for a decent room at the best intersection in town. It's too bad it's not as orange and pink as it used to be. But it's downright hipster in the Go rooms.
Reviews
Most Recent Reviews
Our user reviews are from real registered users.
Quick Facts
Check-in at 4pm
Check-out at 11am
3000+ Rooms
Near Attractions
Pets Allowed
On-Site Restaurant
Near Restaurants
Parking
Check-In Age - 21+
Info
Location:
3555 Las Vegas Blvd. South
Las Vegas, Nevada 89109
View Map
Website:
https://www.flamingolasvegas.com
Room Quality:
There is a wide array of room qualities because of the multiple expansions. The newer rooms at Flamingo Hotel Las Vegas tend to be nicer, and the older ones, while still okay, are, well, older. All are clean, and all have irons and dryers. A big plus is that many rooms are directly above the casino so there aren't as many long walks to the elevators as at some of the neighboring mega-resorts. Also, it is right on the Strip, not set back, so you can get a fantastic view. Something Flamingo calls the "Go Rooms" are all high-tech with flat-panel TVs, iPod docks, fancy clock radios, goofy retro decor like from a Rock Hudson movie, primary colors, separate showers and tubs, and TVs in the bathroom mirrors. The Flamingo Hotel Las Vegas is at one of the best corners in Vegas. They have added towers several times, which are a bit scattered about. See, they've got a prime location!
Service Quality:
Good. The Flamingo Hotel Las Vegas is enormous but well staffed. They do a decent business trade, so they can address your business needs, and they have a business center. Check-in can be a nightmare on Friday afternoons, but the good news is electronic kiosks for checking in and out - great for those of us with a phobia about human contact.
What You Get Bottles of in the Bathroom:
You get shampoo, conditioner, a shower cap and lotion. It's the usual stuff from a hotel. The Go Rooms add nicer toiletries, including mouthwash for those of you who don't plan on splurging for alcohol.
Clientele:
It's a mix of young and old. There's no real delineation by age or wealth, but it is mostly mid-westerners and easterners. The hip, young and annoying west coast crowd does not hang out here.
How's the Pool?
Great. The Flamingo Hotel Las Vegas has one of the best pool areas in Vegas. It's a decadent, sprawling tropical complex with gorgeous landscaping, winding pools, lots of little water slides. The pools are open year-round, but only one is heated. In the summer, they have live gaming poolside. We don't mean slots, you could electrocute yourself with something like that.
Resort Fee:
The Flamingo Las Vegas now charges an $18 resort fee for internet on one device, local calls, and fitness center access for two. Sorry Cheapos! Platinum, Diamond and Seven Stars guests don't pay a resort fee. Not impressed, Flamingo.
Is it Worth It?
It's pink and it's cheap, what's not to love?
Hotel Amenities
Air-conditioning
ATM/Banking
Ballroom(s)
Bar/Lounge
Business Center
Business Services
Car Service
Concierge Service
Conference room(s)
Doorperson
Dry Cleaning
Event Catering
Fitness Center
Free Guest Parking
Multilingual Staff
Parking Garage
Restaurants
Room Service
Sauna
Security Guard
Wedding Services
Pets Accepted
Table Games:
For the size of the hotel, this is a surprisingly small, loud and crowded casino. The Flamingo Vegas reviews will point you to this crowd because they have all the popular table games and plenty of people to share them with.
Bet Minimums:
$10 is the minimum for most games, including blackjack, roulette and craps with 3x4x5x.
Machines:
From a nickel to more than the cost of a dinner. Few, if any, full-pay video poker machines.
Cocktails?
The Flamingo Las Vegas knows all about good service. The drinks are quick enough in coming, enough to keep you wanting more.
Who Gets Comps?
The slot club links several Harrah's properties. We have heard of quite a few free and discounted room offers in the mail, which come pretty regularly.
Number of TVs:
About 31 TVs in all. Most of them are smallish flat-screens, but six are bigger than the rest.
Number of Seats:
There are three long tables with a few chairs at each from which you can bet on sports and races. The keno room is next to the sports book, so you can sit in more comfort over there. There are also several long tables and loungers aside the sports book.
Number of Betting Windows:
A few with electronic signboards behind.
Free Drinks?
While we were there, it was dry as Death Valley, at least until we busted out our wallets, then they flowed like Niagra Falls, and from then on, so did our cash.
Snack Bar?
There's no snack bar in the vicinity, but there is a bar close by and you can always drink until you've forgotten you're hungry. Find some Flamingo Las Vegas promo codes to help you eat if you're trying to be cheap. You won't get it free, but you can spend less.
Other Notes:
This is a much heavier race than sports room. It's in the middle of the casino floor and consequently pretty darn noisy.
Number of Tables:
Twelve. The felts are brown and yellow if that counts for anything.
Comfort of Chairs:
High-backed, comfy chairs. Hooray! And nope, they aren't pink. Hooray again!
Closed Room or Open to Casino?
The tables are in an open area but tucked away on the south wall of the casino. It gets a little noisy, because of all the slot machines nearby. If the constant cry of "Wheel! Of! Fortune!" doesn't bother you, you'll be able to concentrate here no problem.
Game Spreads and Limits:
Hold-em 2-4, 4-8. They also offer a No-Limit hold 'Em game with buy-ins between $100 and $300.
Beginner Games or Classes:
No beginners allowed! Well, they'll allow you, but they won't teach you the rules. They'll just let you play until you've learned your mistakes by losing all your money.
How Crowded is the Room?
You won't wait more than 10-15 minutes, and most of the time, there will be a chair just sitting there, ready to cradle your butt.
Comps?
Free drinks while playing. Rack up a buck an hour. No free food while you play, so stuff you belly somewhere else.
How Good Are the Players?
It's a heavy tourist crowd, so the play is not stellar and occasionally is confoundingly bad.
What Else Do I Need to Know?
Daily high-hand contest, and if you need a break, you're really close to one of the best pools in town.
Flamingo Las Vegas Guest Rooms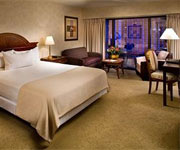 Deluxe Room and Deluxe Room Pet Stay
A modern 350 square foot guestroom has one king bed or two queen beds. The sitting area includes a love seat, armchair, and floor-to-ceiling windows. Watch all the flamingos outside from bed, or all the people passing by at the strip staring at the gaudy pink and orange lights. The in-room safe accommodates laptops, and the closets and floor will accommodate all your other belongings.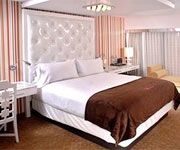 Deluxe/Luxury Go Room
The Deluxe Go Room is a modern guestroom has 1 king bed or 2 queen beds with ceiling-height white vinyl headboards. The premium sound system includes an iPod docking station, while the 42-inch flat-panel TV includes video games and movies, both which you have to pay for. The bathroom has a translucent-glass door, a glass-walled shower with body jets, fancy Gilchrist & Soames bath amenities, and a TV built into the vanity mirror. Why miss your favorite show just because you have to bathe? If you upgrade to the Luxury Go Room, you get basically the same room, except you also get a room of the Vegas Strip. If you can afford the upgrade and appreciate a good view, it's definitely something to look into. Then, you can get this option to bring your pets as well. Just don't let them chase the Flamingos...that's a serious offense here.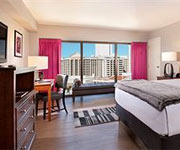 FAB Room
One king bed or two queen beds with pillow top mattresses and faux fur throws. These pillows are so soft, you'll wonder what the difference is (Shh...they are flamingo feathers). With views of the Las Vegas Strip and flashy, yet stylish (yeah right) decor of plenty of pink, patterned rugs, and a mix of contemporary and vintage art and decorations. Get your FAB roomed cleaned daily, or don't. Store all your FAB things in the safe, and then have a FAB sleep after a FAB night in Vegas. This sounds exhausting. Find some Flamingo Las Vegas promo codes to use this room to your full advantage.
User Average Review
Overall:
Service:
Cleanliness:
Location:
Room Quality:
Based on 6 reviews
Rating Distribution
88.0% recommended it
Flamingo Las Vegas Reviews