Las Vegas Fireworks - 4th of July Events in Vegas
---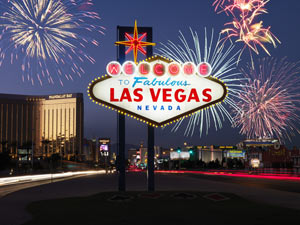 Fireworks in Las Vegas aren't exactly uncommon. Sin City likes to light up the sky for occasions big and small, but no Las Vegas fireworks show matches the one celebrating America's birthday. The 4th of July in Vegas will be no exception, as Vegas hotels, nightclubs and pool parties work around the weird timing of the holiday (a Monday) for a weekend celebration to highlight the summer.
Here are a few Fourth of July events in Vegas to look out for...
Las Vegas Fireworks Shows
Alright, there's a whole bunch so here's a quick rundown ...
July 2nd-3rd @ Mandalay Bay - With a live performance by 311
July 3rd @ Caesars Palace - Day long celebration
July 4th @ Station Casinos in Vegas - 9pm
July 4th @ The Stratosphere - 9pm
Our advice? Arrive early, and look up. Oh, and make a beer run beforehand.
On the 4th
Since many of us will have the day off, a number of Vegas bars will try to rope in the masses with novelty drink specials and (hopefully) some cheap beverages.
Las Vegas pools won't be a bad option either on the 4th, though any Vegas veteran can tell you to expect huge crowds. For the young-ins, Vegas pool parties not usually open on certain weekdays (see: Wet Republic, TAO Beach and Beachlife at the Hard Rock Hotel & Casino) will come alive to celebrate what America's all about: booze, bikinis and babes.
If you're traveling with the kiddos, there's also a day-long parade and carnival in nearby Boulder City, capped off at night with a fireworks display at 9pm.
Meanwhile, if you're looking for something a bit more lively ...
The Weekend
For the most part, it looks like the 4th of July festivities will be pushed back just a couple of days to accommodate the weekend masses. Highlights of the 4th of July weekend in Vegas include...
July 1st: Diplo at Encore Beach Club & Zedd at XS Nightclub
July 2nd: Alesso at XS Nightclub and Tritonal at Marquee Nightclub
July 3rd: Skrillex at XS Sunday Nightswim
These are just a handful of the events celebrating the 4th of July in Vegas. As always, we'd LOVE to hear from fellow Cheapos about other Independence Day events you're looking forward to in our comments section below!