Cirque du Soleil's Zarkana
Elvis has left the building at Aria, but he's been replaced with this acrobatic rock opera by Cirque!
---
A Quick Look
Show Type: Cirque du Soleil
Rated:

PG

Dates: Nov. 1st- Ongoing
Price:
---
Book Now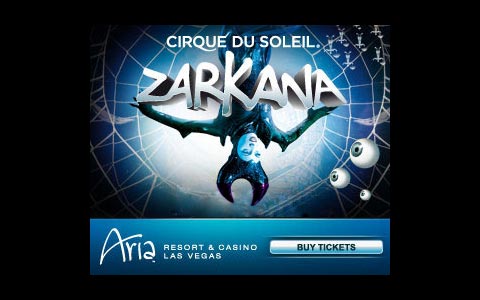 Not what you're looking for? Check out more Cirque du Soleil shows!
The Skinny
Cirque du Soleil's Zarkana is the newest Cirque show to flip into Sin City. Replacing the much-loved VIVA Elvis at the Aria Hotel, Zarkana Las Vegas is everything you've come to expect from this acrobatic troupe; tons of spectacle, lavish sets and some of the most amazing physical feats you'll ever see. Not bad for one show, eh Cheapos?
Reviews
There are currently no reviews!
Be the first to write a review!
Write a review
Zarkana by Cirque du Soleil™ Show Tickets from $49.50!
Get 2 tickets for $99!
Save more than $100 with the purchase of two tickets! Ticket prices start at $49.50. Book in advance and save. Don't miss out on Cirque du Soleil's™ acrobatic rock experience at the ARIA Resort and Casino.
Booking Directions:
Click on the green "Use Promo" button to the right... Locate and click on the "Buy Tickets" red button on the right of the page... Choose your dates, buy your tickets, and enjoy the show!
Offer Expires: 67 days
Promo Code: BOOK ONLINE
Use Promo
Quick Facts
Cirque du Soleil's Zarkana premieres at the Aria for previews on November 1st, 2012, with regular show dates beginning November 11.
Zarkana show Las Vegas tickets start at $62.
This Vegas Cirque show is appropriate for most ages.
Info
Show Dates:
Nov. 1st- Ongoing
Performance Times:
Sun.- Tues. & Fri. 7pm & 9:30pm; Saturday 7pm & 9:45pm
Running Time:
Approx. 90 minutes
Location:
ARIA Las Vegas
Aria Theater
3730 Las Vegas Blvd S
Las Vegas, Nevada 89109
View Map
Age Restriction:
All Ages
Features:
Like the rest of the Cirque du Soleil catalog, Zarkana at the Aria is big on spectacle and amazing aerial acrobatics. Plus, Cirque du Soleil's Zarkana has a little story to it, too. Follow Zark, a magician who's lost his way, on a sci-fi-inspired joruney that pits him against four other-worldly mutants determined to make his road back to redemption as challenging as ever.
What To Know:
Zarkana Las Vegas is yet another winner from this Montreal dance-troupe, but what sets it apart from other Cirque offerings is the edge; while it's a kid-friendly show, this "acrobatic rock opera" (as it describes itself on its website) flirts with dark themes, too.
Wild Characters: Not only are they doing some pretty crazy stuff, but the characters themselves are dressed up in wild costumes amidst some pretty unique set designs.
Great Reviews: Not only is Casino Boy a fan, but Zarkana has received rave reviews from audiences and critics alike during its extended run at Radio City Music Hall in NYC.
Brand New: Feel like a VIP and brag to your friends that you were one of the first to see Zarkana at the Aria when it opens in November, 2012 on the Strip.
Inside Knowledge:
Don't be scared off by previews; this Cirque du Soleil show has been in production for over a year at Radio City Music Hall. Expect big things from the get-go with the Zarkana Las Vegas.
Do's and Don'ts:
Do Buy Your Tickets Early: Zarkana Las Vegas tickets are now on sale; avoid the rush and buy your tickets early if you're hoping to see this show in Vegas on your upcoming vacation in Sin City.
Do Bring the Kids: While there are some darker elements to this new Las Vegas show, Zarkana is appropriate for kids approximately 8 and over.
Don't Skip the Drinks: You can't bring any outside beverages into the theater, but you can buy beverages inside the theater at Aria. The only question is, "Who's buyin'?!"
Don't Blink: Because odds are you'll miss something. With so many amazing feats packed into one show, you won't want to miss a moment of Cirque du Soleil's Zarkana.
Is it Worth It?
As with all Cirque performances, we would definitely recommend Zarkana.
User Average Review
Overall:
Acting:
Ambience:
Production:
Story:
Based on reviews
Rating Distribution
0.0% recommended it
Cirque du Soleil's Zarkana Reviews
There are currently no reviews! Be the first to write a review!
Write a review
Show Hotel
-->
More Cirque du Soleil Shows You May Like