Cirque du Soleil's "KA" Las Vegas
Oh golly! Exciting Cirque acrobatics AND epic martial arts battle scenes that aren't super cheesy!
---
A Quick Look
Show Type: Cirque du Soleil
Rated:

G

Dates: Ongoing
Price:
---
Book Now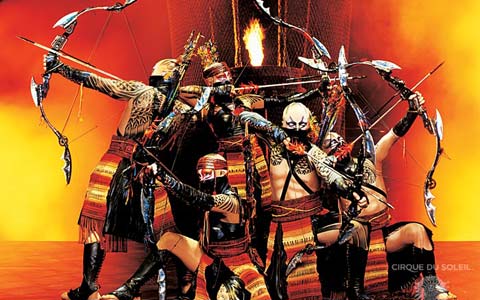 Not what you're looking for? Check out more Cirque du Soleil shows!
The Skinny
In KA Las Vegas Cirque du Soleil tries its first ever production with a plot. The story starts with two twins that are separated at birth and have to follow very different life paths to eventually try to achieve enlightenment through the spirit KA. What this means for us is a circus show with an Asian twist that doesn't leave us scratching our heads in artistic confusion.
Reviews
Most Recent Reviews
Write a review
Our user reviews are from real registered users.
Save $33 on KA by Cirque du Soleil
Tickets starting at $76!
Purchase KA Cirque du Soleil tickets for as low as $76 online. Don't miss out on this epic saga, as told through acrobatic performances and both Chinese and Brazilian martial arts.
Booking Directions:
Click on the green "View Offer" button to the right... Click on the "Buy Tickets" button... Choose your dates, buy your tickets, and enjoy the show!
Offer Expires: 245 days
Promo Code: ONLINE
Use Promo
Quick Facts
Cirque du Soleil's KA is one of the most popular Cirque du Soleil shows, mostly because unlike the other Cirque show it has a linear plot that even the Average Joe can follow.
Over one-million art-adoring fans have seen KA Las Vegas since it opened in 2005. Of course, we wouldn't expect anything less from Cirque du Soleil.
KA Cirque du Soleil Las Vegas combines puppetry, pyrotechnics, video images, audio and, of course, crazy acrobatics to tell the story - ideal for anyone who gets bored easily.
Info
Show Dates:
Ongoing
Performance Times:

Tues. - Sat. 7pm and 9:30pm
Running Time:
90 minutes
Location:
KA Theater
3799 Las Vegas Blvd. S.
Las Vegas, Nevada 89109
View Map
Age Restriction:
Age 5 and Over
Features:
While it's the latest and most advanced Cirque show, KA Las Vegas is still a Cirque show and how much you like it depends entirely on how much you like their well-known style of sort-of-pretentious artsy stuff. This show might just make non-believers change their mind though, since KA actually has a plot for once. See all of the expected jaw-dropping stunts Cirque du Soleil is known for with a little less artistic license to be confusing.
What To Know:
In KA Las Vegas the expensive folks at Cirque do Soleil put their acrobatic circus touch on "Crouching Tiger, Hidden Dragon" with a martial arts-themed show about two Asian siblings who choose paths of good and evil. Simple, obvious story, but you're really there for the physical feats of daring that the performers execute in KA Cirque du Soleil Las Vegas.
The Stage: Cirque du Soleil's KA prides itself on defying gravity and even though they do it in a very Buzz Lightyear "falling in style" way, the stages in KA Las Vegas are actually pretty cool. One of the multiple floating stages is even a giant rotating sand cliff - it's epic.
Live Musicians: All of the music in Cirque du Soleil's KA is produced by live musicians and even if they aren't visible during the show, it's pretty neat to recognize the level of coordination the performers have to have for it all to fit together so well.
Choreography: The dancing and martial arts choreography in KA make it the kind of show that you can drag those action-movie-only types to go see. The KA Las Vegas choreography is an intense mix of acrobatics, Wushu, Chinese opera, poi and Capoeira.
Inside Knowledge:
Casino Boy loves that you can often get Cirque du Soleil KA show deals that knock the prices down to an actually affordable level. Check out the green "book now" button to see if you can find Cheapo favorites for the dates you're going to be in town!
Do's and Don'ts:
Do Sit Up High: Front row seats are not the best at this show. Unless you enjoy a sore neck from craning to see the aerial stunts, the middle and upper seating at Cirque du Soleil's KA are the way to go.
Do Bring the Kids: Cirque du Soleil's KA is actually a great Las Vegas show for kids, and it's not always easy to find a kid-friendly show that doesn't bore the 'rents to tears.
Don't Neglect MGM Grand: One of the best ways to get discount KA Las Vegas tickets is to stay at the MGM Grand. If that huge lion isn't quite your style, the other MGM hotels occasionally offer deals for Cirque du Soleil's KA too.
Don't Zone Out: Let's be honest, plot or no plot this show is still Cirque du Soleil. Spend too much time admiring the swirling fog or that especially buff martial artist and you will totally lose track of the story playing out in front of you.
Is it Worth It?
KA is worth it for two types of audiences - families with kids and people who can't follow the regular artsy plot-less Cirque shows.
User Average Review
Overall:
Acting:
Ambience:
Production:
Story:
Based on reviews
Rating Distribution
100.0% recommended it
Cirque du Soleil's "KA" Las Vegas Reviews
-->
More Cirque du Soleil Shows You May Like