Excalibur Vegas
Golly Gosh! How did Disneyland get all the way out here?!
---
A Quick Look
Location: The Strip
Hotel Class:

Room Price:

Hotel Size:4,032 rooms
Casino Size:100,000 sq. ft.
Gaming:Yes
Nightlife: No
Pool:

Buffet:

Best Show:
---
Book Now

The Skinny
From the folks who brought you Circus Circus comes another family friendly hotel with arcades, shows and restaurants designed to keep the kiddies busy while the parents hit the slots in the casino.
Reviews
Most Recent Reviews
Our user reviews are from real registered users.
Spring Break Unleashed 2013 in Vegas
From $32/night!
Excalibur Las Vegas wants you to book your stay for spring break 2013 now! Use this special offer and enjoy specials including:
2-for-1 drinks at Dick's Last Resort
Drink specials at Octane
10% off spa items
25% off purchases at select stores
Book by April 29th for rates starting at $32 a night.
Booking Directions:
Click on the green "View Offer" button to the right... Locate and click on your desired promotion... Choose your dates and book your deal!
Offer Expires: 99 days
Promo Code: XSB13WB
Use Promo
Quick Facts
Check-in at 3pm
4000+ Rooms
Check-out at 11am
On-Site Restaurant
Near Restaurants
Parking
Check-In Age - 21+
High-Speed Internet
Near Attractions
Info
Location:
3850 Las Vegas Blvd. South
Las Vegas, Nevada 89109
View Map
Room Quality:
The rooms at Excalibur Hotel and Casino Vegas are clean, on the small side, furnished and have showers, but no tubs. Ask for one of the "wide screen" rooms and get newer furnishings, granite counter tops, better beds and a flat-screen TV. Excalibur Las Vegas might not be the height of luxury, but if you're on a family vacation where the kids won't care about the room anyway or you're just a hard-core bargain hunter, the rooms here will get the job done. Excalibur Vegas promo codes can also make these rooms hard to turn down for anyone looking to save some cash.
Service Quality:
If you're traveling with kids, Excalibur Hotel and Casino Vegas has tons of stuff for them to eat and do (at extra cost - this is Vegas, after all). Check-in can be time-consuming at just about any hour, but especially try to avoid Thursday and Friday afternoons.
What You Get Bottles of in the Bathroom:
Lotion, shampoo and conditioner - the basics. This is Excalibur Las Vegas, not the Bellagio.
Clientele:
If you have a family, you'll fit in at Excalibur Las Vegas.
How's the Pool?
The landscaped pool area at Excalibur Hotel and Casino Vegas has a few small pools so they can separate the kids from the adults more easily. There are also cabanas, if you feel inclined to splurge.
Resort Fee:
$15 per night gets you access to the fitness center and spa at Excalibur Las Vegas, as well as a daily newspaper and local and long-distance calling. If you have kids these rooms might not come in all that handy so look for Excalibur Las Vegas promo codes that get rid of those pesky resort fees.
Is it Worth It?
Bring the kids along on your Vegas trip and this place will enchant them. If you aren't traveling with kids this place is only worth it to hard core bargain hunters who don't mind little people and cheesy themes.
Hotel Amenities
Air-conditioning
ATM/Banking
Ballroom(s)
Bar/Lounge
Concierge Service
Conference room(s)
Free Guest Parking
Restaurants
Room Service
Spa
Wedding Services
Table Games:
They have all of the usuals at Excalibur Hotel and Casino Vegas, and loads of tables crammed in. They even have the oddballs like Caribbean Stud, Let it Ride and 3-card poker. Craps are in line with the competition, but some blackjack only pays a 6:5 on blackjacks.
Bet Minimums:
$5 at some tables in the joint. For craps, you will usually find the minimum to be $5 with 3-4-5x odds. Roulette is $1 chips with a $5 minimum.
Machines:
Pennies on up. There are many video-poker machines and none of them are full-pay. There are thousands of slots to choose from at Excalibur Las Vegas, so you will easily find your game of choice in a denomination you want.
Cocktails?
Sometimes the cocktails tend to not come as frequently as we may like.
Who Gets Comps?
The M Life slot club serves several properties and pays a fair cash rebate on slots, and a half that on video poker. They also occasionally mail out free and discounted room offers or Excalibur Las Vegas coupons.
Number of TVs:
About 36, all flat and one of them is a giant screen for big events.
Number of Seats:
About 130 seats all told. None of them are reserved. Race seats are uncfomfortable but sports are better. Twenty-six seats in racing have individual flat screens.
Number of Betting Windows:
At any given time there are about eight windows for taking race and sports bets.
Free Drinks?
Very rarely, if at all. Boo.
Snack Bar?
No snack bar, but a Starbucks is there to make you feel invincible.
Other Notes:
They have race and sports facing different directions. The room also serves as the keno lounge, which is becoming pretty common in the casinos.
Number of Tables:
There are twelve tables in the Excalibur, which has done away with its experiment with electronic tables. It is now once again regular old poker dealt by real live human beings. About four to six tables go most of the time.
Comfort of Chairs:
Decent chairs at average tables. The chairs are slightly above average in comfort.
Closed Room or Open to Casino?
Open and right on the casino floor.
Game Spreads and Limits:
Hold-em, and hold'em only. Apparently that's the only thing the Knights of the Round Table played. They have $1-$2 no-limit and $2-$4 limit, both of which are pretty low-limit games.
Beginner Games or Classes:
The staff at Excalibur Las Vegas will teach you how to play each day at 11 am. This is a good thing to do if you've never played in a casino before, if only so you know the etiquette of when it's appropriate to jump to your feet, shout an expletive and overturn the table.
How Crowded is the Room?
Not busy. On a busy weekend you may have to wait up to a half hour, but usually there are enough dealers and tables to get you in right away, if you don't care which table you play at.
Comps?
One buck an hour plus other promos for players.
How Good Are the Players?
Not very good.
What Else Do I Need to Know?
Saturday night they have a "Strip" poker tournament where you don't take any clothes off, but a sexy woman does in increments, ending with her wearing underwear. This is obviously the not-kid-friendly part of Excalibur where King Arthur likes to hang out when Guenevere goes off with Lancelot again.
Excalibur Hotel Casino Guest Rooms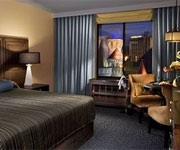 Standard Room
These rooms at Excalibur can be exactly what the kiddies have always dreamed about. All the standard rooms are castle-themed and come with one king bed or two queen beds. You can pay for Internet access if the kids are too annoying and you need to veg out. Or just put them in front of the 42 inch plasma TV with pay movies. Excalibur Vegas promo codes can sometimes get you these rooms at a steal, making it worth it even if you don't have kids.
Wide Screen Room
The Wide Screen rooms at Excalibur Las Vegas are in the Spa Tower so you have easy access to the Royal Treatment Spa. Didn't you know King Arthur loves facials? Get one king or two queen beds, a dining set and granite counters in the bathroom. You still get the same 42 inch plasma TV, but they spice up the technology with an iPod dock and clock radio. You can pay for Internet in these rooms too.
User Average Review
Overall:
Service:
Cleanliness:
Location:
Room Quality:
Based on 2 reviews
Rating Distribution
100.0% recommended it
Excalibur Hotel Casino Reviews