The Halls of Fame Worth the Stomach Ache
---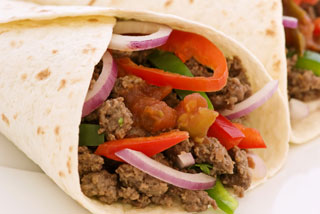 Will all the big eaters please step forward?
We're not talking about those of you who are never afraid to go back for thirds at the buffet, and those who love a good food challenge. Las Vegas is the land of excess, which is why it's not surprising that Sin City has some of the best food challenges around. (So hopefully all that dieting and fitness advice we gave you is helpful after you consume 5,000 calories in the first 10 minutes of any given Vegas food challenge.)
Here are some of the best Las Vegas food challenges in almost every food category Casino Boy could think of.
First and foremost, Nathan's Famous Hot Dogs at the New York New York Hotel and Casino has a qualifying round to participate in the annual July Fourth International Hot Dog Eating Contest. These qualifying rounds take place from April to June, so mark your calendars and you'll just have to make another trip to Vegas.
However, in the qualifying rounds, all you have to do is eat as much as you can in 10 minutes. Whether you enter just for fun or your chance to go all the way, all you have to do is be 18 or older! Register at www.majorleagueeating.com - they're qualifying in 13 different cities if you can't make it to the Vegas shindig.
If hot dogs aren't your thing, or maybe a it's the actual competition part, where a million people will be watching you gain 20lbs and possibly throw up, there are a few challenges you can do any day, at the privacy of your own table.
For some sweet redneck pride, Toby Keith's I Love This Bar & Grill in Harrah's Hotel and Casino has the 100 oz challenge which includes a 32oz burger, pound of fries and a 32oz beer. For finishing, you get a spot on the wall, a Big Dog Daddy custom t-shirt and musical appearances from country bands hand picked by Toby Keith himself! So far all we've got are the American classics though, so don't think you're confined to the foods you can get at your backyard BBQ.
Moving on down to Mexico, The "I Can't Drive 55" Dollar Nacho Challenge at Cabo Wabo Cantina in Planet Hollywood Resort and Casino. You have 55 minutes to finish 8 lbs of nachos. To get it up to 8 lbs, they pretty much just throw in everything but the kitchen sink and slap on a huge "55" in sour cream to keep reminding you just how long you're going to have before you're allowed to go back to your room and vomit. No one has yet to finish this challenge on their own, so be the first one to get a free meal out of this joint and the first patron on the Wall of Fame, as well as the first to wear around that Cabo Wabo t-shirt collecting dust in the back! Do it for Casino Boy, if nothing else. They're still heckling him every time he walks by for his pathetic attempt!
For a spicy hot lunch, and not the kind of with your new sugar baby, go for the Firecracker Burger at the Skybox Sports Bar & Grill. This thing is so spicy you have to sign a waiver to even start the challenge, but the 8oz burger has Bhut Jolokia chili pepper blended in, and was rated the world's hottest pepper in '07. They add an extra kick of spice in here with pepper-jack cheese and salsa, but if you can finish it, you can wash the fire out of your mouth with an ice cold beer of your choice, on the house. No amount of beer will wash the fire out of your girlfriend's eyes for the night of torture she'll be forced to endure with you though.
OK - so spicy burgers are great and all, but come on Vegas, where are all the wing challenges at?!
If you're looking for a challenge that takes some teamwork, the Frickin' Huge Pizza challenge at Naked City Pizza inside Moondoggies Las Vegas (on the Westside) may be just what you need. You get your choice of 4 toppings (and yes, you have to have 4) on an XL pizza. This comes out to be 10 lbs of pizza for you and one other person to devour in 30 minutes or less. If you can do it, you get 2 t-shirts, a picture on the Wall of Fame, and the pizza is free. Should you fail, you pay $37.50 for the pizza, and will pay for the rest of this restaurant's existence as a glorified patron on the Wall of Shame. Plus, you'll just have eaten around 5 lbs of pizza for absolutely nothing.
If you're one of those people that eats for the glory, and not the satisfaction, then there are these and so many more in Las Vegas. Let us know your favorite challenge and maybe we'll meet you there next time! (At the very least, post your favorite Vegas food challenges in the comment section below ...)