Banned in Vegas! What They Did and What You Shouldn't Do!
---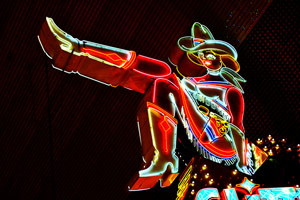 Banned in Vegas? Bummer and certainly a big time buzz kill! This is supposed to be the city where anything goes, right? Actually, that's a common myth, because while many people think that you can do what you want, say what you want, wear what you want and act however the @#$! you want, you can't. Vegas has their rules too, no matter how much looser they our than the rest of the world's, you can still get banned from Vegas.
Now, don't worry. You pretty much have to do something terrible or extremely offensive/illegal/completely stupid to get banned from the casinos in Vegas, but it doeshappen. Because we care about you, here's a small list of things that you should avoid doing if you don't want to cause a ruckus and end up on your butt...cus?... or out of the party. Basically here's what (definitely) not to do in Vegas. (Speaking of things you shouldn't do, here's our guide to what not to joke about in Las Vegas, too.)
Don't Start a Boycott
It's really easy to tell all your fans not to go somewhere and have them listen to you, but come on, that's a little rude! Let people find out for themselves, right!? Or at least confine it to a 1-star rating on Yelp like the rest of us! Vince Neil of Motley Crue obviously didn't think his Yelp review would have quite the effect as a boycott would, so when he wasn't pleased with a meal he had at one of the Palms restaurants, he told his fans to definitely not eat there ever. Vinsanity = BANNED.
Don't Rent a House (it's banned)... Get a Hotel Room or Sweet Suite!
Officials are serious about this one.. just ask the one homeowner dude or dudette that was fined $29,000 for ignoring the ban! Ouch, twenty-nine large!! But in Vegas, the concept of renting a home versus a hotel room is better than the reality because in Vegas you can rent rooms and suites for a fraction of the price in other tourist markets. Why? Cause the hotels want you on property to spend money on all the other things you're itching to spend money on like food, drinks, shopping, shows and of course gaming. If you want a suite for a sweet price, check out the direct deals at the Signature at MGM (all suites) and your all-sweet suite options and discount offers at Las Vegas Suites. Sweet!
Don't Try To Get In If You're Underage
Sorry One Direction, even though you're teen-sensations, you're still not 21 yet, and Vegas is a lot harder to please with your charming words than most teenage girls are. No matter how hard you plan on partying, if you're not of age, you're banned from the casinos and clubs in Vegas, which is a good thing for those of us who are trying to ward off the sight of Justin Bieber for the next few months years. As for you, One Direction, you'll stay confined to house parties and sneaking liquor from your parents' cabinet like the rest of us had to endure. #getonourlevel
Don't Try to Party When Your Forbidden From Drinking
If the law sentences you to three years of no drinking, you should probably not try to go to parties with Drake, or maybe you should team up with Lil' Wayne for some kind of support group. Either way, if Steve Wynn finds out about it and the party is at his hotel, you're officially off the guest list.
Don't Learn how to Play Blackjack as Well as Ben Affleck
In other words, if you know how to play blackjack as well as Ben Affleck, you probably win... and maybe a bit too much for some casinos. Earlier this year, HollywoodLife.com reported that Ben was asked not to play blackjack by a particular Vegas casino (the Hard Rock Hotel and Casino") because "you are too good." Reports were the hotel was very nice to Ben and his wife and even asked them back along with some complementary niceties. So the moral is play good, bad, mediocre, great, good and bad but overall not "too good." If things start going south at the tables for gentle Ben he may want to consider changing the spelling of his last name to Aflac and do a few TV commercials with that white goose or whatever it is.
Don't Get Violent in the Club
Well, it's probably a good idea not to get violent anywhere, especially as a repeat offender who just got done with your anger management classes. Have you no shame, Chris Brown? If you're with a group of ladies and buying them drinks all night, then they pass you up for someone way more awesome, don't yell at anyone about it. Perhaps find a new group of girls to charm or take your losses like everyone else. You can pop champagne with anyone, but you can't pop anyone for not drinking your champagne. That's just rude! Haze doesn't like it when Chris Brown "gets up in anyone's face", and none of the other clubs in Vegas do, either.
Don't Bet Your Car (Especially in Your Parents' Casino)
Not even your legal guardians will want you hanging around the poker tables when you lose your Bentley in a card game like Paris Hilton did. She got banned, from her own casino. Now, most of you don't have parents who own casinos in Vegas, but maybe there is still a lesson to be learned from this. Perhaps, if you don't have the money, don't bet your car, because you'll need something to drive you home after getting kicked out, even if you don't have the money to fill up the tank.
Don't Feed the Freak'in Pigeons!
Hugh? You read it right, don't feed the pigeons in Vegas. Reports have it these "Flying Rats" destroy rooftops, plop you-know-what on people's heads (imagine getting hit square in the forehead by a fresh one after knocking down a few poppers at the pool bar) and attacking tourists. See ya pigeons... head west to L.A.
Don't Buy in Minimums You Can't Afford
Have mercy, we Cheapos know better than this already. But for those of you knew to Cheapo-status (aka, those of you who have suffered in this economy, have contributed to the unemployment rate, or have been recently cut off from your parents' trust fund *cough* Brandon Davis *cough*) you need to know that if you buy in at a $5,000 minimum, you have to pay that! Vegas is the real deal. Chips=$$$$. This is not monopoly, and just because you have a debit card or credit card doesn't mean you have an endless money flow bro! Basically, overloading your credit in a casino will inevitably get you banned.
Don't Mistake Your Drugs for Gum
Common Mistake, we know, but really, if you want to hang out in Vegas, you have to get the two figured out. Or at least not carry a bag that things can easily fall out of. That's right, you may remember the time when Paris Hilton (we're picking on her today) spilled her cocaine when she was trying to get lip balm from her purse, but when questioned, she alleged that she borrowed that bag from a friend and that she thought it was gum! Needless to say she was arrested anyways, but she was also banned from the Wynn casinos. Bummer.
DJs: Don't Refuse to Play 'Call Me Maybe'
We need to hear this, because obviously a club is the only time we can hear the song. (It's definitely not on the radio, ever.) Calvin Harris was kicked off the deck at Tryst for refusing to play this song. The lesson here is to give the people what they want, whether it hurts your musical genius or not. (Note: This specific rule relating to 'Call Me Maybe' should expire in about 6-8 4-6 weeks)
Don't Piss off Steve Wynn
I think it's pretty safe to say from all of this that he's a very influential part of Vegas, but he's also a very touchy guy, or something. He's kicked out Paris Hilton, Lil' Wayne and God knows who else. Yes, those people are probably a lot more misbehaved than the average Joe, but if you're reading all of this, you're probably the kind of Joe that might potentially have it in you to get on Steve Wynn's bad side.
Basically, there are probably a million things you can do to get kicked out of the clubs, casinos, restaurants and hotel rooms in Vegas. More than you'd think actually. The 'anything goes' policy that many people associate with Vegas is a myth. There are lots of myths most people who don't frequent the city associate it with. If you think that something you're doing is illegal, immoral and completely inappropriate, there's a solid chance that it is. Let us know what you've done seen others do to get kicked out of a Vegas venue in the comments section below, on our awesome Facebook page, or by following our not-so-surprisingly hysterical Twitter. No, we are not egotistical.