Criss Angel MINDAFREAK®LIVE! Show Las Vegas
Surprisingly funny with some serious illusions and magic... I sure wish I had hair like that!
---
A Quick Look
Show Type: Cirque du Soleil
Rated:

PG13

Dates: Ongoing
Price:
---
Book Now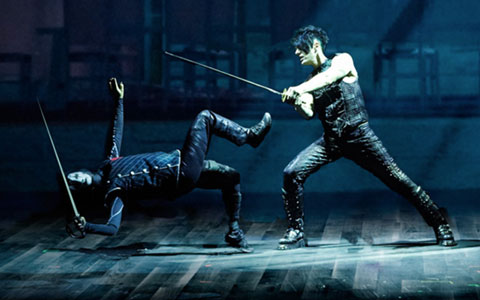 Not what you're looking for? Check out more Cirque du Soleil shows!
The Skinny
You know what's awesome? Really cool magic. Typical Cirque du Soleil mastery with a cool erie vibe. Criss Angel certainly knows his stuff... check it out and ask about the MindFreak!!
Reviews
Most Recent Reviews
Write a review
Our user reviews are from real registered users.
Quick Facts
Cirque du Soleil's Criss Angel MINDFREAK is a popular Las Vegas show at the Luxor Hotel and Casino.
The Criss Angel MINDFREAK Las Vegas magic show opened as the 6th Cirque du Soleil show is Las Vegas in 2008.
Cirque du Soleil's Criss Angel MINDFREAK is appropriate for children 13 and up.
Info
Show Dates:
Ongoing
Performance Times:

Wed., Fri., & Sun., 7:00pm
Thurs. & Sat., 7:00pm & 9:30pm
Running Time:
90 minutes
Location:
Luxor Vegas
Luxor Hotel and Casino
3900 Las Vegas Blvd S
Las Vegas, Nevada 89119
View Map
Age Restriction:
13 & Up.
Features:
Among the amazing brillance that Criss Angel displays in his MINDFREAK spectacular, there is also bombshell Britain's Got Talent star Chloe Crawford, that joins Criss Angel on the stage. Between the groundbreaking illusions and magic tricks, MINDFREAK takes your through Angel's career as a young musician! This is truly an inspirational show and a great sight to see while in Vegas!
What To Know:
Some people say that Criss Angel must have some magical ability , there's no other explanation for Criss Angel Believe Cirque du Soleil to still be headlining on the Strip, but there are a few perks when you get there.
Magic Tricks: The show still doesn't have all the features it had when it first opened, but Criss Angel Believe Cirque du Soleil still has a lot of magic tricks. It's kind of like the magic act at your kid's talent show, except for Criss wears a much deeper V-neck.
Vegas Headliner: Yes, Criss Angel Believe Cirque du Soleil is in fact a headliner show in Vegas. Possibly because the Cirque du Soleil title is in the name. Possibly just because tickets are over $100.
Family Friendly-esque: This show doesn't have any nudity, but it does have profanity. Lots of parents bring their children, so you won't be the only one all the up-tight grandma's in the crowd are giving the stink eye to.
Inside Knowledge:
Criss Angel MINDFREAK Cirque du Soleil isn't just 90 minutes of magic. There's a lot of information, videos, jokes, if you can call them that, about Criss Angel's life. He gives a million shout outs to how great his fans have been over the years, so you'll get some recognition too, if you're a little down on yourself, he still appreciates you, and he'll let you know as many times as you need to get that self esteem sky high again.
Do's and Don'ts:
Do Leave the Kids at Home: They say the show is appropriate for ages 13 and up, and they may be on to something there. If you think your 13 year old is capable of handling all the profanity in this show, then bring 'em on. They might be his biggest fans after the show is over.
Do Sign Out of Twitter: Back in 2009, Perez Hilton tweeted negative comments about Criss Angel MINDFREAK Las Vegas during the performance. Much to his surprise though, during the same show, Criss Angel called him out with some equally humiliating comments. Don't let this happen to you. Especially if you have more than a million followers.
Don't Expect A Cirque Show: This is technically a Cirque du Soliel show, but it's more of a Criss Angel show than anything. The Criss Angel MINDFREAK Cirque du Soleil combination is not an even balance, so don't come here just because it's the only Cirque show. If you don't like magic, if you don't like Criss Angel, but you do like Cirque Shows and this is the only one left, wait until tomorrow, because this isn't the show for you.
Don't Bring A Camera: There are no cameras, videos or phones allowed during the performance. If there's anything memorable that happens during this show, you'll unfortunately have to just log it in your mental memory. Fortunately, you won't need much memory space for all the worthy parts of this show.
Is it Worth It?
I've seen it and the answer is - YEEEEES!
User Average Review
Overall:
Acting:
Ambience:
Production:
Story:
Based on reviews
Rating Distribution
0.0% recommended it
Criss Angel MINDAFREAK®LIVE! Show Las Vegas Reviews
Show Hotel
-->
More Cirque du Soleil Shows You May Like