Carrot Top Las Vegas
My word, what a shockingly orange head of hair!
---
A Quick Look
Show Type: Comedy
Rated:

R

Dates: Dec. 2005 - Ongoing
Price:
---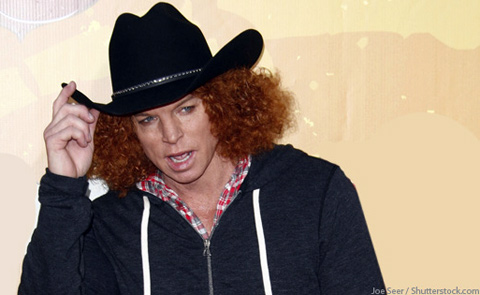 Not what you're looking for? Check out more Comedy shows!
The Skinny
Critically acclaimed comedian Carrot Top has been entertaining crowds at the Luxor for more than half a decade, putting on his Carrot Top Las Vegas show six nights of the week. Known for his props and up-to-date humor, expect more pure stand-up from the Floridian comic these days.
Quick Facts
Carrot Top Las Vegas guests must be 18 years of age or older.
The award-winning comedy of Carrot Top Las Vegas has earned him the title of "Entertainer of the Year" and "Comedian of the Year."
Carrot Top was the least offensive nickname given to Scott Thompson, a Florida native who found his start in comedy at Florida Atlantic University.
Show Website:
https://www.luxor.com/entertainment/entertainment_carrot_top.aspx
Info
Show Dates:
Dec. 2005 - Ongoing
Performance Times:

Weds. - Mon. 8:30pm
Running Time:
90 minutes
Location:
Luxor Vegas
Atrium Showroom at Luxor
3900 Las Vegas Blvd S
Las Vegas, Nevada 89119
View Map
Age Restriction:
Must be 18 years or older
Features:
Carrot Top Vegas comedy features trunks of self-invented props supplemented by crazy humor that keeps audiences on their toes. Light shows and goofy sound effects add to the spectacle of one of the most well-known comedians in America.
What To Know:
Even though Carrot Top Vegas comedy has been at the Luxor for a long time, the props and acts are constantly changing, keeping fans coming back for more.
Culturally Relevant: The Carrot Top Vegas Comedy Show is constantly introducing new props and jokes geared towards the latest happenings in the world. This keeps things fresh and new, instead of outdated like some of the other longtime shows in Vegas.
Value Tickets: Because Carrot Top Show Las Vegas has been around for so long, discount tickets are fairly common. A $50 price tag for full price cheap tickets isn't too bad for a Vegas headliner either.
Comedic Variety: One of the great things about the Carrot Top Vegas comedy show is his willingness to try different styles of comedy. Besides his trademark props, Carrot Top also goes into some classic stand-up and even some musical impersonation. To each their own!
Inside Knowledge:
The Carrot Top Las Vegas theater at the Luxor is small enough so that everyone feels involved. In our opinion, there's not much of a need to splurge for front row seats.
Do's and Don'ts:
Do Bring Your Own Drink: As long as it's in a plastic cup, feel free to bring your own beverage inside so you can avoid waiting in line at the bar inside.
Do Expect Something Crazy: Those who are expecting a traditional tame show may be in for a shock. Let's just say that Carrot Top Las Vegas does involve the comedian taking off some of his clothes.
Don't Bring the Kids: The Carrot Top Show Las Vegas is only for ages 18 and up. Keep your kids at home or take them to something more family-friendly earlier in the day.
Don't Be Too Uptight: Carrot Top Las Vegas is going to tread the line between politically incorrect and offensive, so make sure not to take things too seriously. Everything is said in jest, and not with a serious message. This is not the time to be indignant.
Is it Worth It?
Yes, especially compared to some of the more ridiculously priced shows on the Strip.
User Average Review
Overall:
Acting:
Ambience:
Production:
Story:
Based on review
Rating Distribution
100.0% recommended it
Carrot Top Las Vegas Reviews
Show Hotel
-->
More Comedy Shows You May Like