Caesars Palace Vegas
Even with all those guys in little skirts, this place is pretty macho! But is it pager-friendly?
---
A Quick Look
Location: The Strip
Hotel Class:

Room Price:

Hotel Size:3,349 rooms
Casino Size:129,000 sq. ft.
Gaming:Yes
Nightlife:

Pool:

Buffet:

Best Show:
---
Book now for great deals!!

Other Hotels like Caesars Palace
Caesars Palace Deal Finder
* Room Rates shown above reflect the average nightly rate for a 2 night stay with the calendar date as the check-in date, our visitors should verify actual rates, promotions and deals directly with the hotel as we make no guarantees regarding rates, but only provide them as a convenience.
Book Now
The Skinny
Caesars Palace Las Vegas is pretty over-the-top, but not as over the top as it once was, and now it sprawls forever through marble hallways sure to get you lost. It has just the right Vegasosity to get you through the door of the casino, and it's one of the most luxurious theme hotels on the Vegas Strip.
Reviews
Most Recent Reviews
Our user reviews are from real registered users.
Quick Facts
Near Attractions
Check-in at 3pm
3000+ Rooms
Check-out at 11am
Pets Allowed
High-Speed Internet
On-Site Restaurant
Near Restaurants
Parking
Check-In Age - 21+
Info
Location:
3570 Las Vegas Blvd. South, Las Vegas
Las Vegas, Nevada 89109
View Map
Website:
https://www.caesarspalace.com/
Room Quality:
Caesars Palace Vegas has the potential to be anywhere from good to great. The Octavius Tower is the newest and fanciest of the range of rooms. They have flat screen TVs all over. The Augustus Tower and Palace Towers are pretty much as nice. Both towers' rooms are large, with fancy tubs and separate showers. But, of course they cost more. The rooms have more marble than Italy, great floor-to-ceiling windows, massive beds, first-class sitting areas and large TVs, and much more. Ask for the Octavius Tower and see if you can afford it, usually it's a pricey premium over the regular rooms. The cheapest rooms, in the Forum Tower, are average at 350 square feet and up, nicely appointed with iPod docking and fancy showers. Some used to have round beds and whirlpool tubs right in the middle of the room. They're not that cheesy anymore, sadly.
Service Quality:
Good. You get what you pay for everywhere in Vegas, Caesars Palace is no exception.
What You Get Bottles of in the Bathroom:
Gilchrist and Soames shampoo, conditioner, hand lotion and the grand prize in bathroom accessories: the emergency sewing kit! So, if your pants are falling down, book a room here!
Clientele:
Folks in their thirties to fifties come to Caesars Palace Hotel Las Vegas, as well as ladies in their twenties looking for men of any age with money to burn.
How's the Pool?
They've got five pools in this swanky space, each with its own theme. The Apollo pool is for sunbathing, the Fortune Pool is for swim-up blackjack. If you want a meat market, check out the Neptune Pool. If you want to go topless, or just hang around a pool with topless ladies, try the Venus Pool, which, of course, has an admission fee. The fee is higher for men than women.
Resort Fee:
Sorry Cheapos, Caesars Palace now charges a resort fee as of March 1, 2013. $25 resort fee includes: daily in-room high speed internet access for one device, local calls, and fitness center access for two daily.
Is it Worth It?
You get a lot of amenities in a great location, so if you can afford it, it's worth your stay.
Hotel Amenities
Air-conditioning
Dry Cleaning
Event Catering
Express Checkout
Spa
Shoe Shine
Wedding Services
Security Guard
Sauna
Room Service
Restaurants
Pets Accepted
Parking Garage
ATM/Banking
Doorperson
Car Service
Business Services
Business Center
Bar/Lounge
Ballroom(s)
Conference room(s)
Free Guest Parking
Table Games:
Blackjack, craps, roulette, Let It Ride, Pai Gow, Carribean Stud, Baccarat. Look around Caesars Palace Vegas because different blackjack tables have different numbers of decks. Also, some roulette wheels at CP have one green zero, and some have two. (One is better) Some blackjack pays 6:5 instead of 3:2, making it 8 times worse for the player. The Palace Court is a semi-private gaming area for the real high rollers, so make your way up if you think you can hang with the big dogs.
Bet Minimums:
$15 table games, going higher on weekends and holidays. Craps is standard 3x4x5x. Roulette is $10 minimum bets. A few oddball games with big house edges are cheaper, too.
Machines:
Slots from a penny to $500, with associated levels of cocktail service. A fair selection of video poker. Caesars Palace Vegas has video-dealer blackjack and roulette as well.
Cocktails?
Pretty good cocktail service, but like all the big places, you can get lost in the crowd. Especially if you throw up on the waitress, then the waitresses avoid you on purpose but the security guard will step in her place, to some extent. Caesars Palace Vegas also serves coffee in real mugs, not glasses with a napkin rubber-banded around them.
Who Gets Comps?
The slot club combines the slot clubs of several Harrah's properties. It is nice to be able to gamble several places with a single card. For table players, but be prepared to throw down green chips for many hours before you even get a buffet.
Number of TVs:
Two huge ones for sports and four more huge ones for racing. Then, there are 12 little ones. We don't know if those are the big screen's children or if they are orphans, but there are plenty to go around.
Number of Seats:
About 130 very comfortable seats. The race book has plasmas at private booths, which is pretty swanky. There are about 65 of these, so enough for us, our friends and, then, say, 64 people to lose our money to. The sports book has 60 seats surrounding tables, and every table has a little TV on it so you can watch things real close-up. Seriously, you can see the quarterback's nose hair.
Number of Betting Windows:
Caesars Palace has about 13 windows, with great big electronic scoreboards.
Free Drinks?
Yes, if you're a big-money sports bettor or any race bettor. Sort of makes you wonder if betting on the horses is really in your favor.
Snack Bar?
Nothing at all. Starve yourself. Or go to one of the 20-sum restaurants in Caesars.
Other Notes:
It's divided into separate sections for race and sports books, both of which are enormous. There is also a lounge seating area, which is always a plus if you're watching with friends.
Number of Tables:
Let's just say there are too many tables to count. There are about 30 in the cash game room, and a whole separate room just for tournaments.
Comfort of Chairs:
Oh man, you've hit the mother lode of comfort: leather seating in swivel chairs, so you can swivel your chair and not your head to get a good read on that loose aggressive player who just re-raised your pocket tens.
Closed Room or Open to Casino?
Yes, the room is closed off and quite elegant to boot. The tournament room is even more secluded since it is in the back.
Game Spreads and Limits:
Stud, Razz, Omaha, Hold 'Em, or so they say. Expect mostly Hold'em with some Omaha. The limits vary for games with the widest range for Hold 'Em, but expect No Limit from $1-$3 and limit from $3-$6 on up. They even have some high-limit games when there is demand.
Beginner Games or Classes:
An okay room for beginners, but only at the lowest limit games. They say they will teach beginners in the mornings, but it's not a done deal.
How Crowded is the Room?
A crowded, popular room with a good wait-management system. Expect to wait a while on weekends, but weekdays they have enough games that you can get in fairly quickly.
Comps?
Standard comps of $1 an hour. We bet if you're a big shot they'll give you more. But for most of us, it's just the usual.
How Good Are the Players?
There are plenty of good players at all levels to clean out a rookie. That doesn't mean there aren't lots of newbies here, just that they're getting skunked.
What Else Do I Need to Know?
Their tournaments, while pricey, are among the best-structured in Vegas, and they have them starting every couple of hours. If you do well, expect it to last for several hours, perhaps even two days.
Caesars Palace Vegas Guest Rooms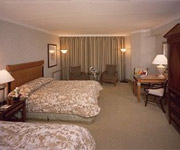 Classic
400-450 square feet rooms in the Roman or Centurion Tower with one king or two double beds include a sitting area and a 27-inch TV with pay movies. Browse the web with high-speed Internet access, but you'll have to pay for that.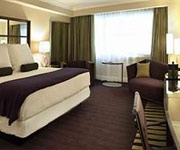 Forum Tower
Caesars Palace rooms in the Forum Tower at with 1 king or 2 queen beds with Anichini bedding and pillow top mattresses. Watch movies on one, or both, of the two 32-inch TVs come and then slip into your plush bathrobe after you get out of the walk-in shower with dual rainfall shower heads.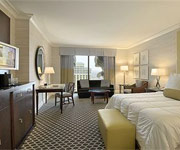 Deluxe
Located in the Palace or Augustus Tower, this is a pretty standard room with either 1 king or 2 queen beds, Anichini bedding and pillow top mattresses. Watch pay-movies on the 32-inch flat-screen TV. The marble bathroom has a walk-in shower, jetted tub, 17-inch flat-panel TV and bathrobes to prance around in. But please don't leave the room in those.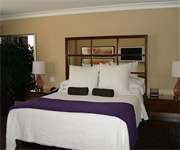 Octavius Tower Deluxe Room
These are Caesars Palace rooms with direct access to the Garden of the Gods Pool Oasis. Either one king bed or two queen beds in 550 square feet with exclusive Augustus VIP entrance and registration. Store your laptop or treasures in the in-room safe, but you'll have to pay for wireless high-speed Internet if you're planning on using it. If you decide to stay in the room, the cable/satellite TV, movies, and multi-line phone will keep you occupied. But you won't miss a call while you're out because they can leave you a voice mail. Sleep in with the blackout drapes, and don't let the turn-down service or daily housekeeping wake you up, unless you really need it. And if you really had a rough night, there's in-room massages available. Smoking or non, there are plenty of features to love about this room.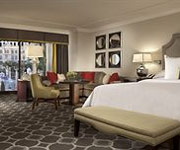 Octavius Tower Luxury Room
If you're looking for an exclusive VIP treatment, this is the room for you. With either a king bed or 2 queen beds, Caesars Palace Vegas offers exclusive Augustus VIP entrance and registration to this 550 square-foot luxury room. Store your goodies in the in-room safe (laptop compatible) and watch cable/satellite television channels or movies, which you'll have to pay for. Brag to the whole family at the same time about what a great vacation you're having on the multi-line phone, or just let them leave you a voice mail to really send them the message, and then come home and sleep the whole day with the room's blackout curtains. You'll get turn-down service and daily housekeeping and you can puff away in here, because smoking is permitted! For all the extras you're bringing along with you, ask for a rollaway bed or crib, which Caesars Palace Las Vegas will be happy to provide.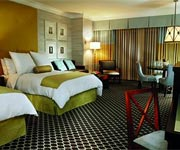 Deluxe Augustus Tower - Pet Stay
Yep, only some of the rooms in Caesars Palace allow your furry friends to come along, so you need to book this room is that's the case. Choose between a king or 2 double beds, maybe Spot gets a bed of his own. These rooms are located in the Augustus Tower and have a CD player with MP3 docking station, a 32-inch flat-panel TV, high-speed Internet access, at an extra charge of course. But don't worry, you don't have to miss your favorite show just because you need to shower for the day. There's a TV in the marble bathroom, along with the a walk-in shower and jetted tub. Relax in your plush bathrobe, but you'll have to bring another bathrobe for the canine, because Caesars doens't provide these yet.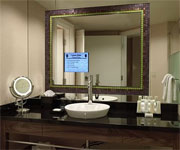 Forum Tower Royal Suite
The Royal Suite in Forum Tower has 1,050 square feet of heaven. This suite comes with a king bed with fancy bedding and a pillow top mattress with a bedside CD player and MP3 docking station for your listening pleasure. Order room service while you watch TV in bed before a long day. And after a long night, the marble bathroom offers bathrobes, a walk-in shower with dual rainfall shower heads, and a jetted tub. One of those features is sure to wash Sin City off of you.
User Average Review
Overall:
Service:
Cleanliness:
Location:
Room Quality:
Based on 3 reviews
Rating Distribution
100.0% recommended it
Caesars Palace Vegas Reviews