Mandalay Bay Resort & Casino
Holy bejeebus! Did Kubla Khan erect a certain gambling hall in Las Vegas?
---
A Quick Look
Location: The Strip
Hotel Class:

Room Price:

Hotel Size:4,460 rooms
Casino Size:135,000 sq. ft.
Gaming:Yes
Nightlife:

Pool:

Buffet:

Best Show:
---
Book now for great deals!!

Other Hotels like Mandalay Bay Resort & Casino
Mandalay Bay Resort & Casino Deal Finder
* Room Rates shown above reflect the average nightly rate for a 2 night stay with the calendar date as the check-in date, our visitors should verify actual rates, promotions and deals directly with the hotel as we make no guarantees regarding rates, but only provide them as a convenience.
Book Now
The Skinny
If you're looking for a cheap room on the Internet, you're not cool enough for Mandalay Bay Vegas (unless you look really hard). If you think you're rich, even if you're not, get ready for a great pool and nice rooms (which are even nicer in THEHotel tower). But don't come crying to us if you get called a nerd. Hey, we didn't have anyone to run to either.
Reviews
Most Recent Reviews
Our user reviews are from real registered users.
Quick Facts
Check-in at 3pm
Near Attractions
4000+ Rooms
Check-out at 11am
High-Speed Internet
Pets Allowed
On-Site Restaurant
Near Restaurants
Parking
Check-In Age - 21+
Info
Location:
3950 Las Vegas Blvd. South
Las Vegas, Nevada 89109
View Map
Website:
https://www.mandalaybay.com/
Room Quality:
The standard rooms at Mandalay Bay Resort and Casino Las Vegas are larger than average at 550 square feet or more, and each one has a fancy bathroom with a big tub, separate shower, two sinks and a toilet room with its own door (trust us, this is important if you share a room with us). A quibble is that the super-fancy bathrooms take up a lot of the room, so the actual bedroom area is average in size. Still, the room has seating space for four, two queens or a king, a big ol' flat screen TV, abstract art on the walls, and plenty of closet space. The colors are tasteful golds, light browns and beige, and the towels are as fluffy as they should be. There are two phones in each room. The windows are floor-to-ceiling, which is great if you face the rest of the Strip. However, since you are at the southern tip, you have a 50% chance of seeing nothing but cars streaming in from California. Overall, a very nice and homey hotel room. If the standard room isn't enough, the new rooms in THEHotel at Mandalay Bay Las Vegas Hotel are even nicer. Larger at a whopping 725 square feet or more with fancier bathrooms (two of them!), separate living room (with wet bar) and bedrooms, fax/printers and all sorts of high-tech gew-gawgery. There are some Mandalay Bay Las Vegas promo codes to help bring the bill down, use 'em or lose 'em.
Service Quality:
Very good. Mandalay Bay Resort and Casino Las Vegas wants people to think that it is a service-oriented hotel, and they really want the rich young Californians to stay here, so they will work fairly hard for you. If you really want to be pampered, book a room at the Four Seasons or THE Hotel. The Four Seasons occupies the uppermost floors of this hotel and offers that high-falutin' Four Seasons service. The wait to check-in can be long during rush-hour, and especially Friday afternoons.
What You Get Bottles of in the Bathroom:
Mandalay Bay Resort and Casino Las Vegas gives you the fancy stuff. Shampoo, conditioner, lotions, shower cap and the king of toiletries - the sewing kit. If you're into free stuff in the bathroom (like we are), these Mandalay Bay deals are hard to beat!
Clientele:
Mandalay Bay Resort and Casino Las Vegas attracts the young, rich and moderately obnoxious travelers. This place has that "party" vibe that the Hard Rock Hotel and Casino practically owns the patent on. If you love Good Charlotte or Vampire Weekend, you're likely to dig this place.
How's the Pool?
Ooweee! Mandalay Bay Las Vegas Hotel definitely has the finest pool in town. They generate waves on the sand beach pool that are big enough to surf. And there are waterfalls and other tropical delights, all shrouded by hundreds of palm trees and overhead misters. There is a large VIP section with a three-story tower adjoining the pool. And ladies and gentlemen, if you like seeing beautiful people in skimpy outfits, this is Xanadu and Shangri La rolled into one. Only one pool stays open in the winter. There is a topless sunbathing area on top of the tower where the ladies can let it all hang out and the guys can pretend not to stare. It is secluded and costs extra (a lot extra for guys), though, so we'll just keep working on our X-ray vision.
Check out the Daylight Beach Club if you are looking for a daytime poolside concert like you've never seen before. Feel the sand between your toes as you dance to some of the best electric music out there, surrounded by hundreds of raging partygoers. This Vegas daytime pool party presents top DJs and a wild party scene. Go crazy at the beach this summer at the exciting Daylight Beach Club by Mandalay Bay Las Vegas Hotel.
Resort Fee:
You have to pay $28 per night to get the Internet access, local calling, gym access, outgoing faxes, boarding pass printing and a daily newspaper. At least you can work out in the beach cardio room. Maybe you can find some Mandalay Bay Las Vegas promo codes to make up this $28.
Is it Worth It?
It can be a bit pricey, but you get all the best Vegas features, just take advantage of them!
Hotel Amenities
Air-conditioning
Spa
Sauna
Wedding Services
Shoe Shine
Security Guard
Restaurants
Pets Accepted
ATM/Banking
Business Services
Dry Cleaning
Event Catering
Car Service
Business Center
Free Guest Parking
Multilingual Staff
Parking Garage
Express Checkout
Conference room(s)
Doorperson
Bar/Lounge
Ballroom(s)
Room Service
Table Games:
Everything, including Baccarat, which casinos put in to draw in the really rich people. They have a ton of live action tables including a full "party pit", so you're likely to find what you want, including if you're seeking a specific cup size. There are no outstanding table games here, since blackjack is standard and craps is 3x4x5x odds.
Bet Minimums:
Ten dollars and up for blackjack and roulette, mostly up, and you might find a $10 craps game during the weekdays. Other games start around $10.
Machines:
2,000+ machines from pennies to $100 per spin. As a tourist place, the emphasis is on slot machines, and mostly brand-spanking-new models. So, you won't find a good video poker selection, or full-pay ones. But, what's this? Oh my Lord, do they really have slots based on popular TV shows? Better rush in before the crowds find out!! You will find all the latest slots in a very (perhaps overly) spacious casino.
Cocktails?
Very good cocktail service. They know that young people want to drown their worries and gambling losses with rivers of strong drinks and Mandalay Bay is more than willing to oblige.
Who Gets Comps?
The M Life slot club serves several properties and pays a fair cash rebate on slots, and half as much on video poker. It also rewards you at most MGM properties.
Number of TVs:
16 medium screens plus one mondo-giant one made up of four screen are split between sports and races. The layout here is great for watching sports.
Number of Seats:
The lounge has about 100 seats at tables. There are another 120 seats for the race bettors, each with a small TV. You don't have to share your winnings, why should you share your TV?
Number of Betting Windows:
About 16, with electronic signboards.
Free Drinks?
For race bettors. You have to be in it to win it, but you have to be in it to drink for free too.
Snack Bar?
The Mandalay Bay Resort and Casino Las Vegas Sportsbook Grill has some pretty good eats.
Other Notes:
Minimum bet $10 sports, $2 race. The room is not bad at all. The screens are good, and the surroundings are fine.
Number of Tables:
10 is the magic number.
Comfort of Chairs:
Average seats, so if you have an above average fanny be prepared.
Closed Room or Open to Casino?
Open to the sports book. It has its share of noise, especially during big sporting events.
Game Spreads and Limits:
Plenty of Hold-em $2-$4, $3-$6. The $4-$8 and $6-$12 have a half-kill. And, of course, no-limit games with at least $100 buy-in. They deal $4-$8 Crazy Pineapple but it's very rare. We wish they dealt it more. Pineapple, like ex-girlfriends, is best when crazy.
Beginner Games or Classes:
Free lessons during the afternoon Monday through Thursday, so if you're planning a weekend vacation, you better already know how to play.
How Crowded is the Room?
The room is often crowded, so expect a wait most times, even weekdays.
Comps?
Free drinks while playing. They'll give you a $5 coupon for grub after four or five hours and even let you eat at the table, as long as you promise not to get the cards all greasy.
How Good Are the Players?
Below average. You might get lucky and sit at a table with one of the many loudmouthed 20-somethings in this casino. Do us a favor, clean the kid's pockets.
What Else Do I Need to Know?
If the smell of coconut suntan oil makes you vomit, don't play poker here. Also, this place apparently has the longest poker tables known to man. And, according to a host, the red beechwood inlay on the edge of each table is "to keep your chips in good karma." Uh, sure.
Mandalay Bay Resort And Casino Guest Rooms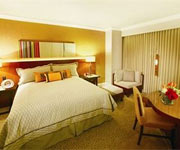 Deluxe Room
A 550 square foot guestroom with floor-to-ceiling windows overlooking The Strip, Mandalay Bay Beach, or the Vegas hills. Relax in a king or two queen beds in front of the 42-inch plasma TV. And you don't even have to miss the commercials, because there's another TV in the bathroom. There's also a tub and shower in there. Pretty fancy. You don't even have to share the sink because there are dual vanities and twin lighted closets. The clock radio comes with an iPod dock, so you can wake up to your favorite tunes.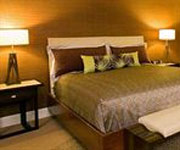 600 Spa Suite
The same as the above mentioned, but with 60 more square feet of living space. Here, you can flop around in your king bed, watching TV or enjoying the views of Mandalay Bay Beach or the Vegas hills from floor to ceiling windows. Other than that it's a pretty standard room.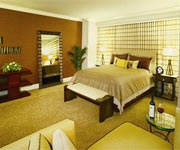 750 Great Room
A whopping 765 square foot guestroom with more floor-to-ceiling windows overlooking The Strip or the Vegas hills. Is this place all windows? Pretty much. But other than that you get the same room as everyone else. A king bed, TV, living area and bathroom with dual vanities.
User Average Review
Overall:
Service:
Cleanliness:
Location:
Room Quality:
Based on 9 reviews
Rating Distribution
94.0% recommended it
Mandalay Bay Resort And Casino Reviews