Mark Your Calendars: Las Vegas First Fridays in the Downtown Arts District
---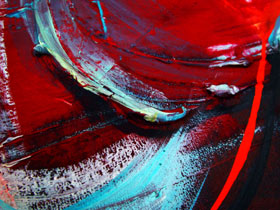 July is coming fast, and you know what that means - the next First Friday in the Las Vegas Arts District is coming up quick!
(Oh, you didn't know that? Well, it's a good thing you're tight with Casino Boy.)
The Downtown Las Vegas Arts District holds this free, family friendly event on the - wait for it - first Friday of every month. For the most part, there's an abundance of various art of all shapes, sizes and types feast your eyes on, but that's not the only feast to be had. With several food trucks posted throughout the streets, plus blocks filled with shops and galleries to stroll in and out of, no one will go hungry.
Not only will there will be plenty of food and art to go around, about a dozen bands are set to play at various locations during First Friday Las Vegas, so there's free entertainment to be had as well!
And don't worry, thirsty Cheapos - there are plenty of bars in the Las Vegas Arts District to provide enough liquid libations to make this fun for the whole family (or at least fun for the boyfriend that you're possibly dragging along.)
Either way, once you've made the commitment to go to First Friday in Vegas' Arts District - or you still need a little enticing - here are a few more things that you won't want to miss while you're here ...
Here's what you need to know!
First Friday is a monthly street festival in the Arts District of Downtown Las Vegas, the first freakin' Friday of every month from about 6pm-11pm.
It's FREE! Of course if you want to buy anything (and you will), that will cost you, but lookin's cheap and that's why we go to bars instead of on dates. Wait, what? Augh.
Ready for some numbers? There are 100+ artists (painters, potters, photographers, jewelers and more) set up permanently in the Las Vegas Arts District and, on top of that, another 50 artists that temporarily set up shot outside for your listening, viewing and entertaining pleasures.
The food trucks will be there to keep you full and fat happy, but there are full-time Vegas restaurants in the Arts District available for a sit down meal, too.
Bring the whole family! How many Las Vegas family friendly events available on a monthly basis are actually worth going to? The list can be short. However, there are plenty of kid friendly happenings from 6pm-9pm at First Fridays Las Vegas before the usual Vegas crowds take over the bars Downtown.
The artsy places you don't want to miss
The Arts Factory: This place is full of art, full time patrons, visiting artists and new exhibitions all the time. On top of that they have a bar and bistro right there. Art, tapas and cocktails in one? Okay, if we must!
Brett Wesley Gallery: They are a favorite in this town known for binge drinking and strippers, but their art is just as interesting as nights involving either or both of those things! You won't want to miss a walk through this gallery.
Trifecta Gallery: Places like these give Las Vegas the "culture" that you thought died with all those signs in the Neon Boneyard. Two story galleries just make it twice as likely that you'll be going home with a new addition to your family, and not the kind that you have to feed and clean 50 times a day.
Blackbird Studios: A little off the beaten path of the Las Vegas Arts District, this place has cool events on First Fridays and then a "Drink and Draw" event on the 3rd Friday of every month. You don't want to see the things that Casino Boy draws when he drinks.
The Gypsy Den is an old wagon converted to a thrift store with tons of little gems if you're not looking to make a big investment in a piece of art right now.
Let's get down to business...
Where are we going to get our drink on after - or before - we do a little art perusing. Don't drink too much or you might walk out with just about everything you don't need. This is not the kind of Vegas regrets that you want to take home with you, but let's face it, it's a little better than some of the regrets that could follow you home.
Downtown Cocktail Room: They're hopping on Las Vegas First Fridays, and for good reason. They've got great house music and a pretty good drink menu when you need to slurp back a few.
Beauty Bar: While most people think of this as the go-to Las Vegas Downtown bar for Nickel F~~cking Beer Nights (obviously because it's just such an eloquent name to attract crowds - and they're NICKEL F~~CKING BEERS) they attract crowds on First Fridays as well. Some people claim that Beauty Bar is like New Years on First Fridays, and we like that possibility of maybe getting a kiss at some point in a night, so why wouldn't you check it out? They have great live music though, so if the arts haven't put you in a romantic mood all day, then maybe your dance moves will work magic on some lucky lady this night.
So basically, whether you've considered it or not, First Fridays in Downtown Las Vegas' Arts District are a pretty cool change of pace to the Vegas nightlife scene, without going too far off the map. We still want to have fun, we didn't come to Vegas for no reason, but this event gives you a little taste of something other than boozing and grinding, and we kind of like that every now and then.
Have you ever been to a First Friday in Las Vegas? Let us know about your thoughts, purchases, favorites and insider tips in the comments section below, on our Facebook page or you can even Tweet us about it. Also, if you're looking to get involved in this kind of thing, you can find out more info about volunteering or becoming a vendor using this link right here.