Las Vegas Car Rental Tips
---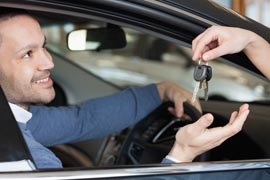 Casino Boy sure ain't going to spring for an airplane ticket or to Vegas and his clunky old jalopy won't make it through the desert. What's a Cheapo to do? The most affordable option is probably to rent a car...if you know what you're doing.
Summertime is the most expensive time to rent a car, but Las Vegas hotels have cheaper rates in the hotter months. Even if you do fly into Sin City, it may be more addordable to rent a car for some off-strip sightseeing . When booking a Las Vegas vacation, a little planning goes a long way.
CheapoVegas.com Las Vegas rental car Tips
Shop for the best Las Vegas deal online early.
Use a free car rental compare website such as VroomVroomVroom.com to find the cheapest rates before you book.
Read the fine print.
Chances are if you are renting a car to visit Las Vegas, you're from out of state. Be sure to check for any restrictions for where you can drive the car and if rates vary by state.
Don't focus too much on brand recognition.
The car rental industry is very competitive, and many newer companies want your business more than the big guys. Plus, less popular companies have lower production costs, which may mean more savings for you and better customer service.
Don't always go with the cheapest supplier.
Blasphemy, Casino Boy! But it's true. The queue is always longer at the counter and sometimes there's a trade off for convenience. If you have a set schedule (such as a check-in time) for your Las Vegas trip you may not have extra hours to spend in line at McCarran International Airport.
Speaking of McCarran, try and not pick your rental car up there.
There are often extra surcharges and taxes. Split the cabfare and get your car somewhere else.
Stick to renting in 24 hour blocks to maximize time and costs
Base rates are lower when you book the car for longer.
To prepay or not to prepay?
It's probably cheaper in the long run to not prepay for gas and just return the car with at least half a tank. Chances are you won't use all the prepaid gas in an economy car just driving on the Strip or Downtown. If you are on Vegas for business, are unfamiliar with the Las Vegas, or on a serious time crunch it may be worth it to prepay,...but probably not.
For other transportation options like shuttles, airport transportation, and other luxury options check out our Las Vegas Transportation page or the Vegas Monorail for more unique opportunities!
Have you ever rented a car in Las Vegas? Have any other tips? Tell us about your experience! You can use the comments section below, and don't forget: follow the Casino Boy Twitter, CheapoVegas Facebook, and Casino Boy Google+ pages for some more information on Las Vegas hotels, deals, nightlife, and more.