A Beer Lovers Guide to Good Beer in Las Vegas
---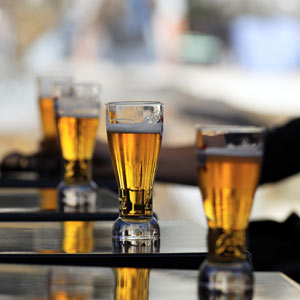 Looking for good beer in Las Vegas? How about the best brew pub, beer bar or just the best palce to have a good 'ole ice cold brewski? We don't blame you - in the land of liquors and mixers, it's hard to get a decent drink in this place that isn't loaded with sugar instead of alcohol.
Yeah, we've all been there. We want our hops, and a Bud Light will never make the cut for some of us. So here you go Cheapos, this will be your guide to the better beer of Las Vegas, just in time for the weekend!
Here are Casino Boy's favorite places to drink when his main goal isn't out meeting girls or drowning his sorrows in straight vodka...
The Breweries/Brew Pubs
Go for a few beers or taste them all, these are the Las Vegas breweries with our favorite beers and great prices. Sure, they're a little out of the way if you're staying on the Strip. But they say getting there is half the fun right? Plus, you'll enjoy an ice cold reward once you get there, so, keep your eye on the prize...
Triple 7 Brew Pub: With 6 different hand-crafted beers, great prices, and a happy hour, this little Vegas microbrewery is definitely one of our go-to's.
Chicago Brewing Co: There's a restaurant to go along with all the beer people are coming for here. The place is usually hopping, so the beer must be doing something right! They've got seven beers on tap, so don't let their Downtown location deter you! Just think of all of the $20 watered-down martinis you could be stuck with on the Strip and you'll bolt right over to the Four Queens Hotel for a cold one! And yes, after a good "bolt" over, nothing hits the spot better than one of their micro-brews. (Immediately followed by several more.) The prices are good, the pizza is hot and deep, and the beer is plentiful!
Aces and Ales (mentioned above) may very well have the best draft selection in all of Vegas, maybe all of Nevada because really what the heck else is there in this state?
Joseph James Brewery does brew tours and they also sell their beers in stores all over Vegas. If you really want a home-grown Nevada beer, this is a great choice. (Find it on 155 N. Gibson Rd. in Henderson.)
Noteworthy Vegas Strip Tap Lists
If you're set on having your beer on the Vegas Strip, that's fine, too! Choose from these:
Pour 24: This NYNY Hotel nightlife joint has, you guessed it, 24 beers on tap. If you're bringing your beer un-enthusiasts with you, well okay, we won't judge you for having "friends" like that, but they'll be happy here as well with a full bar. They will let you sample the beer before you make your choice, which is nice for the novice beer drinkers.
Sin City Brewing Co: Good beer in Planet Hollywood Hotel and Casino? Who would'a thunk? This trendy hotel has to have something for the hipsters who aren't taking a vacation from their identities. Worry not, sweet hipsters - you can get your Amber here! Be sure to bring your trendy glasses and iPhone, because this place surely cannot go un-Instagrammed! But really, they've got a few good beers here that you won't find just anywhere.
Burger Bar: Mandalay Bay's favorite burger joint has a good selection of craft beers, so we make a point of going there often. Besides, what better way to enjoy a summer's afternoon than a burger and a beer in Vegas?
One of our Favorites
Freakin' Frog: A Vegas joint that isn't a total tourist trap, even though it still attracts the ones that are serious about getting a good drink and having a good time and won't just settle for the closest bar they happen to stumble into. Freakin' Frog Las Vegas has 1,000 beers in the cooler and 600 whiskies in the attic. This is one of the places that you feel like you could die happy in, and an attic that you would never be scared to enter. Like, who could possibly still want to kill you with all of this around? Nobody. Not possible.
With the occasional live bands here, happy hour, and a location right across from the college, literally everyone will find someone, or something to leave happy with for the night. (Even if it's your professor. Hey, it happens!) Yup, we give the Freakin' Frog a solid 'A'.
Be sure to check out all of these places when you've got a craving for something other than the water they try to disguise as Bud Light. PLUS, let us know what your favorite place to go to for good beer in Vegas in the comments section below. And as always, go big or go home, but be safe about it Cheapos! You'll need to come back for seconds!
Cheers,
Casino Boy