Four Queens Vegas
Gosh! I DO feel like a Queen in this medium-sized palace!
---
A Quick Look
Location: Downtown
Hotel Class:

Room Price:

Hotel Size:690 rooms
Casino Size:32,000 sq. ft.
Gaming:Yes
Nightlife:

Pool:

Buffet:
---
Book now for great deals!!

Other Hotels like Four Queens Vegas
Four Queens Vegas Deal Finder
* Room Rates shown above reflect the average nightly rate for a 2 night stay with the calendar date as the check-in date, our visitors should verify actual rates, promotions and deals directly with the hotel as we make no guarantees regarding rates, but only provide them as a convenience.
Book Now
The Skinny
Don't bother looking for the four queens because they're nowhere to be found at the Four Queens Vegas. Supposedly they are the original owner's daughters, but instead, you get a casino that is faded, but still a value. While not fancy, Four Queens Hotel and Casino Las Vegas serves its purpose as clean low-roller joint quite well (if a little quietly).
Reviews
Most Recent Reviews
Our user reviews are from real registered users.
Quick Facts
Near Attractions
Check-in at 4pm
500+ Rooms
Check-out at 12pm
High-Speed Internet
On-Site Restaurant
Near Restaurants
Parking
Check-In Age - 21+
Info
Location:
202 Fremont St
Las Vegas, Nevada 89101
View Map
Website:
https://www.fourqueens.com/
Room Quality:
Like most places Downtown, the rooms at the Four Queens Hotel and Casino Las Vegas are not luxurious, but clean and reasonably priced. The hotel started out small, and grew in fits and starts, including the addition of a large tower in the 80's. Standard rooms in the north tower are smaller, but all rooms have decent (but loud) furnishings and carpet. All rooms are small, though, and all have cramped bathrooms. You'll get a king or, two doubles or two queens (sorry, no four queen rooms), a dresser with nice flat-screen TV, iron, coffeemaker, and a couple of chairs by a small window. Ask for a room above the fourth floor or the infernal Fremont Street Experience will keep you awake at night. The South Tower is farther from Fremont, too.
Service Quality:
Fair. You're getting the standard downtown treatment at the Four Queens Las Vegas Hotel, meaning they expect you to be an adult and do most things for yourself. Check-in is usually quick, but can be a little long at Thursday and Friday rush hour. Room service is fair to middling.
What You Get Bottles of in the Bathroom:
Conditioning shampoo, lotion and soap.
Clientele:
It's a middle-aged and older crowd that is pretty serious about gambling, and this is probably not the best place to try to pick up hip Angelenos. People at Four Queens Hotel and Casino Vegas are not rich, they are like us except without the drool on their T-shirts: plain folks trying to stretch their vacation dollars.
How's the Pool?
Unfortunately, there is no pool at the Four Queens Hotel and Casino Las Vegas. You can go across the street and up to the rooftop of Binion's to use its rectangular pool, which is still open, even though the hotel is closed.
Resort Fee:
No resort fees at The Four Queens Hotel and Casino Las Vegas, because well, it's not a resort.
Is it Worth It?
If cheap gambling and the downtown Vegas vibe is what you're going for, Four Queens Las Vegas deals a worthy hand.
Hotel Amenities
Air-conditioning
ATM/Banking
Bar/Lounge
Business Center
Business Services
Concierge Service
Conference room(s)
Dry Cleaning
Event Catering
Express Checkout
Free Fast Internet
Multilingual Staff
Parking Garage
Restaurants
Room Service
Security Guard
Table Games:
Blackjack, craps, roulette, poker, Pai Gow poker, plus a few other carnival games. Four Queens Hotel and Casino Vegas has a fair mix, including some weird gimmicks.
Bet Minimums:
Table games can be had for $5 most of the time, and $3 when slow (5x odds on craps). Roulette can be 50-cent chips with a $2 minimum. Black jack can have the nefarious 6:5 - easily avoided downtown.
Machines:
Slots range anywhere from a penny to $5. Video poker will set you back anywhere from a nickel on up. Their VP selection is fair, with some full-pay machines in the mix.
Cocktails?
Fair drink service. It can be slow at times depending on the Four Queens Hotel and Casino Vegas season. The cocktail waitresses love to smile here, though. And they sure do appreciate the big tippers.
Who Gets Comps?
If you're hungry, but want to play for a while first, try dishing out $25 a hand and roll for a couple of hours. Rooms can be had for higher levels (as low as $50 for long-term play), and slot club members may receive offers in the mail. The Royal Players Club at the Four Queens Hotel and Casino Las Vegas is for slot and VP players and is pretty generous.
Number of TVs:
Four, and they are behind you as you face the sports book, so you can seriously hurt your neck swiveling back and forth.
Number of Seats:
The Four Queens Hotel and Casino Vegas put in five tiny tables and each has three tall, swiveling bar stools at it. Sit on those and you may teeter off, just like we did. We can't say any more about this until we talk to our lawyer.
Number of Betting Windows:
Ostensibly two, but usually only one is open, and no electronic signboard.
Free Drinks?
Yep. That's the beauty of being next to a keno parlor. That and the hot widowed ladies.
Snack Bar?
No, but Noble Roman's and Subway are a few tortuous feet away.
Other Notes:
Another one of Cal-Neva's dinky outposts downtown. There are many downtown sports books trying to be the worst in town, and the Four Queens is a definite competitor. Oh, and it closes in the early evening because, you know, sports never happen at night.
Four Queens Hotel and Casino Guest Rooms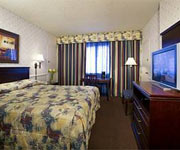 Standard Room
Whether you choose one king bed or two double beds, these rooms are a bit cramped at 290 square feet each. Wireless high-speed Internet is available for a surcharge, while amenities such as cable/satellite TV, pay movies, voice mail, coffee/tea maker, in-room safe, hair dryer, ironing board come standard fare.
Petite Suite
One king bed, 630 square feet. A separate sitting area and separate dining area will ensure a bed free from crumbs or other undesired consequences of an non-separated sitting area. Same standard fare amenities as a standard room, plus a refrigerator.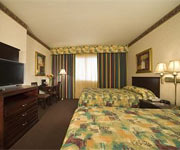 Deluxe Room
Two queen beds, 325 square feet. Wireless high-speed Internet is available for a surcharge, while amenities such as cable/satellite TV, pay movies, voice mail, coffee/tea maker, in-room safe, hair dryer, ironing board come standard fare.
User Average Review
Overall:
Service:
Cleanliness:
Location:
Room Quality:
Based on 4 reviews
Rating Distribution
100.0% recommended it
Four Queens Hotel and Casino Reviews