Carlos 'n Charlie's opens for biz, not crazy about us calling them Carl and Chuck's
---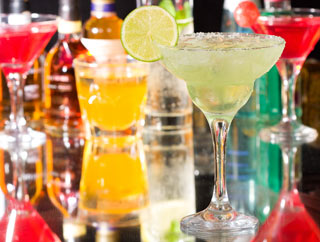 After months of (mild-to-above average) anticipation, Carlos 'n Charlie's at the Flamingo Las Vegas finally opened to the public on Wednesday, much to the delight of Margarita enthusiasts, taco aficionados and tourists who like to wear sombreros. (i.e. Arizona State students on Spring Break.)
Carlos 'n Charlie's is a 13,000-square ft. Mexican joint that has been the object of curiosity (and simultaneously a bit of an eyesore) for several months at the Flamingo. However, the promise of a new watering hole facing both the shenanigans of the Flamingo Pool AND the serenity of the Natural Habitat (like we mentioned - 'It's friggin' huge!') just as the weather settles in to summer is enough to peak our interest.
So far, the buzz is solid at Carlos 'n Charlie's. While they came off as a bit of a #humblebrag ("We have some amazing food and the best drinks in town," said either Carlos or Charlie on the restaurant's official website.) in the beginning, this joint is clearly going for a chill-out vibe similar to the nearby Margaritaville. If the Vegas location does half as well as the Cancun restaurant of the same name, then patrons (not to be confused with Patron, the tequila of choice here) of the Flamingo should be in for a drunken treat.
Is it a bit kitschy? Oh, definitely. But it's Vegas (and it's the Strip) so it's mostly forgiven. Plus, their outdoor patio will be a nice place to kick back with a Marg when the weather really heats up. ('Helllloooo, misting machines. Casino Boy, please to meet you. Go easy on my face, please.') Time will tell if Carlos 'n Charlie's take off (we're cautiously optimistic), but if any Cheapos end up checking out this new joint, PLEASE let us know what you think in the comments section below.
PLUS, in a related note, Senor Frog's (not coincidentally owned by the same restaurateurs behind Carlos 'n Charlie's) at Treasure Island is rumored to be open by as early as next week, according to the Las Vegas Sun. This Tex-Mex/American joint will be in a pretty premier spot; by our best estimate, Frog's will be facing the Strip and, additionally, the god-awful Sirens of TI show.) So, if our simple math is correct (and usually it isn't), that's two brand new places to get your drink on opening withing the same month on the Strip.
This almost makes up for the fact that O'Shea's Casino is closing on April 30th ... On second thought, no it doesn't - not even remotely.
Long live O'Shea's!
Until next time ...