Best Las Vegas Happy Hours This Summer
---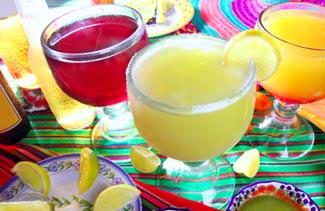 There's no better way to spend a summer afternoon in Sin City than sipping (or chugging if you're like Casino Boy) cocktails at the best Las Vegas happy hours! Some places are better for summer sipping than others.
Like, duh, if the sun is shining and we're getting cheap drinks, the only thing that will make that better is being outside, surrounded by fun activities, pretty girls and boys with their shirts off and nicely tanned and oiled bodies. And if we're outside, soaking up those rays coming at us at 100+ degrees, we're going to need some alcohol in us, and make it cheap, please!
Well, some Vegas bars and lounges do just that! Here are some of our favorite Las Vegas happy hour specials...
Best Happy Hour with Outdoor Seating:
PBR Rock Bar and Grill has $5 Jager Bombs, 2-for-1 well drinks and $3 draft beers 3pm-6pm every day. Enjoy it on their outdoor patio - seriously, it's summer - or stay inside to watch sports on the tube. Whatever works for you.
Margaritas, anyone?
Pink Taco: Not one, but two happy hours?! We like that. During the week, their first happy hour is from 4-7pm. You can get 1/2 price appetizers and 2-for-1 drinks. Opt for the margaritas - you are in a Mexican restaurant after all! The second round of these Las Vegas happy hour deals starts at 9pm. You get all the same deals, PLUS you can add $2 tacos to the mix.
Yolos at Planet Hollywood Vegas has $5 margaritas, house wines and well drinks Monday-Thursday from 2-5. Hungry too? There's $5 taquitos, flautas, tacos and quesadillas.
Carlos n' Charlies has 2-for-1 margaritas every day from 2-6, several flavors and two different sizes (regular and big mama) We personally like big mama's, especially if there's tequila in her.
For a Cold Brew:
Chicago Brewing Co. hosts happy hour from 4-7pm, and offers $2.50 micro brews and $6 pitchers. There are other daily specials on brews and foods, plus a late-night happy hour from 10 to midnight with $2 draft beers, half-priced wines and half priced well drinks and appetizers.
All You Can Drink?
You'll definitely want to check out Blondies at Planet Hollywood. For $20, you can drink as much as you want from 3-6pm.
Summer is for Sangria!
And after a few pitchers of it, we'll be 'sangrian' all night! (We don't know what that means, but let's face it, we'll probably do that.) And we can at Firefly on Paradise Rd., because during happy hour from 3-6 (Monday-Thursday, and 3-5 on Fridays) they have sangria pitchers for $12.00. Unlike many pitchers, these account for about 6 glasses poured out. Yum! Brews like Fat Tire and more are $2.50 (0r less!)
(Tip: Sit at the bar and you'll get complimentary tapas, like a bacon wrapped date, potato and egg tortilla and meatballs. Hungry? They have a full menu of tapas. Yummy, but there's still enough room for beer... and a 4th pitcher of sangria perhaps!)
Real Cheapo Status Vegas Happy Hours:
Double Down Saloon: All drinks are $2, Monday-Friday from noon to 5pm (Yep, even their famous Ass Juice!)
Triple 7: $1.50 micro brews from 4-7, $1 brews from midnight to 7am
Grab a brew, a margarita or some sweet sangria when you're celebrating your summer in Las Vegas, and you'll definitely be feeling a little happier. Especially when you can get them at these prices. Let us know what your favorite Vegas happy hour is, and if you haven't found one yet, maybe give a few (or all) of the ones on this list a go.