Planet Hollywood Las Vegas
Planet Hollywood? I thought that was just a dumpy area in LA, not an awesome hotel!
---
A Quick Look
Location: The Strip
Hotel Class:

Room Price:

Hotel Size:2,600 rooms
Casino Size:150,000 sq. ft.
Gaming:Yes
Nightlife:

Pool:

Buffet:

Best Show:
---
Book now for great deals!!

Other Hotels like Planet Hollywood
Planet Hollywood Deal Finder
* Room Rates shown above reflect the average nightly rate for a 2 night stay with the calendar date as the check-in date, our visitors should verify actual rates, promotions and deals directly with the hotel as we make no guarantees regarding rates, but only provide them as a convenience.
Book Now
The Skinny
The Vegas Planet Hollywood is a revamp of the classic Aladdin, with a more trendy vibe and better accessibility on the Vegas Strip. The rooms are a good value: large rooms in a good location for a competitive rate. The casino is hip and caters to a younger crowd.
Reviews
There are currently no reviews!
Be the first to write a review!
Write a review
Our user reviews are from real registered users.
Quick Facts
Check-in at 4pm
Near Attractions
2000+ Rooms
Check-out at 11am
High-Speed Internet
Pets Allowed
On-Site Restaurant
Near Restaurants
Parking
Check-In Age - 21+
Info
Location:
667 Las Vegas Boulevard South
Las Vegas, Nevada 89109
View Map
Website:
https://www.planethollywoodresort.com/
Room Quality:
There are several room types at the Planet Hollywood Resort and Casino: Hollywood Hip, resort, resort vista, and then several suites. Only the non-suites are ones that us lowlifes can afford. The Hollywood Hip rooms are slightly larger than average at 450 square feet, and a huge amount of that space is in the bathroom. Each has "real" movie memorabilia in them. If you're lucky, you can get the coveted "Manos: The Hands of Fate" room. The bedroom is actually pretty average. The carpet is light and subdued, the furniture is very good and each room has a king or two queen beds, a nice little stuffed chair and a writing desk. You can connect to the Internet at high speed for an ungodly fee. Just think, you can sit in your hotel room and read what we have to say about it! Planet Hollywood Vegas reviews have mentioned the thin walls that let you hear the better times other guests are having. Bathrooms have marble counter tops, separate soaking tubs and showers and a private little water closet so you can take care of business as noisily as you please. There are flat-screen TVs, ironing boards and safes. The rooms also have two phones (one of which is cordless). Hollywood Hip rooms have small windows, but Resort Vistas are better. They and the plain Resort rooms are also another 100+ square feet larger with love seats and bigger bathrooms. If you want something larger, maybe for entertaining, you can also check out the Planet Hollywood Towers, a part-time-share, part-hotel facility.
Service Quality:
You should expect some potentially long waits at check-in. Parking is fairly far away unless you valet, which we're too cheap to do.
What You Get Bottles of in the Bathroom:
Body lotion, bath gel, final rinse and shampoo. The sizes are larger than average, which is nice. Where is the grand prize, the motherlode, the sewing kit?
Clientele:
Lots of young urbanites with cash to blow spend their vacations at the Planet Hollywood Resort and Casino. You'll see lots of silk shirts on the fellows and expensive looking mini-skirts on the ladies. But then you also see the rest of the gang who took advantage of the Planet Hollywood Las Vegas promo codes.
How's the Pool?
There are two pools on a deck off the first hotel floor, which is above the casino and shopping complex. The pool is open for limited hours, so don't bother getting up early to beat the crowd.
Resort Fee:
$20 resort fee at Planet Hollywood. Gets you internet for one device, local calls and fitness center access for two people. Meh. We wish it included buffet passes!
Is it Worth It?
It's right on par with most of it's neighbors, so you will probably enjoy your stay.
Hotel Amenities
Air-conditioning
ATM/Banking
Ballroom(s)
Bar/Lounge
Business Services
Business Center
Car Service
Conference room(s)
Concierge Service
Dry Cleaning
Doorperson
Event Catering
Express Checkout
Free Guest Parking
Multilingual Staff
Restaurants
Sauna
Room Service
Security Guard
Shoe Shine
Wedding Services
Pets Accepted
Fitness Center
Table Games:
Planet Hollywood Vegas has loads of tables with all your favorites. Look for 3x4x5x odds at the craps tables, blackjack six- and eight-deck shoes, Let It Ride and roulette. The High Limit area is off the main floor and not at all crowded. The main area has a "Pleasure Pit" where go-go dancers shake their money-makers right by the tables.
Bet Minimums:
$10 in the common casino at almost all games (occasionally $5), and more in the high roller salon upstairs. Too rich for our blood. We'll be the guys swilling the free booze then heading down to the El Cortez for a cheap craps game later.
Machines:
Amid the very slot signage and confusing layout are plenty of machines. They go anywhere from a penny for us cheapskates all the way up to $1000 a spin in the High Limit area. They have a huge selection of the newest and loudest video slot machines.
Cocktails?
The Planet Hollywood Vegas cocktail waitresses used to dress like genies with bare midriffs and gauzy veil pants, but they don't anymore and they will not let you put them in a bottle. Trust us on this one. The service is good.
Who Gets Comps?
It's about the same as any other Strip casino. The slot club is the ubiquitous Harrah's Total Rewards program.
Number of TVs:
28 medium-sized flat screens fill this small space. There are two bigger ones as well, but they aren't huge. They split the TVs up about half for sports and half for racing.
Number of Seats:
About 48 decent leather lounger type seats are spread out in front of the TVs. If you're some sort of hot shot, you can sit on sofas in the VIP area. La-di-da.
Number of Betting Windows:
Five, with electronic signboards.
Free Drinks?
Bet the ponies and they'll load you up right. Bet the sports and you need to ask for a drink ticket. Boo!
Snack Bar?
The Earl of Sandwich is a short walk away. If his royal majesty deigns to serve you a sandwich, you should take it.
Other Notes:
Minimum bet at Planet Hollywood Vegas is $5 for sports, $2 for races.
Number of Tables:
About 12 tables almost all of which are dealing Texas Hold'Em, with the very rare Omaha game. During busy times most all of the tables might be going.
Comfort of Chairs:
These are quite good swivel chairs. We have superlative fannies so we require chairs of this caliber. The felts are dark, which is a nice switch from the sand-color that is so popular right now.
Closed Room or Open to Casino?
The poker room is just a space in the casino. It's not even roped off so it can get noisy with casino noise and wayward slot players can wander right through the "room".
Game Spreads and Limits:
Like we said, Texas Hold 'Em at $2-$4 and up. They have no-limit games usually at $1-$2, occasionally higher. They say they deal stud and hold'em, but so do many other places that never actually manage to get a game going.
Beginner Games or Classes:
Beginner lessons at 9am. Too bad, we were hoping for those "expert player" lessons.
How Crowded is the Room?
Most times the wait is short. On weekends, maybe you wait 30 minutes, but otherwise you can get right in or wait less. They have a decent area to sit and wait.
Comps?
There is no hourly tracking.
How Good Are the Players?
Planet Hollywood Resort and Casino really draws the rookies, and many want to play cards. You will find some fish at all tables. So, put your poker face on and find some pockets to pick.
What Else Do I Need to Know?
There are plenty of Planet Hollywood Las Vegas promo codes and tourneys, similar to most Strip hotels. One notable fact: no food at the tables. Apparently they got wind of the time we smeared an entire table with mayonnaise. But hey, we licked it up.
Planet Hollywood Resort & Casino Guest Rooms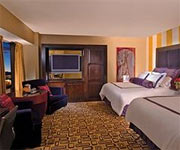 Resort Room
You can have 560 square feet of room with a king or two queen beds with a view of the Strip or the pool complex. Feel free to entertain, and if you do too much entertaining they can sleep on the couch or even the upholstered chair. But you can make them take the second sink so you don't have to share yours, and while you soak in the deep tub, they can clean up in the separate shower.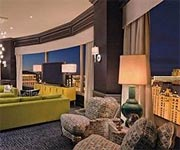 Strip Suites
This room has 850 square feet and one king bed with a view of the Strip or the pool complex. Enjoy two TVs in your your sitting area while you're in, and there's a laptop-compatible safe to protect your stuff when you go out, and video games (for a surcharge, of course). The marble bathroom has bathrobes, twin sinks, deep soaking tub, and separate shower.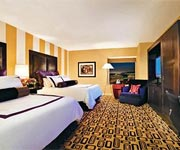 Fountain View
450 square foot rooms at Planet Hollywood Resort and Casino with a choice of one king or two queen beds and a view of Bellagio fountain light show. The marble bathroom has twin sinks, deep soaking tub, and separate shower.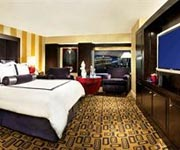 Hollywood Hip
This is the cheapest room option, with a king bed or two queen beds and a desk for all the work you'll be doing in Vegas. You get your basic hotel amenities and the ability to brag about staying right in the middle of the Strip.
User Average Review
Overall:
Service:
Cleanliness:
Location:
Room Quality:
Based on 0 reviews
Rating Distribution
0.0% recommended it
Planet Hollywood Resort & Casino Reviews
There are currently no reviews! Be the first to write a review!
Write a review