Casino Boy's Top Pick for Vegas Waxing & Facials: The Birthday Suit Waxing Spa
---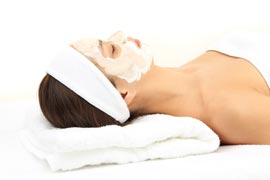 If there's one thing Casino Boy hates most in this world (besides anything overpriced), its wearing a suit. However, that statement doesn't apply to a swimsuit or his birthday suit, as there is no way Casino Boy is missing out on any Vegas hotel pool parties this summer. He's been working on that summer body, and he can't wait to show it off, especially after his makeover at The Birthday Suit Waxing Spa in Las Vegas. Now, wait a minute before you get all "Oh my gosh Casino BOY went to the Spa?" Despite how much of a slob Casino Boy usually is, he's looking to make an impression on the bikini babes by the Vegas pools this summer, and a hairy lower back is not going to get him many digits. So, fellas looking to impress this summer, the "Bro-Zilian" may be your ticket to success...us dudes deserve some pampering too, so kick that thought that it's only for chicks! Don't worry though ladies, I'm not leaving you out of the mix.
Casino Boy knows that with all of the upscale hotels on the Strip, it's hard to find quality yet affordable spa treatments in Las Vegas without breaking the bank. Plus, Casino Boy hopes every lady in Las Vegas gets a bit of pampering and waxing to look her best, whether its a mom on-the-go or a single chick heading to the pool party. Luckily for all of us Vegas cheapos out there on a budget, The Birthday Suit Waxing Spa in Las Vegas offers high quality service in a relaxed fun environment for their clients, while keeping it affordable for everyone.
Casino Boy chooses THE BIRTHDAY SUIT WAXING SPA in Las Vegas as his top Vegas spa recommendation for Las Vegas waxing and facial services this year, and here's why:
1. Las Vegas Waxing Services from The Birthday Suit Waxing Spa:
Casino Boy may spend most of his times at the tables, but that doesn't mean he ignores hygiene, and he expects the Las Vegas ladies out there to do the same, especially with pool season in full swing. The Birthday Suit waxing spa in Vegas is a full service waxing spa with competitive prices and top quality products and services. They offer all kinds of waxing from Brazilian, Bikini, Back, legs, arms, stomach, eyebrows and more! Plus, they offer special discounts and promotions, and there's nothing Casino Boy loves more than good Vegas deals.
Here are a few of their current specials:
1st time client Vegas special:

$20 Brazilian
Free Eyebrow or Free Lip
$30 Mens Back
$60 "Bro-Zilian"

Wax Passes - Pre-pay for 4 of the same waxing service and get the 5th free!
Refer a Friend - Get $5 off your services for each friend you refer
Birthday special - Visit during your birthday week and get 1st time client prices!
Keep up with their Vegas promotions here: TheBirthdaySuit.com/The_Birthday_Suit/Promotions_Specials.html
2. Las Vegas facials & treatments at the Birthday Suit Waxing Spa:
The Birthday Suit Waxing Spa in Las Vegas is now offering facial treatments! With all of the sun damage out at the Vegas pools, it's important to treat your skin right and rehydrate/exfoliate. How else do you think Casino Boy keeps his boyish looks? Avoid pre-mature aging and sun damage with one of the facials offered by Las Vegas Birthday Suit Waxing Spa. Here are some of the Vegas packages for facials to choose from:
Bio-Light Miracle Facial (70 min) - aims to remove hyper-pigmentation and turn back the aging process with specialized glyco-=sea peel, anti-aging seaweed mask, and 2 specialized massages with brightening serum and face cream.
Revitalizing Collagen Facial (60 min): Combats fine lines and wrinkles to keep your face firm and toned.
Back Treatment (50 min) - This one is perfect for Vegas hotel pool season. This treatment cleanses, exfoliates, and extracts so you can hit the pools with confidence.
Bio-Ligth Glyco-Sea Peel (20 min) - Gentle and quick, this facial usues bio-technology to give you a fresh and even skin tone.
Repechage 4-Layer Facial (50 min): The newest facial, this treatment will refresh your skin after any summer damage.
Repechage Hydra Dew Facial (50 min) This facial cleans, tones, moisturizes, and makes the skin smooth. A perfect alternative to Botox!
Check out the facial menu details here: TheBirthdaySuit.com/The_Birthday_Suit/Facial_Menu.html
3. Friendly atmosphere & quality customer service: Casino Boy may be sarcastic and somewhat unpleasant sometimes, but one thing that will make him come back to a business time and time again is when they make him feel like family. The staff are always greeting clients with a friendly smile, and feel more like friends than they do just a staff member. I heard women discussing their personal life with their esthetician as if they had been lifelong friends. Plus, with a children's playroom past the reception area, mommies can have time to be pampered too, and we all know they deserve it.
4. High Quality Spa products: The Birthday Suit Waxing Spa has created custom products to help their clients with every day skin maintenance, but also carry other top quality products. Their products include custom body wash, Ingrown Hair Serum, body creams (Black Currant Berry and Green Tea Honey), and Cucumber Hydrating Scrub! They also cary Dermalogica skin care products, Repechage products for facials, collagen X, Lashfood, Nutrasonic, and SkinAgain.
Find out more about their products here: TheBirthdaySuit.com/The_Birthday_Suit/Products.html
The Birthday Suit Waxing Spa in Las Vegas - location details & contact info:
TheBirthdaySuit.com
7645 S. Rainbow Blvd.
Suite 101
Las Vegas, NV 89139
(702) 425 - 1343
Have you been to the Las Vegas Birthday Suit Waxing Spa? Leave any reviews below! Heard of some other great Las Vegas specials for spas or waxing? Use the comment section below or let us know on the Casino Boy Facebook, CheapoVegas twitter, or Casino Boy Google+! Keep up with these pages for updates on Las Vegas hotels, deals, specials, hotels, shows, Vegas promotions and more!