Party Tours Las Vegas: Top clubs & bars, party buses, cheap prices, and NO LINES.
---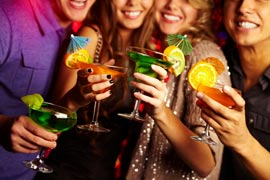 It's usually hard to pry Casino Boy away from the craps tables, but if there's one thing in Sin City that he loves almost as much, it's the Las Vegas nightlife. Vegas nightclubs and party tours can get expensive though, and there's nothing Casino Boy hates more than spending his hard earned cash. Plus, Casino Boy can't stand waiting in lines, and as a cheap dude in Vegas, making it into the club can be stressful and take forever. Luckily, after searching through Las Vegas nightlife tours to find one with the best clubs for the best price with NO lines, Casino Boy has finally found his favorite for summer 2013: Party Tours Las Vegas.
Here's why Party Tours Las Vegas is the Casino Boy pick for best nightlife tour in Vegas for summer 2013:
1. VIP Nightlife for cheap with Party Tours Las Vegas
Party Tours Las Vegas was created by Vegas locals who know the ins and outs of Sin City so their customers get the best deals when it comes to nightlife packages. Casino Boy would rather pull out his fingernails than wait in a line, and luckily he no has to when he books his party tour with Party Tours Las Vegas. With the Vegas party packages, you can be assured that the deal you get will have VIP treatment with no waiting in long lines like other Vegas tour packages. Here are some of the top Vegas party tour picks:
A-List Party Tour in Vegas
VIP entry into 4 clubs with NO LINES and NO COVER (The Beatles Revolution Lounge, PURE Nightlcub, Body English Nightclub, and 1 Oak Nightclub)
2 for 1 drinks at Revolution Lounge
Free unlimited drinks on the party bus between clubs.
$99/person.
"All In" Party Tour in Las Vegas
"Booze" Cruise" on the Partyt Bus or SUV Super Limo
Free drinks on the Vegas party bus with top shelf alcohol and non alcoholic drinks
Stop for pictures at the Las Vegas sign
VIP Entrance into MEGA nightclubs with NO LINES and NO WAIT
2-for-1 drinks at Hard Rock Cafe
$129/person
Planet Hollywood Party Pass
2-for-1 drinks
$20 Open Bar
NO LINES & NO COVER
$39/person
THE PARTY TOUR Thursday - Saturday
Party Bars in Las Vegas (Gilley's, Senor Frogs, Stoney's Rockin' Country, DBs Pong & Pool)
VIP Host
Party Bus with shots and beer
NO LINES and NO COVER
Free drinks at certain bars plus food and drink specials
Only $59 per person
Read more about the Party Tours VIP nightlife experience here: https://www.partytourslasvegas.comor call 855-977-7771
2. Bachelor & Bachelorette Parties in Vegas
Casino Boy says RUN now while you still have the chance, but if you're already set on getting married and are looking to have a crazy bachelorette or bachelor party in Vegas this summer, Party Tours Las Vegas your best bet.
Here's the top pick from Casino Boy for a Vegas bachelor party:
Full House Bachelor party deal in Vegas
$99/person
Vegas limo or party bus to any gentleman's club
Free round of drinks at a gentleman's club
VIP entry to any Vega nightclub

Check out all of the Vegas bachelor party packages here: PartyToursLasVegas.com/las-vegas-bachelor-party.html
Top picks for Vegas bachelorette parties:
VIXEN package
Vegas party bus or limo transportation all night long
VIP seats at OG's Men of Olympus
Male VIP host all night
"A List Party Tour" Entry
$109/person for 6 guests
Learn more about these Vegas bachelorette deals and other bachelorette packages here: PartyToursLasVegas.com/las-vegas-bachelorette-party.html
3. Las Vegas birthday party tours
Casino Boy may be forever young, but If you're heading to Vegas for a birthday party, don't wait in line at the Vegas clubs with your friends. You can treat yourself like a VIP without having to spend like one if you choose a cheap Vegas party package from Party Tours Las Vegas.
Check out the Vegas birthday party packages here: PartyToursLasVegas.com/las-vegas-birthday-party.html
For any questions about their epic nightlife tours, call Party Tours Las Vegas at 855 - 977 - 7771.
Have you been on a Vegas nightlcub or nightlife tour? Which Vegas hotels have the best clubs, lines, and cheapest entrance fees? Let us know in the comments section below, and follow the Casino Boy Twitter, CheapoVegas Facebook, and Casino Boy Google+ pages to keep up with the lates Vegas deals, nightlcub events, shows, hotel packages, and more!