Ellis Island Super 8
Streets paved with gold? Land of opportunity? You sure we're talking about the same Ellis Island?
---
A Quick Look
Location: Off-Strip
Hotel Class:

Room Price:

Hotel Size:300 rooms
Casino Size:36,000 sq. ft.
Gaming:Yes
Nightlife:

Pool:

Buffet:
---
Book now for great deals!!

Other Hotels like Ellis Island Super 8
Ellis Island Super 8 Deal Finder
* Room Rates shown above reflect the average nightly rate for a 2 night stay with the calendar date as the check-in date, our visitors should verify actual rates, promotions and deals directly with the hotel as we make no guarantees regarding rates, but only provide them as a convenience.
Book Now
The Skinny
Ellis Island Super 8 Las Vegas is a locals joint that's as smoky as they come. The motel is exactly what it sounds like: a Super 8 - Las Vegas Strip Area. Not the ideal place for a Las Vegas honeymoon, but better than a Motel 6, and only a long block from the center Strip. Cheap, decent food (at a great price) and good slot club offers build a loyal local clientele.
Reviews
Most Recent Reviews
Our user reviews are from real registered users.
Quick Facts
Check-in at 3pm
Check-out at 12pm
300+ Rooms
Near Attractions
High-Speed Internet
Pets Allowed
On-Site Restaurant
Near Restaurants
Parking
Check-In Age - 21+
Info
Location:
4178 Koval Lane
Las Vegas, Nevada 89109
View Map
Website:
https://www.ellisislandcasino.com/
Room Quality:
How many times have you said to yourself, "Sure, this is a nice Super 8, but it's not big enough"? Well, at the Ellis Island Super 8 Las Vegas you won't have that problem. Super 8 - Las Vegas Strip Area is the world's largest Super 8! Other than its size, there is little to distinguish this one from any other. It's nicer than a Motel 6, with slightly larger rooms and queen beds, but it's not the Bellagio. The rooms have safes, sitting chairs, medium-sized TVs and that's about it. Clean, simple, decent for sleeping in.
Service Quality:
Fair. Ellis Island Super 8 Vegas Motel is not a full-service hotel, so you're expected to take care of yourself. Check-in is quick and you can park near your room if that's important to you.
What You Get Bottles of in the Bathroom:
Shampoo/conditioner and lotion. You want a moisturizer? Then you better pack it. And don't even think about tearing a hole in your trousers because there ain't no sewing kit. This Super 8 - Las Vegas Strip area gives you what you need and nothing more.
Clientele:
Super 8 Las Vegas by Ellis Island Casino and Brewery attracts mostly blue-collar locals and seniors drawn in by the very well-priced food. In the Ellis Island Super 8 Vegas Motel, blue-collar families and people in their 40s and up gather for a good night's sleep. The kiddies love it here because the smoke isn't as bad and the music won't keep them up all night. Oh wait, that's why the old farts like it.
How's the Pool?
It's a tiny kidney shape with an even tinier Jacuzzi set on a concrete pad adjacent to the parking lot. Kids who just want to be in water won't care. But for adults, the Ellis Island Super 8 Las Vegas pool is a major bummer.
Resort Fee:
Ellis Island Super 8 Hotel doesn't charge a resort fee. You'll see why when you get here.
Is it Worth It?
The hotel is nothing to write home about, and not really worth a stay, but the food is cheap and pretty good, and the casino is full of locals who love it.
Hotel Amenities
Pets Accepted
Conference room(s)
Business Services
ATM/Banking
Airport Transportation
Car Service
Dry Cleaning
Air-conditioning
Jacuzzi
Table Games:
Blackjack, craps, roulette and maybe a three-card poker table open.
Bet Minimums:
Ellis Island Super 8 Las Vegas Casino and Brewery is fighting the tough economy by jacking up prices: $5 blackjack usually. Craps is $5 with 3x4x5x odds. The double-zero roulette had dollar chips and a $4 minimum.
Machines:
About 350-400 slots mostly in the nickel and quarter denominations, and almost entirely video poker, the crack cocaine of gambling. The selection is decent, and there is full-pay video poker as little as a nickel.
Cocktails?
Fair. Here is the deal: Ellis Island Super 8 Las Vegas has a decent brewpub, but that means microbrews, and also homemade root beer (although, it's a bit sweet for us).
Who Gets Comps?
Plenty of giveaways for locals, but they don't try as hard to win the tourist's loyalty. They have the Passport Player's Club and you'd be wise to sign up. If you gamble for several hours, it is equally smart to ask for a restaurant comp.
Number of TVs:
24 flat screen TVs, which is about one for every eyeball that's usually around here. There are also about 18 individual TVs for greedy people who hate to share.
Number of Seats:
There are about 19, give or take a couple. We can't remember the exact number because some really large guys might have been sitting on more than one. This isn't a casino to settle in for the big game. It's where you go to make a bet and then take off to go do something more important, like work to pay off the wager.
Number of Betting Windows:
About two with slate boards for score keeping.
Free Drinks?
No, but you are right there in the middle of the casino and if you can flag down a cocktail waitress, she'd probably be happy to accommodate you.
Snack Bar?
The microbrewery and Metro Pizza are close at hand. They are cheap and will get you drunk and fat in no time.
Other Notes:
This is a Leroy's outpost that's been spiffed up some. The big Strip places are a much better place to watch the game, unless you consider sports-watching a solitary activity.
Ellis Island Super 8 Guest Rooms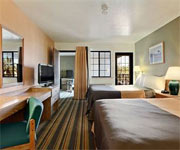 Guestroom
This Super 8 - Las Vegas Strip Area hotel may be the biggest Super 8 in the world, but that doesn't mean that you get any more options than you do at other Super 8's. You get the choice of a king bedroom or two queens in a bedroom. The rooms are said to be decorated comfortably, which means you'll be comfortable if you don't set your expectations too high. You get a TV with cable and free Wi-Fi (a rarity in Vegas) as well as an iron and ironing board and a coffee maker. Don't waste your money on Starbucks when you can make your own free coffee in the room! The quality is about the same, right?
User Average Review
Overall:
Service:
Cleanliness:
Location:
Room Quality:
Based on 2 reviews
Rating Distribution
100.0% recommended it
Ellis Island Super 8 Reviews