Riviera Hotel Las Vegas
Voulez vouz join me in this aging resort?
---
A Quick Look
Location: The Strip
Hotel Class:

Room Price:

Hotel Size:2,286 rooms
Casino Size:100,000 sq. ft.
Gaming:Yes
Nightlife:

Pool:

Buffet:
---
Book now for great deals!!

Other Hotels like Riviera Las Vegas
Riviera Las Vegas Deal Finder
* Room Rates shown above reflect the average nightly rate for a 2 night stay with the calendar date as the check-in date, our visitors should verify actual rates, promotions and deals directly with the hotel as we make no guarantees regarding rates, but only provide them as a convenience.
Book Now
The Skinny
Decades ago, this was the biggest casino in the world, and one of the bright jewels in Las Vegas' crown. In the 1990's, the town went really nuts with huge resorts, and the poor Riviera Hotel and Casino Las Vegas got left in the dust. It's okay now, but it's aging and not drawing many new customers. It lacks the luxury, flash and amenities of the newer joints, but sure does have a lot of historical merit!
Reviews
Most Recent Reviews
Our user reviews are from real registered users.
Quick Facts
Check-in at 4pm
2000+ Rooms
Check-out at 11am
High-Speed Internet
On-Site Restaurant
Near Restaurants
Parking
Check-In Age - 21+
Near Attractions
Info
Location:
2901 Las Vegas Blvd. South
Las Vegas, Nevada 89109
View Map
Website:
www.rivierahotel.com
Room Quality:
There are four towers, all built during different expansions. The nicest and newest rooms at the Riviera Hotel and Casino Las Vegas are the Signature rooms in the Monaco and Mediterranean South towers. They are usually larger and many have refrigerators (Monaco also has floor safes for an extra fee). They have granite, flat-panel TVs and iPod docks along with better furnishings. Remember that they are still old hotel rooms, just a little nicer. They also cost a bit more, unless you can sweet-talk the front desk clerk. Older, but decent rooms can be found in the Monte Carlo tower. They still have flat panel TVs and fridges. The cheapest rooms are the oldest, and they are in the Mediterranean North and San Remo towers. The Mediterranean rooms are right over the casino, if you like a short walk. The San Remo rooms overlook the pool. They are from a time when overlooking the pool was best, because there wasn't much to see on the Strip.
Service Quality:
Fair. The Riviera Hotel Las Vegas is a bit older. If you can take care of yourself and only need a decent room for sleeping, it's okay. If you want someone to clip your toenails for you, go to the Bellagio. Be warned, this place will nickel and dime you on phone calls and other unexpected costs. Just ask Casino Boy. He hasn't talked to his girlfriend since he got here! Whoops!
What You Get Bottles of in the Bathroom:
Shampoo, lotion and a shower cap. The Riv Las Vegas Hotel used to give away a little sewing kit, but no more. Times are tough... use Las Vegas promo codes to ease your suffering.
Clientele:
Middle-aged to senior citizens of middle-class stature congregate at the Riviera Las Vegas. This used to be one of the nicest places on the Strip, but it's been overtaken by everything built since the late 1980s and has gone down-market in response. It's a serviceable hotel, just not glitzy enough for some people.
How's the Pool?
Okay. The Riviera Las Vegas pool doesn't have any theme except for a giant tile "R" built into its floor. It's a good place to sun or swim, but not to find hardbodies or be seen.
Resort Fee:
The $15 a night resort fee at the Riviera Hotel Las Vegas gets you Internet, pool and fitness center access.
Is it Worth It?
The Riviera maybe used to be nice, but there are better and more centrally located places that have been better maintained. Of course, if you dig museums and ancient artifacts, this is the place for you!
Hotel Amenities
ATM/Banking
Ballroom(s)
Air-conditioning
Bar/Lounge
Business Center
Dry Cleaning
Conference room(s)
Concierge Service
Car Service
Free Guest Parking
Express Checkout
Multilingual Staff
Parking Garage
Sauna
Security Guard
Spa
Wedding Services
Shoe Shine
Restaurants
Room Service
Jacuzzi
Free Fast Internet
Event Catering
Fitness Center
Table Games:
Lots of single deck blackjack, craps, single zero roulette, baccarat and some of the kooky games. It's standard for the North Strip, meaning slightly lower limits than the Center or South Strip.
Bet Minimums:
$5 wagers during the week and slow times. It can go up on the weekends. Look for standard 3x4x5x odds on craps. The single deck blackjack pays 3:2 and you can only double down on 10:11. Roulette is single zero and is a $5 minimum with $1 chips.
Machines:
Nickels on up. Avoid the casino's $40 in slot play for $20 gimmick. They use special machines that rarely pay back and you're likely to end up with a crummy prize like a shirt or show tickets instead of cash. If you look really hard around the perimeter poker room, you may find some full-pay Game Maker VP machines.
Cocktails?
Good cocktail service with experienced (meaning veteran) cocktail waitresses there to serve drinks and not to be ogled.
Who Gets Comps?
The Riviera Las Vegas slot club is fair, but if you have a slot club card you can usually get a better rate on rooms by calling them directly.
Number of TVs:
47 TV's total. It would have made sense to make it an even 50, but they couldn't splurge for the extra 3.
Number of Seats:
About 20 for sports bettors, and 16 for the races - all of which have been updated since Lucky's took over in 2011.
Number of Betting Windows:
4 windows total.
Free Drinks?
No, you don't get to drink for free. Sorry, Charlie.
Snack Bar?
No snack bar, but nearby, as in, in the same building, there is a Mardi Gras food court with loads of dining options, including Big Burger, India Masala, Cheesesteaks Etc., La Salsa, Quizno's and Wok Express. Pick your poison.
Other Notes:
This room is small and a definite improvement over the old one. In keeping with its theme of aging clientele, it is quiet and not busy or crowded. The bar behind the sports book has good beer on tap.
Number of Tables:
Six of them. The Riv wants to get in on the poker popularity, but they don't want it bad.
Comfort of Chairs:
They're nothing special. Not like us. Our moms always say we're very special.
Closed Room or Open to Casino?
We get the feeling they don't figure the room will be around forever. All they did was fence off a small space at one end of the casino and toss in a few tables.
Game Spreads and Limits:
The standard $2-$4 Hold 'Em, maybe $4-$8. If you get bored with that game, why not try the exotic No Limit game they also deal when they get enough interested players? They say they also deal 7-card stud. Not very often, though.
Beginner Games or Classes:
The Riv offers free gaming lessons throughout the day in several different games.
How Crowded is the Room?
This room does not fill up. Expect no wait most of the time.
Comps?
Food comps served up for four hours or more of play. We saw cocktail plenty of cocktail waitresses doing what they do best, which means you'll have no trouble muddying up your head with booze.
How Good Are the Players?
They're not terrible, but they're not good enough to fleece the suckers at the Bellagio and nicer rooms, so you have a shot of winning if you know what you're doing.
What Else Do I Need to Know?
They have some daily tournaments, but nothing all that special. The room is non-smoking, but because it's not technically a "room," and because it's inside of a casino, it's still going to stink like cigarettes. Try to get good hands while you play here, because they offer a high hand bonus.
Riviera Hotel and Casino Las Vegas Guest Rooms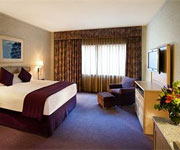 Deluxe Room
Conveniently located near the pool, casino, and restaurants, these rooms all have either a king or two double beds with pillow top mattresses and 32-inch flat-screen television. And you don't have to hide things under the mattress in this joint, you can store all your treasures in the complimentary in-room safe.
Luxury Room
Apparently luxury translates to small in the language of the Riviera. These "luxury" rooms include a comfortable king or two double beds, but don't really have much more room in the room for anything else. These rooms were recently renovated, which we think means they just got upgraded to flat screen TVs and got some iPod docking stations. If you're staying here for a convention, stay in these rooms because they are very conveniently located close to the convention center.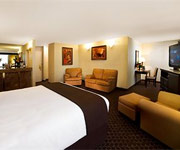 Studio Suite
One king bed in this 530-635 square feet suite with a separate sitting area. Other than the extra square feet, this is basically your average room. Beds, chairs, two 32-inch flat-screen televisions, and a bathroom. And that's about all there is to say.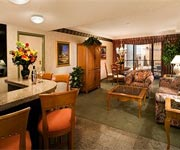 One Bedroom Deluxe Suite
The largest option is the one bedroom deluxe suite that measures anywhere from 750-900 square feet. The king bed with pillow top mattress occupies the bedrooms with the separate living area and additional powder room fill up the rest of this suite. 32 and 42 inch flat-screen televisions are placed with one in each room and access to the in-room safe is complimentary.
User Average Review
Overall:
Service:
Cleanliness:
Location:
Room Quality:
Based on 1 review
Rating Distribution
100.0% recommended it
Riviera Hotel and Casino Las Vegas Reviews