New York New York Hotel Vegas
Oh Boy! If I can make it here, folks, I can make it anywhere!
---
A Quick Look
Location: The Strip
Hotel Class:

Room Price:

Hotel Size:2,035 rooms
Casino Size:84,000 sq. ft.
Gaming:Yes
Nightlife:

Pool:

Buffet:

Best Show:
---
Book Now

New York-New York Deals
New York New York - Luxury rooms starting at $55 a night
$55 a night
Stay in Las Vegas with style! New York New York is offering luxury rooms as low as $55 a night when you act now!
Booking Directions:
Click on the green "View Offer" button to the right... Locate and click on your desired promotion... Choose your dates and book your deal!
Offer Expires: 9 days
Promo Code: BOOK ONLINE
Use Promo
New York New York - AAA Member Offer
10% OFF
New York New York is offering guests luxury rooms at knock off prices. Lucky you! Use this promo to find rooms for 10% OFF!
Booking Directions:
Click on the green "View Offer" button to the right... Locate and click on your desired promotion in the large slider, choose your dates and book your deal!
Offer Expires: 267 days
Promo Code: BOOK ONLINE
Use Promo
Shows to check out during your stay at New York-New York
The Skinny
New York New York Hotel Las Vegas is one of the more architecturally interesting-looking hotels on the Strip - the hotel towers eschew the typical 3-pronged shape, and mimic famous New York City landmarks like the Empire State, Chrysler and Woolworth buildings. They put a lot of effort into realizing the theme here, possibly more than any other resort since Caesars.
Reviews
Most Recent Reviews
Our user reviews are from real registered users.
Quick Facts
Check-in at 3pm
Check-In Age - 21+
Parking
Near Restaurants
On-Site Restaurant
Check-out at 11am
High-Speed Internet
2000+ Rooms
Near Attractions
Info
Location:
3790 Las Vegas Blvd. South
Las Vegas, Nevada 89109
View Map
Room Quality:
The New York New York Vegas Hotel rooms are well-appointed. Skyline is the name of the base rooms, and they are about 300 or so square feet and come with a king or two queens and pretty average bathrooms. The Park Avenue rooms are only slightly larger but fancier, especially the bathrooms. If you upgrade to a "Broadway Deluxe" room, it can be as large as 500 square feet, which is a pretty good size. The coolest thing with all the rooms, besides some with great views, is the fact that your room might be in the Empire State Building or the Chrysler Building. Whatever you do, ask for a room away from the roller coaster, which rumbles by some rooms and has been known to be noisy. Most rooms are done in earth tones, with two chairs and a table, two queens or one king bed, a bulky armoire, a single sink, a hair dryer, and no telephone. The tiny closets house ironing supplies, and there's a safe right next to them. You can iron a bunch of fresh shirts, then lock them away for the night! There are all sorts of larger suites available for you if you want to pay more or are a good sweet-talker at check-in.
Service Quality:
We've met some very nice (and quite chatty) employees. Check-in can be long but usually you're in and out in just a few minutes. The room service has a decent menu and you don't have to wait too long for it either!
What You Get Bottles of in the Bathroom:
You get your standard shampoo, conditioner and lotion, but it's supposedly very fancy stuff. Well, it looks fancy in those skinny little bottles. We honestly didn't feel any cleaner than we do after any other weekly shower, but it is Sin City, so maybe we needed extra strength cleaning.
Clientele:
A variety of relatively well-dressed tourist types populate this metropolis, with a high proportion of nuclear families. Folks with moderate tastes love the New York New York Hotel and Casino Las Vegas, mostly thirties and up. It's a middle-class clientele, except in the cigar bar, where it's a pretentious jerk clientele.
How's the Pool?
The big lagoon-style pool at New York New York Hotel and Casino is a huge space and has a few trees and two hot tubs by it. It's wet and they have chairs, etc. It's also flat-out closed in the winter, like most pools in New York. They really are sticking to the theme.
Resort Fee:
The New York New York Hotel and Casino is $22.40/night which provides you with Internet access in your room, local phone calls, faxes, a daily newspaper, and use of fitness center. Don't go too crazy sending your faxes though, you only have a limited number before they start charging you overtime. New York New York promo codes can probably help with everything else, but the resort fees are always required.
Is it Worth It?
If you go during the hot seasons and don't stay in a room near the roller coaster, you'll really enjoy your stay.
Hotel Amenities
Air-conditioning
ATM/Banking
Ballroom(s)
Bar/Lounge
Business Center
Business Services
Car Service
Concierge Service
Conference room(s)
Doorperson
Dry Cleaning
Express Checkout
Fitness Center
Free Guest Parking
Multilingual Staff
Parking Garage
Restaurants
Wedding Services
Security Guard
Sauna
Shoe Shine
Spa
Room Service
Table Games:
The works. Blackjack, craps, roulette, Let It Ride, Pai Gow, Baccarat. If you do decide to play some blackjack here, watch out for the gimmicky games that offer terrible odds or the dreaded 6:5 single-deck. In the evenings there is a "party pit" so you can celebrate losing your money.
Bet Minimums:
Since the casino's pretty small, they pack in the games. You will see $10 blackjack, with $5 craps and roulette. You can find some oddball games for $5 sometimes, too, so look for the best ones. Craps is 3x4x5x odds.
Machines:
Slots from penny gobblers to $100. The New York New York Las Vegas has a reputation of having pretty tight slots. The floor is crowded and noisy.
Cocktails?
Mediocre cocktail service. You've got go out of your way if you really want to get bombed, or even get close.
Who Gets Comps?
For the $50 bettor at the tables, you can ask for food, and maybe see future free room mailings. For the slot player, the M Life is the unified MGM slot club and points are interchangeable.
Number of TVs:
24 TVs, grab your two dozen favorite friends and take over the place.
Number of Seats:
24 seats with individual TVs for race bettors, and only about 15 for sports bettors. The sports chairs are scarce but pretty comfy on the ol' tusharoo. They'll make you want to stay a while.
Number of Betting Windows:
10 windows and electronic signboards for both sports and the ponies.
Free Drinks?
As they say in New York, "No." Cocktail waitresses wear little red tuxedo jackets and tights and they didn't seem especially rude or snobby, but it is the New York way to refuse, and that's what they are good at doing, to free anything.
Snack Bar?
A small snack bar right behind the book sells the normal fare, along with Krispy Kreme donuts.
Other Notes:
The minimum bets are $5 sports, $2 racing.
New York New York Hotel Vegas Guest Rooms
Spa Suite
Measuring 400-500 square feet, these rooms each come with one king bed and a jetted tub is located in a corner of the room, so don't think just because you're staying in one of the smaller rooms you're missing out on any of the good stuff. The bathroom has a vanity area and a shower. You get your TV with pay movies, wireless Internet or wired high-speed Internet access when you pay a surcharge, and you can make your own playlist with the MP3 dock on the clock radio. When you don't want to eat in bed, you can enjoy your 24-hour room service in comfort with the 2 chairs and a coffee table.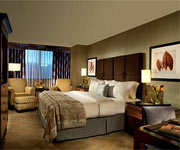 Park Avenue Deluxe
With rooms between 300 and 400 square feet, each comes with 1 king bed or 2 queen beds and some even have views of The Strip. Relax with pay movies, stay connected with wireless and wired high-speed Internet access (with a surcharge, of course), and wake up to your own playlist with the MP3 dock on the clock radio. Enjoy 24-hour room service in comfort with 2 chairs and a coffee table. The bathroom is outfitted with a marble vanity and shower/tub combination.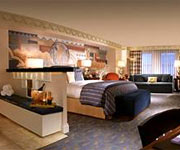 Marquis Suite
This 700 square foot suite comes with one king bed with a pillow top mattress. Here, you get a spacious sitting area to relax comfortably when your hangover isn't killing you in bed. Nurse your hangover with your favorite movies on your flat-panel TV and the Bose Wave stereo, or with a nice hot shower, or bath.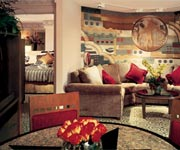 Ziggurat Suite
Enjoy views of The Strip in the New York New York Vegas Hotel's biggest rooms, the 1,100-square-foot suite with a king bed and a pillow top mattress. Entertain guests in the separate sitting area, complete with couch, wet bar, and refrigerator, or go the extra mile and have your own Vegas dinner party with the 4-chair dining set. Don't worry, nobody will know it's room service. We won't tell on you.
User Average Review
Overall:
Service:
Cleanliness:
Location:
Room Quality:
Based on 2 reviews
Rating Distribution
100.0% recommended it
New York New York Hotel Vegas Reviews