No Time for a Hangover Here! The Best Hangover Breakfasts in Las Vegas
---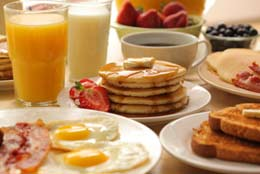 "A hangover is when you open your eyes in the morning and wish you didn't." - Someone wise who knows us far too well ...
The best hangover breakfasts in Las Vegas are ones that will make us lose that regret of being alive, shake off the previous night's shenanigans and give us the strength for another day in Sin City, hopefully better than the one before. If possible.
Fact: Las Vegas is one of the biggest party cities in the world. But such a highly regarded reputation does of course come with a few consequences, and if you're traveling to Las Vegas to party, you'll probably be paying that consequence in the form of your first (or second, third or fourth - let's face it, some things will just never stop) Vegas hangover.
Many say that the cure to a hangover is to wake up and start drinking again. (We know all about the best spots for that, too.) But if you're one of those people that likes a food cure instead of booze, we've got you covered! There are plenty of places to cure your hangover in Vegas so that you can continue the fun post-headache.
Hash House a Go Go: Be prepared for huge portions of fresh food. This is perhaps the best place in Las Vegas to treat your hangover, so order the chicken and waffles, eggs Benedict or whatever works best. They have 3 locations in Las Vegas, so crawl to the one closest to you and you'll be back on your feet in no time!
Hangover Breakfast Burger at Binion's Cafe: A juicy burger topped with a fried egg, bacon, cheese and all the dressings (the healthy ones) for a well balanced meal, complete with hash browns or fries. Yes, well balanced indeed! This meal is sure to pick you up and might even have you ready to forgive the tequila you were swearing off this morning. You can also choose from their appetizer and soup menu, or create your own omelet if you're feeling crafty! They make it so easy for us to give alcohol a second chance!
Wanna' dine with locals? Blueberry Hill Family Restaurant on the Eastside is the place to do it. Open from 6AM-9PM, this place is ready for you no matter what time you roll out of bed in the morning... or afternoon. The pancakes are made from scratch, the portions and prices are almost decent for Vegas standards and the service isn't nearly as rushed. Actually, not rushed at all, if you catch our drift. (It's slow, is what we're saying. This could be a nice change of pace from your blurred night before.) We hear good things about the chicken fried steak if you think that protein and fried food is what really cures your hangover, but the pancakes do the trick for us.
Earl of Sandwich: Easily one of our favorites when we can't handle the sweet pancake and waffle breakfasts, or just need something with a little a lot of substance to get our blood flowing again. Conveniently open 24/7 for the early birds or the breakfast at 4pm-ers, this Vegas restaurant has fast service, great food and it's definitely cheapo status! Find it at Planet Hollywood and soon at the Palms. This Casino Boy favorite can also be found on our list of Cheapo's top late night places to eat while staying in Sin City.
Peppermill Restaurant and Lounge: They are known for their late-night dining, but their breakfast is a real crowd please-er as well. The portions are huge, perfect for soaking up every ounce of alcohol that didn't end up on your dance partner last night, and the prices are well worth it. The staff makes every trip enjoyable as well, and there is no judgment based on attire, hairstyle or last night's smeared make-up, and they are extremely patient no matter how slow we are attempting to order.
The hair of the dog that bit you... Stupid mutts.
If you prefer to cure that party headache with, well, more partying, try the following Vegas restaurants...
Wicked Spoon Champagne Brunch: Many of the weekend Vegas brunch buffets can be upgraded for a few extra dollars to include bottomless champagne. If you're one of those people who go to brunch but aren't sure how you feel about drinking before noon, then you probably didn't come to Vegas for the same reasons we do. But we're going to share a little secret with you - in Vegas, nobody judges you for having a drink before 12 or, for that matter, any time of the day.
No-So-Cheapo but Oh-So-Worth-It Alert: The Wicked Spoon brunch is about $30 a person (including the bottomless mimosas) which can be a pretty great deal if you take advantage of that all-you-can-drink part. We are famished and ready to booze it up every morning on vacation, so this is an obvious choice for us. Plus you can eat so much at breakfast that you won't have to eat again until we get the drunk munchies at dinner time.
Jimmy Buffett's Margaritaville: They actually have a good breakfast and are open at 11am, but they also serve margaritas, which we won't say "No" to at any time of the day. Yes, they're a little pricey, but you're getting the best of both worlds in one spot, which is the ultimate no-hassle solution for a Vegas hangover. Definitely look for a Las Vegas coupon before you eat because they're always floating around, and tip your margarita to the people stumbling by you on the Strip, full of envy but too hungover to open their peepers enough to give you the stink eye.
Fat Tuesday: If no food at all is the breakfast for you, there is really no better way to start a morning than with a daiquiri, am I right?
Vegas Hangover Tips for Your Meal, from the Experts:
If you don't go with a drink first thing in the morning, or if you do, it will be wise for you to order at least a few glasses of water along with your meal, whether you want to or not.
Coffee and juice also help, so why not kill two birds with one stone and get a cranberry vodka, a water and a coffee? Well, that's three, but we don't know any cliches involving that many birds.
Pickles and pickle juice are said to help hangovers, so ask for extra pickles on your sandwich, or possibly a pickle back if you want an extra leg up. (Although more than a few of these might put both of your legs up by noon... again.)
Pop a "Party Smart" or ginseng pill after your first drink of the night. You'll thank us later. (And no, we don't get any sort of kickback from promoting these things. We're just trying to help, Cheapos!)
If you're wanting to save your budget for nights out and are attempting to keep your food bills to a minimum, check out some ways to spend only $30 a day on food so that you can spend your well earned money on things that are a bit more fun.
Let us know what your favorite hangover breakfast in Vegas is in the comments section below. We like to hear what you have to say (whether it's helpful to our own hangovers or you're praising us for being great role models), so add us on Facebook and join the discussion, or follow us on Twitter to stay informed on the rest of our whereabouts, discoveries and tips for Vegas travelers just like you.