Bars & Pubs in Vegas
Aces & Ales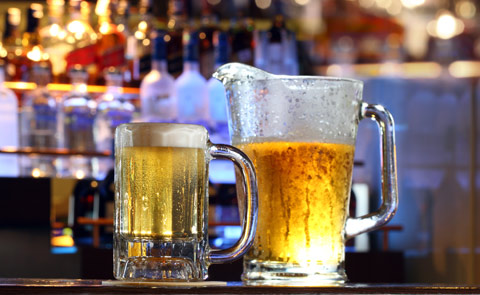 Las Vegas Strip Bars
Bars and pubs in Vegas can provide a great atmosphere to have a good time in Vegas away from the sweaty nightclubs. The Strip is a convenient place to grab a few beers. A much more fitting way to spend the night than buying $13 cocktails for girls who won't even remember us in twenty minutes.
Ri Ra: This Irish pub offers traditional Irish fare and classic American favorites at decent prices. An old school decor is great for those who appreciate a no frills drinking experience.
Pour 24: On the second floor of the New York New York (which features several other noteworthy bars), Pour 24 is one of the most aptly named Las Vegas pubs on the Strip. Besides being opened 24 hours, this homey joint also offers 24 delicious American beers on tap.
Queen Victoria Pub: Located in the Hotel Riviera, the Queen Vic claims to be the only British owned pub in all of Las Vegas. We can't verify anything, but we do know that not many bars and pubs in Las Vegas feature Boddington's on tap.
McMullan's Irish Pub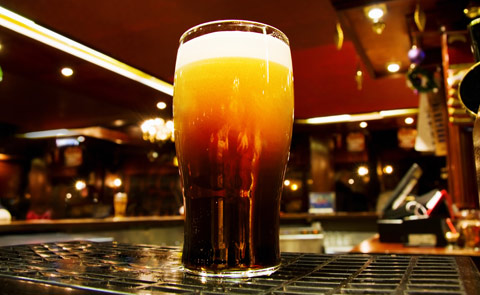 Off-Strip Vegas Pubs
For those unafraid to venture farther away from the expensive prices of the Vegas Strip, several Off-Strip bars and pubs in Vegas are seriously happenin'. Just remember to take a taxi when you get too carried away during happy hour.
Aces & Ales: This pub is one of the coolest named Las Vegas bars. Something about it just flows. Luckily, their beers are pretty delicious as well. Quality with quantity, live music, and several beerfests make this place one of our favorites in town. Beware of the beer snobs!
Freakin' Frog: This local favorite is more of a UNLV campus hot spot than some of the other Las Vegas bars catered towards tourists. If that's your cup of tea, then by all means.
Money Plays: Another great fitting name for this well-entrenched Las Vegas favorite. There may be a few Las Vegas bars that offer a larger list of craft beers (not that we're complaining about this one), but there are none that feature friendlier staffs.
When alcohol is seemingly served on every street corner and people parade about with all the alcohol they can get their hands on, the rare craft beers and old fashioned camaraderie of your local pub become somewhat lost in Las Vegas. Luckily for the beer aficionado, these bars and pubs in Vegas do it the right way amidst all the jacked up prices and debauchery.
$ - Drinks under $5 $$ - $6- $10 $$$ - $11- 15 + cover $$$$- Over 15 + cover
When you're looking for a good old watering hole in Las Vegas, most of the glitzy glamorous places are much too expensive for our blood. It's important not to mix up expensive cocktails from the more down-to-earth bars and pubs in Vegas.
Whether you're looking to stay on the Strip or to venture as far away as possible, a fun mix of entertainment and craft beers are available for the pickin' at many lesser known bars and pubs in Vegas. Dueling pianos, rock bands and even karaoke are common fixtures at these Las Vegas bars.
Another great perk about hanging out at Las Vegas pubs is all of the cool personalities you will probably encounter. Instead of creepy guys creeping up behind you in the dark, exchange playful banter and shoot the breeze with strangers.
Whichever bars and pubs in Vegas you target, make sure to check our Cheapo Vegas promo codes for the best deals on surrounding hotels and accommodations. That close walk home may come in more handy than you anticipated.