Vegas Sports Books
LVH Las Vegas Hotel and Casino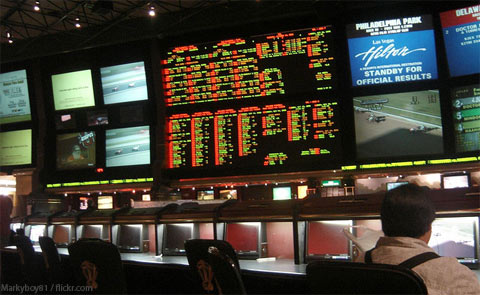 Our Favorite Vegas Sports Books
You'd be surprised how often a luxurious hotel resort in Vegas features an uncomfortable set of chairs that look better than they feel. When it comes to the best Sports Books in Vegas where every single casino offers their own book, these things are important.
LVH Las Vegas Hotel and Casino: The room is massive (they claim it's the world's largest, and we can't think of any reason to dispute them, other than general orneriness), if a little dark for our tastes. In addition, the little smoke-free Fan Cave is a comfortable spot to watch sports. There are a number of good video poker machines nearby too, which are nice since you had to truck all the way out here.
Bally's Vegas: For you high rollas, there is a super swank VIP room with sofas and real nice TVs. It's cavernous and a bit noisy because of the floors and high ceilings. But really, who wants their sports book Las Vegas quiet as a church? Bally's sports book is one of the best sports books in Vegas.
Bellagio Vegas: This luxury resort actually delivers the high-quality chairs and TVs that luxury Vegas sports books ought to. Well done Bellagio.
Bellagio Vegas
A Quick Guide for the Newcomers
If there is anything that can dampen your sports book Las Vegas experience, it's a nasty bookie/teller that gives you attitude when you aren't slick at placing your bets. Hopefully this little guide will help out when you're pretending like you know what you're doing.
Parlay: A common bet at Vegas Sports Books, this wager receives enhanced odds but all of the games on your ticket must win or your ticket is void.
Cover: Beating the spread. If you don't "cover," don't stand around expecting to get any money back.
Halftime Line: This line is only applicable for the first or second half of the game. The other half doesn't come into play at all.
Clone Joint: This is slang for a book that simply copies the lines of other Vegas Sports Books. Unfortunately, most of the casinos in Vegas are clone joints.
Hedging: Placing bets on the other side to ensure a win or less of a loss.
When it comes down to it, most of the table games in Las Vegas are simply entrusting your hard earned cash to the hands of lady luck. You really don't know whether it's landing on red or black, and there's no advanced dice knowledge you could possibly have. This is where Vegas sports books come into play. Make sure to check out the best Sports Books in Vegas to use your knowledge as a hardcore fan to win back some of that moolah.
When you calculate the hours of Vegas gambling entertainment that come with placing one bet on a two to three hour game, the value is off the charts compared to typical table games. At the best sports books in Vegas, your butt will stay content and your eyes wide open with the comfortable seats and large-screen TVs.
The thing we like about betting on sports in Vegas is that we can feel better about our bet due to our deep knowledge of sports (or at least gut instincts) . At the very least, your money isn't tied to the frivolous results of a card or pair of dice.
Now don't misconstrue what we're trying to say. It isn't any easier to win money at the sports book in Vegas than it is at the blackjack table. Vegas odds and lines somehow wind up being very good at taking your money. But at the very least, it's easy to weasel your way to some free comps and drinks while you're at the best sports books Vegas has to offer.
Very few Vegas sports books are worth the extra trip away from your primary hotel casino in Vegas. Make sure to check out our promo codes in order to get the best Cheapo deal available.