Green Valley Ranch Resort & Spa
Woo Hee! This luxury hotel resort and spa is a happen'in place!
---
A Quick Look
Location: Off-Strip
Hotel Class:

Room Price:

Hotel Size:490 rooms
Casino Size:55,000 sq. ft.
Gaming:Yes
Nightlife:

Pool:

Buffet:
---
Book now for great deals!!

Other Hotels like Green Valley Ranch Resort & Spa
Green Valley Ranch Resort & Spa Deal Finder
* Room Rates shown above reflect the average nightly rate for a 2 night stay with the calendar date as the check-in date, our visitors should verify actual rates, promotions and deals directly with the hotel as we make no guarantees regarding rates, but only provide them as a convenience.
Book Now
The Skinny
Four Diamond Luxury Resort Hotel & Spa. Henderson's best hotel rooms and suites! It's as luxurious as the nicer Strip resorts, without all the hassles, or pleasures, of being on the Strip. It's also a long way from the action, so we don't recommend it for people seeking the true "Vegas Strip" experience.
Reviews
There are currently no reviews!
Be the first to write a review!
Write a review
Our user reviews are from real registered users.
Quick Facts
Check-in at 3pm
300+ Rooms
Check-out at 11am
High-Speed Internet
On-Site Restaurant
Parking
Check-In Age - 21+
Info
Location:
2300 Paseo Verde Parkway
Henderson, Nevada 89052
View Map
Website:
https://www.greenvalleyranchresort.com
Room Quality:
The Green Valley Ranch Resort and Spa Las Vegas rooms are the standard for "upscale but not too upscale." They are the same space as most of the over-sized rooms in town at 450 square feet. They excel in two areas, the first being the quality of materials. The carpets are rich, the bedding is plush, the furniture is solid wood and the pictures on the wall don't have any scrawled graffiti yet. The colors are typical beige with a few darker colors. Really, these are very pretty rooms to look at, and very reminiscent of the ones at the JW Marriott. Rooms at Green Valley Ranch Las Vegas come with a king or two queens. All have writing desks with high-speed Internet access for an extra fee. The other place the rooms excel in is the amenities, which include safes, mini-bar fridges (everything costs dough), irons and the equally important ironing boards, full closets, hairdryers, coffee makers, alarm clocks with CD players and two-line phones. The bathrooms have separate glass showers and deep tubs and there are a couple of robes in the room so you can throw one on and run down to the casino to put 50 bucks on Red 17. CAUTION: Beware of outrageous mandatory "amenity fees" that will be tacked on to your room rate.
Service Quality:
It's an odd mix of outstanding on the hotel side and adequate on the casino side. The hotel is first class all the way, but the casino is not as upscale and does not score the same high marks. Green Valley Ranch Resort and Spa Las Vegas also caters to middle-aged locals.
What You Get Bottles of in the Bathroom:
Nice little bottles of the usual cleaning supplies, including the shampoo, separate conditioner (for scandalously lustrous hair), lotion and bath gel. Also, there is the second prize of freebies, the shoe mitt (for scandalously lustrous shoes), and a little glass jar of Q-tips and cotton balls. Way to go Green Valley Ranch Las Vegas. We are pleased.
Clientele:
The hotel is the luxury-sedan crowd, mostly late 40s and above in the rooms. The casino caters to locals and young hipsters. It's a bizarre and uneasy mix. If you're older and living comfortably you'll feel at home in the hotel but out of sorts in the young and restless casino, and vice-versa.
How's the Pool?
Fantabulous! Green Valley Ranch Resort and Spa Las Vegas has a sand beach in the too-warm main pool, which has a bridge overhead and lots of chaise lounges. There are also some white plaster hutches with mattresses, pillows and built-in TVs beside the pool, where you can snuggle under the stars. A long row of pricey cabanas are lined up along a long, narrow wading pool. The biggest downer (besides the crappy overpriced margaritas) is that they close it way too early in the evening (7pm and 6pm last time we were there). There is lots of open space and grass and the glass-enclosed spa where you can watch rich people get facials, or have the poor people watch you. Oh yeah, Green Valley Ranch Spa Las Vegas also has a European-style topless club in a secluded area for those willing to drop a lot of money.
Resort Fee:
A resort fee is charged per night at Green Valley Ranch Las Vegas. You get access to the Fitness Facility, internet, airport and Strip shuttle, daily newspaper, shoe shine and local and toll-free calls.
Is it Worth It?
Only worth it if you want to get as far away from the Strip as possible... while still living in a luxurious resort.
Hotel Amenities
Air-conditioning
Airport Transportation
ATM/Banking
Ballroom(s)
Bar/Lounge
Business Center
Business Services
Car Service
Concierge Service
Conference room(s)
Doorperson
Dry Cleaning
Event Catering
Express Checkout
Fitness Center
Free Guest Parking
Free Newspaper
Jacuzzi
Multilingual Staff
Restaurants
Room Service
Sauna
Shoe Shine
Spa
Wedding Services
Table Games:
Green Valley Ranch Henderson deals blackjack, craps, roulette, Pai Gow, Let it Ride, Three Card poker and mini-baccarat. The whole casino area feels very much like a Station Casino, and is not anywhere near as elegant as the rest of the property. Single-deck blackjack pays a lousy 6:5, so skip it.
Bet Minimums:
Blackjack is $5 when slow, as is craps, roulette is a $1 chip/$5 minimum on a two-zero wheel. Blackjack has the typical lousy Station Casinos rules, certainly not worth driving out here for. Craps has only 3-4-5x odds available. Baccarat is a ritzy $10 a hand. In other words, if you don't want to rub elbows with us, play baccarat.
Machines:
Loads of dollar machines, lots of new video slots and many of the machines spit out those paper receipts that you can cash in for money at the change booth. The lamest part of that is how the machines make a phony coin dropping sound, as though they are saying "Here is what you should hear." We found a decent selection of full pay video poker.
Cocktails?
Fair. Green Valley Ranch Resort and Spa Las Vegas has that Station Casino mentality of "Oh, we better not get people drunk because we don't want them crashing into our palm trees." Well, we've got news for them: we're not all the designated driver.
Who Gets Comps?
Green action starts the bidding for meals. Even black action isn't going to score a room, unless you play at least eight hours a day. The Slot Club is the Station Casinos' Boarding Pass, a truly mediocre to slightly crummy slot club.
Number of TVs:
Five big screens and 33 smaller plasma screens ring the sports book ceiling. Plus, 12 more screens in the bar area.
Number of Seats:
About 44 leather seats that are all very comfortable. Plus, about 160 race seats with individual TVs, which just goes to show that the rich just keep on getting richer. The VIP area has 33 seats, which means that Green Valley Ranch Spa Las Vegas thinks there are only 33 people good enough to sit there.
Number of Betting Windows:
About 12 total for the sports and pony boys and girls. Slate boards for race and sports.
Free Drinks?
The cocktail waitresses seem to come through fairly often.
Snack Bar?
Yes, food is available from the Turf Grill. Go ahead and order and blow what you just won by putting $2 on the favorite to show.
Other Notes:
It's a really nice book overall, but sort of quiet and mostly a draw for older locals.
Number of Tables:
There are 18 tables, with as many as a dozen going on weekends. Usually, it's fewer, especially on weekdays.
Comfort of Chairs:
Oh, goodness. Such a swank place and yet such ordinary chairs.
Closed Room or Open to Casino?
No, but it is relatively secluded and as quiet as the inside of a Buick. Just the way the seniors like it.
Game Spreads and Limits:
Texas Hold 'Em in both limit ($2-$4) and no limit flavors ($1-$2 up to $5-$10) and a fairly frequent Omaha game at $4-$8.
Beginner Games or Classes:
Green Valley Ranch Resort and Spa Las Vegas claims to have beginner games...but proceed at your own risk. No mention of classes, but feel free to ask around when you're there.
How Crowded is the Room?
It can get pretty busy on weekends. It is located out in the suburbs and you'll find a lot of seniors in here, even on weekdays. On weekends, however, a younger, looser and more aggressive clientele moves in, especially to the no limit games.
Comps?
The very standard $1 per hour of play. Whoop de doo.
How Good Are the Players?
A mixed bag. Some of the locals have been playing badly for 30 years and will continue to play badly. Some are rocks just grinding it out, and they might make it tougher for you. Weekend crowds are easier to beat.
What Else Do I Need to Know?
The room in general gives off the vibe of Michelob's AmberBock beer. That is, they dress it up all serious, but it's really pretty generic. It's a very big room and there is a ton of space, but it's otherwise not worth going out of your way for.
Green Valley Ranch Resort and Spa Guest Rooms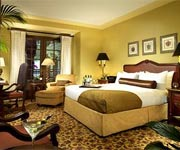 Deluxe Room
Choose between one king or two queen beds with Frette Italian linens and down comforters. Spacious 500 square foot rooms offer views of the mountains, Las Vegas valley, or pool. You also get a plush armchair with ottoman, in-room safe, wireless Internet, multi-line phone with voice mail, minibar and coffee/tea maker. Other amenities include cable TV, complimentary bottled water, daily newspaper, CD player and electronic check-out. Green Valley Ranch Resort and Spa Las Vegas guest bathrooms include a glass-enclosed shower, soaking tub, designer toiletries, extra telephone, scale and bathrobes. It's pretty swanky for not being a Las Vegas Strip behemoth.
User Average Review
Overall:
Service:
Cleanliness:
Location:
Room Quality:
Based on 0 reviews
Rating Distribution
0.0% recommended it
Green Valley Ranch Resort and Spa Reviews
There are currently no reviews! Be the first to write a review!
Write a review