Octavius Towers at Caesars Palace Vegas
Holy Moly! Caesars newest tower is all luxury!
---
A Quick Look
Location: The Strip
Hotel Class:

Room Price:

Hotel Size:668 rooms
Casino Size:0 sq. ft.
Gaming:Yes
Nightlife: No
Pool:

Buffet:
---
Book now for great deals!!

Other Hotels like Octavius Towers
Octavius Towers Deal Finder
* Room Rates shown above reflect the average nightly rate for a 2 night stay with the calendar date as the check-in date, our visitors should verify actual rates, promotions and deals directly with the hotel as we make no guarantees regarding rates, but only provide them as a convenience.
Book Now
The Skinny
The 6th and newest tower at Caesars is open for business! Rooms are available at Octavius Tower at Caesars Palace Las Vegas starting Jan. 2, 2012, and you can book your hotel today and take advantage of their special grand opening rates. Be one of the first to check out the Octavius Tower at Caesars Palace Hotel, and be sure to tell Casino Boy what you think!
Reviews
There are currently no reviews!
Be the first to write a review!
Write a review
Our user reviews are from real registered users.
Quick Facts
Near Attractions
500+ Rooms
High-Speed Internet
On-Site Restaurant
Near Restaurants
Parking
Check-in at 4pm
Check-out at 11am
Check-In Age - 21+
Info
Location:
3570 Las Vegas Blvd S
Las Vegas, Nevada 89109
View Map
Website:
https://www.caesarspalace.com/casinos/caesars-palace/hotel-casino/property-home.shtml
Room Quality:
Rooms at the Octavius Tower at Caesars Palace Vegas Hotel are brand new - and it shows. Rooms are BIG - the smallest start at 550 square feet - and are decked out with a comfortable modern decor. Each room has a flat-screen TV with HD channels, as well as king beds with pillow-top mattresses and designer linens. (Fancy!) Kick back on their plush velvet sofas in their comfortable living areas, and enjoy a drink in their relaxing whirlpool tubs. Choose between deluxe rooms, suites and villas at the Octavius Tower at Caesars Palace Las Vegas. No matter what room you end up, just know that these rooms are the essence of new-age Las Vegas luxury.
Service Quality:
Expect the same solid service at the Octavius Tower at Caesars Palace luxury Vegas hotel as you would at their flagship hotel: Caesars Palace. However, given that the Octavius Tower is smaller than Caesars Palace, you'll also enjoy a more personalized approach to service at this decadent Las Vegas hotel.
What You Get Bottles of in the Bathroom:
This place is the height of Las Vegas luxury hotels and they prove it with their bathroom selection. Not only do you get some of all the necessities - shampoo, conditioner, soap, shower caps - but they come in fairly big packages. And you know what they say - size matters.
Clientele:
With the high-end hoity-toity standard rates at the Octavius Tower at Caesars Palace Vegas Hotel, we can expect an upscale clientele on the average day. Also, because Octavius Tower at Caesars Palace Las Vegas is a non-gaming hotel, you can also expect a somewhat more subdued and laid-back crowd. Want to feel even more laid back? Use our promo codes to save money in Vegas!
How's the Pool?
Guests at Octavius Tower at Caesars Palace Hotel have access to all five pools at the Garden of the Gods. The pools are ideal for leisurely lounging in the hot summer months and the garden is a swanky place to stroll in the cooler times of year.
Resort Fee:
Daily $25 resort fee gets you in-room high speed internet access for one device, local calls, and fitness center access for two people.
Is it Worth It?
You'll definitely shell out the cash to stay at Octavius Tower at Caesars Palace Hotel, but if you're looking for a pampered luxury experience and you can afford it you won't regret choosing this place.
Hotel Amenities
Bar/Lounge
Security Guard
Air-conditioning
Fitness Center
Room Service
Free Fast Internet
Conference room(s)
ATM/Banking
Shoe Shine
Dry Cleaning
Event Catering
Wedding Services
Business Services
Parking Garage
Express Checkout
Restaurants
Jacuzzi
Free Guest Parking
Concierge Service
Spa
Multilingual Staff
Number of TVs:
Two big flat-screens for sports and two more for racing, as well as 12 smaller ones.
Number of Seats:
About 130 seats, though expect standing-room-only on Saturdays and Sundays during the football season.
Number of Betting Windows:
13
Free Drinks?
It's actually not too hard to get a freebie at the Octavius Tower at Caesars Palace Las Vegas, especially if you're betting on the ponies. $5 horse bets and $50 sports bets receive drink tickets.
Snack Bar?
Nope. You've gotta pack your own for this joint.
Other Notes:
OK - so the sports book at the Octavius Tower at Caesars Palace Las Vegas is actually not in the tower, it's just in Caesars Palace. But given the legendary status of the Caesars Palace sports book, we had to include it for your entertainment pleasure.
Octavius Towers at Caesars Palace Guest Rooms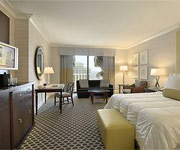 Octavius Tower Deluxe Rooms
With 550 square feet of intense Vegas luxury the deluxe rooms at Octavius Tower at Caesars Palace Hotel are all about exclusivity. You get direct access to Garden of the Gods Pool Oasis and your own VIP entrance to your registration. There's an in-room safe since if you're rich enough to afford this place you'll have shiny trinkets to protect. Don't worry though you can spend your extra cash on wireless Internet, pay movies and that good ol' minibar. The bathrooms have lots of marble and complimentary "designer" toiletries. We're not sure what that means but it sounds fancy. You can get electronic check-out, turn-down service, hypo-allergenic bedding and even an in-room massage to get rid of all that tension you built up counting your money. Smoking is permitted in these rooms so bring an extra pack or two for us. Oh and make sure to specify if you want one king bed or two queen beds - your significant other won't take too kindly to finding out you plan on sleeping in separate beds.
User Average Review
Overall:
Service:
Cleanliness:
Location:
Room Quality:
Based on 0 reviews
Rating Distribution
0.0% recommended it
Octavius Towers at Caesars Palace Reviews
There are currently no reviews! Be the first to write a review!
Write a review