Santa Fe Vegas Station Casino
Far out, man! I can't find none of them new age hippies here like in the real Santa Fe.
---
A Quick Look
Location: Off-Strip
Hotel Class:

Room Price:

Hotel Size:200 rooms
Casino Size:85,000 sq. ft.
Gaming:Yes
Nightlife:

Pool:

Buffet:
---
Book now for great deals!!

Other Hotels like Santa Fe Station
Santa Fe Station Deal Finder
* Room Rates shown above reflect the average nightly rate for a 2 night stay with the calendar date as the check-in date, our visitors should verify actual rates, promotions and deals directly with the hotel as we make no guarantees regarding rates, but only provide them as a convenience.
Book Now
The Skinny
A Station Casino that follows their blueprint for mid-century, southwest design. That means it's nice, but also like other Station casinos. Santa Fe Station Hotel Las Vegas is more like Flagstone City had a big sale.
Reviews
There are currently no reviews!
Be the first to write a review!
Write a review
Our user reviews are from real registered users.
Quick Facts
Check-in at 3pm
200+ Rooms
Check-out at 12pm
Check-In Age - 21+
Info
Location:
4949 N Rancho Dr
Las Vegas, Nevada 89130
View Map
Website:
www.santafestationlasvegas.com
Room Quality:
Santa Fe Station Las Vegas has clean, basic rooms. They are average sized with an open closet (the hallmark of a budget-minded hotel). The rooms smell okay. One-bed rooms have a king, and two-bed rooms have two double beds. The bathrooms at Santa Fe Station Hotel and Casino are as small as reasonably possible. Don't think you can force a snoring friend to sleep in there. The windows open, but the hotel is so low you aren't likely to die in any fall. They have irons, hair-dryers, but no safe. The whole property has been dramatically improved by Station Casinos. Of course, they take it out of you in the casino, but still, it doesn't stink like it used to, and the property's overall decor is much nicer. CAUTION: Beware of outrageous mandatory "amenity fees" that will be tacked on to your room rate.
Service Quality:
Santa Fe Station Hotel Las Vegas is a small hotel meaning that check-in and check-out are quick. You will have time to argue that bill for a porno movie that was "mysteriously" charged to your room.
What You Get Bottles of in the Bathroom:
Fine English soaps (you know the English like to smell good), conditioning shampoo and almond lotion (FYI: it doesn't taste the way it smells).
Clientele:
Santa Fe Station Hotel Las Vegas is packed with mostly older locals, but there are families with kids here too. They are here for the bowling. If you're like Casino Boy and want to do some partying, look to the other Las Vegas hotels like the Hard Rock Hotel and Casino. And yes, we have plenty of promo codes for you to save money with!
How's the Pool?
The Santa Fe Station Las Vegas pool is basic at best. Don't come out to the pool expecting to find romance, unless you are looking for a sexy senior citizen from out of town.
Resort Fee:
Santa Fe Station Las Vegas has a resort fee of $14.55 per night. You get internet, a 10% gift shop discount, a free cup of Starbucks coffee, a daily newspaper, unlimited local/toll free/domestic long distance calls. There is also a "free" game of bowling, which is kind of cool, even though you kind of paid for it.
Is it Worth It?
Pretty sure you can do better than Santa Fe Station Vegas Hotel unless you are in a bowling league, where a man's worth is determined by the weight of his balls.
Hotel Amenities
Air-conditioning
Bar/Lounge
Business Services
Free Newspaper
Jacuzzi
Multilingual Staff
Parking Garage
Restaurants
Babysitting
Table Games:
Blackjack, craps, roulette, mini-baccarat, Three Card Poker and Pai-gow.
Bet Minimums:
Roulette has dollar chips and $4 minumum bets. Craps can be $5 with 10x odds, and blackjack tables can be found with $5 minimums. LIR, Three Card and Pai Gow are $5. It's a decent place to gamble, the problem is that it's so far away from any other casino.
Machines:
More video poker than God ever intended for this planet, with a less spectacular selection of slots. Full-pay video poker is pretty rare since the Station Casinos took over. The slots are mostly the video kind like Reel-Em-In or Monopoly. There is a new high-limit slots area.
Cocktails?
There are cocktail waitresses roaming the massive casino at Santa Fe Station Vegas Hotel, but we have yet to be offered a drink in this joint. And we didn't even wear our barefoot running shoes that time.
Who Gets Comps?
Like most Station casinos, the Santa Fe is mediocre with the comps for visitors. They do want you to come back, but are trying to lure you back through their monopoly of Off-Strip properties, not with a sweet slot club. They are part of the the linked-casinos Station Boarding Pass slot club system.
Number of TVs:
The casino at Santa Fe Station Las Vegas has about 26 small and five mega-super-sized ones. Most of the screens are for racing.
Number of Seats:
There are 192 seats for the race fans and each has a little TV. About 35 comfy loungers swaddle the bones of sports fans. Up above, there is a dais with a VIP section you can only get into by invite. It has about 20 more desks with even better private TVs (they probably get dirty movies, too) and six booths with each having another TV.
Number of Betting Windows:
About 19, with odds displayed on a a jumbo TV.
Free Drinks?
They sure do give out free drinks. The cocktail waitresses are as regular as a Metamucil lover. There is also a bar right behind the room.
Snack Bar?
There are loads of fast food choices near Santa Fe Station Hotel Las Vegas, but Johnny Rocket's is closest.
Other Notes:
This is a really nice off-Strip sports book. Our only gripe is that the sports bettor is treated much worse than the race bettor. But really, that's how it is at most Vegas sports books.
Number of Tables:
14 tables in a room open to the casino and it's pretty noisy. The room is quite spacious, so maybe they plan on growing. Most of the time fewer than half are working.
Comfort of Chairs:
Chairs are adequate. Let's leave it at that. They have rollers at least.
Closed Room or Open to Casino?
It is a separate room off of the casino floor. Actually, it's pleasant with a high ceiling and enough room. Not too smoky or stinky, until we get there. Then, hoo boy! Look out.
Game Spreads and Limits:
We hope you like Texas Hold 'Em. If you don't, maybe you can get lucky enough to be there when an Omaha game is being dealt. Texas is 2-4 or 4-8, and there is some 1-2 "No Limit" as well. They also say they deal Omaha and HORSE, but good luck finding them.
Beginner Games or Classes:
No classes, but someone will teach you if you show up early in the morning and it's slow.
How Crowded is the Room?
Most of the time the wait is non-existent or short. If for some reason, it is busy, you can call an hour in advance and put your name on the list.
Comps?
As with all stations, you earn $1 an hour in comps on your Boarding Pass (the slot club) card.
How Good Are the Players?
A fairly solid crowd of players. Lots of locals, not that that automatically means great but, they usually have more experience under their belts.
What Else Do I Need to Know?
The Super Progressive jackpot can get enormous.
Santa Fe Vegas Station Casino Guest Rooms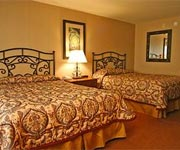 Standard Room
The Standard rooms at Santa Fe Station Hotel Las Vegas come with either one king bed or two double-beds, lots of tacky semi-Southwest decor, and a healthy serving of stale cigarette smoke. These rooms have basic amenities like hair-dryers, irons, high-speed Internet, phones, voice-mail, in-room movies, and dry-cleaning services. Big whoop.
User Average Review
Overall:
Service:
Cleanliness:
Location:
Room Quality:
Based on 0 reviews
Rating Distribution
0.0% recommended it
Santa Fe Vegas Station Casino Reviews
There are currently no reviews! Be the first to write a review!
Write a review