Fiesta Henderson Casino
Ay Caramba! Las Vegas attitude combined with a Mexican fiesta atmosphere!
---
A Quick Look
Location: Off-Strip
Hotel Class:

Room Price:

Hotel Size:224 rooms
Casino Size:37,000 sq. ft.
Gaming:Yes
Nightlife:

Pool:

Buffet:
---
Book now for great deals!!

Other Hotels like Fiesta Henderson
Fiesta Henderson Deal Finder
* Room Rates shown above reflect the average nightly rate for a 2 night stay with the calendar date as the check-in date, our visitors should verify actual rates, promotions and deals directly with the hotel as we make no guarantees regarding rates, but only provide them as a convenience.
Book Now
The Skinny
Once a Safari-themed casino, it has long-since been converted to the Fiesta Henderson Casino Hotel Las Vegas, a Mexican party. This is perhaps the most overused theme in Vegas, even in a place like this where it's barely implemented. So don't hang out here waiting for a piñata; come by for some decent games in an un-busy casino.
Reviews
There are currently no reviews!
Be the first to write a review!
Write a review
Our user reviews are from real registered users.
Quick Facts
Check-in at 3pm
200+ Rooms
Check-out at 12pm
Pets Allowed
On-Site Restaurant
Parking
Check-In Age - 21+
Near Attractions
Info
Location:
777 W Lake Mead Parkway Henderson
Las Vegas, Nevada 89105
View Map
Website:
https://www.fiestahendersonlasvegas.com/
Room Quality:
Fiesta Henderson Casino Hotel Las Vegas has relatively large rooms, but they are certainly second class. They are not Mexican themed, really. The rooms have light-colored carpeting and woods, large beds, chairs and a table. The entire hotel is small so you're not going to get a high room and it's tough to sweet-talk them into a suite. The bathrooms are average with tub/shower combos, single sinks and standard-quality towels. Beware the bogus, yet mandatory "hotel amenity" tacked onto your room rate.
Service Quality:
Good. Everyone out here is pretty nice to you. Heck, they're even nice to us. Not nicer than our grandmother, but they don't have to be because we don't know where they live. Check-in and check-out is easy, provided you can find the front desk in the wacky casino.
What You Get Bottles of in the Bathroom:
Fiesta Henderson Casino Hotel Las Vegas gives you shampoo and conditioner. One for cleaning, one for glossifying.
Clientele:
Locals in the prime retirement years of their lives. Fiesta Henderson Hotel and Casino Las Vegas is a mecca for older folks, and they love the cheap buffet here.
How's the Pool?
Considering all the space Fiesta Henderson Hotel and Casino Las Vegas had to build a fantastic pool, the small hole in the ground is a disappointment. Sure you can swim in it, but you would think they would have gone a little more all-out just because they could. Its biggest selling points are the palm trees around it.
Resort Fee:
$11.29 daily resort fee to stay at Fiesta Henderson Casino Hotel Las Vegas. Gets you VIP Buffet Line pass in-Room internet, a daily newspaper, copy/fax services at front desk, 10% Off Starbucks, unlimited local & toll-free calls, unlimited domestic long distance calls.
Is it Worth It?
If you're not picky about your hotel, you might pick this one. It's cheap, therefore it's nothing to write home about. But there are other cheap hotels in Vegas too.
Hotel Amenities
Air-conditioning
ATM/Banking
Ballroom(s)
Bar/Lounge
Dry Cleaning
Event Catering
Express Checkout
Room Service
Restaurants
Pets Accepted
Conference room(s)
Multilingual Staff
Car Service
Free Guest Parking
Parking Garage
Security Guard
Jacuzzi
Wedding Services
Table Games:
The usual suspects are in their small pit. Blackjack, craps, roulette, Let it Ride, Pai Gow and occasionally an oddball game. But mostly, this casino is here to serve the locals slot crowd.
Bet Minimums:
Fiesta Henderson Casino Hotel Las Vegas has $3 blackjack most of the time, which is three times our limit. They also have $3 craps with our favorite, 10x odds. Roulette has 50-cent chips and $2 min. The limits may go up on weekends, holidays and weeknights, or at their whim.
Machines:
The video poker is all right, but you'll find better downtown or a few other Off-Strip joints. Still, it's decent because there are some full-pay VP machines. Slots are pretty standard.
Cocktails?
Very good, as long as you're tipping. Our waitress at Fiesta Henderson Hotel and Casino Las Vegas came by three times in about 40 minutes.
Who Gets Comps?
Join the mediocre Amigo Club to get your slot points. It pays about the same as the other tight Station properties. Expect $10-$20 play at the tables to be the buffet level.
Number of TVs:
About 34, with about four biggies in there.
Number of Seats:
About 120 including the nearby sports bar. 91 of the seats in the book proper have their own TVs which comes in really handy if you're like us and get most of your inspirations for horse picks from infomercials. There is some bar-type seating at round tables, too.
Number of Betting Windows:
About 11 with nice, shiny electronic boards behind them.
Free Drinks?
Well, not really since the sports bar is adjacent and you're supposed to go there when your buds get parched.
Snack Bar?
Nope, but there is plenty of fast food nearby. Because, you know, nothing like a big, greasy unhealthy meal after sitting in a sports book all day. Fiesta Henderson Casino Hotel Vegas has 4 on-site restaurants, including that famously fancy one, Denny's.
Other Notes:
It is nice to see some investment in this place, and man did it need a better sports book. The old one sucked. Fiesta Henderson Hotel Casino Vegas now has one that is better than average.
Number of Tables:
Five tables, blue. They sort of walled it off, but the tempting odor of nachos and sounds of video poker waft in.
Comfort of Chairs:
Average to slightly below average chairs, probably hand me downs as well. Any kid who had a lot of older siblings knows how much it stinks to get hand me downs.
Closed Room or Open to Casino?
It's on the casino floor. So, you have casino noise and the sound of dyspepsia from the restaurant.
Game Spreads and Limits:
Texas Hold 'Em in 3-6 spread, and 1-2 no limit on a very rare occasion.
Beginner Games or Classes:
Lessons midweek at 2 pm. Be there or be square. Or just don't get a lesson.
How Crowded is the Room?
Not very crowded. There is rarely a wait at Fiesta Henderson Casino Hotel Vegas.
Comps?
$1 an hour in comps on your Amigo slot club card.
How Good Are the Players?
Not good, but not worth beating, either. These are locals who don't want to go deep in their pockets. So, while they don't play well, they also don't wager much.
What Else Do I Need to Know?
They have tournaments a couple days a week, but they aren't worth going out of your way. In fact, there are better tournaments closer to town.
Fiesta Henderson Casino Hotel Guest Rooms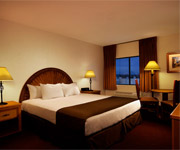 Standard
Fiesta Henderson Hotel and Casino Las Vegas gives you one big king bed or two queen beds, a two-chair dining set and high speed Internet access at no additional charge, after the resort fee of course. You'll be able to see out of the tinted windows, but the sun won't be looking in, not as much at least. You might still want to shut the curtains if you want to day-sleep though.
User Average Review
Overall:
Service:
Cleanliness:
Location:
Room Quality:
Based on 0 reviews
Rating Distribution
0.0% recommended it
Fiesta Henderson Casino Hotel Reviews
There are currently no reviews! Be the first to write a review!
Write a review