Top Ten Places to Eat in Vegas for Under $10
---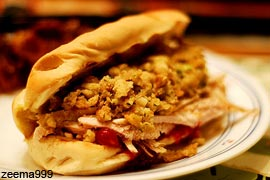 Imagine this scenario, which has never ever happened to Casino Boy. You've blown most of your money on gambling and yet you need something cheap and tasty to soak up some of the adult beverage that is still floating through your system. Luckily enough for you cheapos, this situation may have happened to a few friends of Casino Boy's (but never him, of course), and we've scoured the Vegas strip and downtown Vegas for the top ten places to eat in Vegas for under $10. Being delicious is a requirement in addition to having cheap prices for making this prestigious list, so there is no need to be worried that just because the dishes served at these cheap Las Vegas restaurants are only a few dollars each they'll leave you hungry and/or ill and unable to continue your partying reign of terror in Las Vegas.
1. Earl of Sandwich: So Casino Boy doesn't know much about royalty being that he's American and all, but he does know a tasty sandwich when he tries one, and those served up at the Earl of Sandwich in the Las Vegas Planet Hollywood certainly qualify as delicious. In fact, I'd say they deserve to be knighted! (Ok, I'll stop pretending like I know how all that fancy stuff works). The Tuna Melt has to be the best thing on sliced bread, since well--ever, and the Full Montagu isn't too shabby either, with a wicked combination of roast beef, turkey, swiss, cheddar, tomato and mustard sauce, served up warm on freshly baked bread.
Address: 3667 Las Vegas Boulevard South, Suite 760, Las Vegas, NV 89109
2. Tacos El Gordo Las Vegas: For those of you who think that once you've had one taco, you've had them all, Casino Boy begs to differ. In fact, Tacos El Gordo is proof that that maxim (it's a word folks, not just a magazine- get your minds out of the gutter!) couldn't be further from the truth. The tacos served up here are definitely in the top three on the Vegas strip, and the best part is they cost around $2 each! Even you cheapos can fork over that kind of dough, especially when mouthwatering spicy pork tacos, carne asada and cheesy quesadillas await. One warning: if you head here late at night, you'll be competing with the hungover crowd for a place in line. Not that describes any of you, right?
Address: 3049 South Las Vegas Boulevard, Las Vegas, NV 89109
3. Pop Up Pizza: For grabbing a slice of pizza in downtown Las Vegas, it's hard to imagine anything better than Pop Up Pizza. Is there a better moment in life than when you bite into a perfectly crunchy crust and the gooey goodness of the pizza oozes into your mouth? Well, some might say watching your child be born or getting married or some of that mushy stuff ranks higher, but Casino Boy wouldn't know anything about that. For him, eating a slice of white pizza or meatball pie at this downtown Vegas is as good as it gets, and they will only set you back $3.75 a slice! Leave room for some of their amazing parmesan garlic fries; just don't try kissing a date afterwards.
Address: 1 South Main Street, Las Vegas, NV 89101

4. KoMex Fusion Express: Casino Boy has often thought about combining his favorite types of cuisine: for example, how great would Italian with Chinese be? No takers? Casino Boy always has these ideas dismissed by his friends as drunken revelries, but the chefs at KoMex Fusion Express make these fantasies a reality by fusing Korean with Mexican food. Their fusion burrito is unbelievably good, and the fusion torta with kimchi is out of this world. These creative concoctions won't hurt the wallet either, as most land in the $5-$7 range.
Address: 633 N Decatur Blvd Ste H Las Vegas, NV 89107

5. Viva Las Arepas: Ever tried authentic Venezuelan food? No? Well, I would say "What happens in Vegas stays in Vegas," but chowing down on some Venezuelan food for the first time at Viva Las Arepas isn't likely to be something you'll regret. Save the stupid decisions for some other aspects for your Vegas getaway; food is serious business, my friends. And the cooks at this Vegas eatery offer up some seriously excellent arepas, reina pepiada with garlic shrimp, lengua and even pork butt (cue the immature laughter) that won't disappoint. Don't worry if you aren't sure what a lot of those dishes are. Casino Boy wasn't sure before trying them either, and you can trust him when it comes to cheap Vegas eats. Speaking of cheap, most of the dishes at Viva Las Arepas are under $5 dollars, and some are even as low as $2!
Address: 1516 S Las Vegas Blvd, Ste 120, Las Vegas, NV 89104
6. Capriotti's Sandwich Shop: Craving a delicious sandwich after a day of partying on the strip? Capriotti's Bobbie Sandwich is the best combination of juicy turkey, cranberry, stuffing and mayo pretty much ever, aside from mom's thanksgiving meal, of course. The Capastrami is a popular choice as well, and with ingredients like hot pastrami, swiss cheese, Russian dressing and coleslaw, it's easy to see why. There are hoagies, hot sandwiches and more that are sure to appeal to every cheapo out there.
Address: 4983 W Flamingo Rd, Ste D, Las Vegas, NV 89103
7. Inn N Out: I know, I know. Everyone already knows about Inn N Out, but how could Casino Boy not include it? After all these years, this West Coast establishment maintains its status as as one of the most reliable cheap eats in Vegas, and it doesn't seem like it will be dethroned as the best place to get a burger in Las Vegas anytime soon. I think someone said that ignorance is bliss or something like that, but in the case of Inn N Out's secret menu that is definitely not the case! Be sure to order your burger double double animal style if you want the quintessential Inn N Out burger, and for you health freaks out there, you can order yours protein style wrapped in lettuce instead of a bun, which I normally would say is lame and almost sacrilegious, but since it's Inn N Out it's still probably pretty good.
Address: Multiple locations in Vegas
8. TJ's Taco Bar: Looking for something with prices and flavors along the lines of Chipotle but don't want to eat at the same place while you're living it up in Sin City as you would at the strip mall back home? Check out TJ's Taco Bar on the strip, and order up a Chipotle-esque burrito bowl, a tasty quesadilla and indescribably good menudo. They even have hot dogs for $1 each, which Casino Boy thought might be pretty questionable, but were surprisingly enough not only palatable, but hit the spot after he'd had his fill of Mexican food. Even the stingiest of cheapos out there cannot object to the prices of this place.
Address: 3743 Las Vegas Blvd S, Las Vegas, NV 89109
9. Grimaldi's Pizzeria: If your girlfriend has been dragging you around shopping at the Fashion Show Mall on the strip, Casino Boy says you deserve to stop in Grimaldi's Pizzeria as a reward. While not quite as dirt cheap as some of the other Vegas restaurants on this list, it is still easy to walk out of this Pizzeria with a bill under $10 per person. The personal pan pizza is $9, and splitting one of the awesome white garlic pizzas will be is affordable also, as they total $16 to $18 dollars depending on the size you choose to share.
Address: 3200 Las Vegas Blvd S, Ste 1540, Las Vegas, NV 89109
10. Mr. Mama's: There are some times when nothing will suffice like a heaping helping of classic American breakfast food. For Casino Boy, many of those times occur when he is wandering the Vegas strip in a drunken haze, and thankfully Mr. Mama's is nearby to satisfy those cravings. Cheapos won't have to break the bank to order up some scrumptious cinnamon french toast, which along with 3 eggs and a choice of meat will only cost $7.50. For those looking for something extra hearty (and likely to cause a blocked artery- but it's Vegas, so it doesn't count, right?) can't go wrong with a chicken fried steak.
Address: 5580 S Decatur Blvd, Ste 112, Las Vegas, NV 89118
Be sure to try some of these tasty Cheap Las Vegas restaurants, and let us know what you think! Or make some suggestions to your fellow cheapos on your favorite cheap eats in Vegas by following the Casino Boy twitter, Cheapo Vegas facebook page and Casino Boy google plus for all the dirt on the best bargains in Vegas.