LVH Hotel Las Vegas
Oh, I get it! The artist formerly known as the Las Vegas Hilton changes in name only!
---
A Quick Look
Location: Off-Strip
Hotel Class:

Room Price:

Hotel Size:2,941 rooms
Casino Size:74,000 sq. ft.
Gaming:Yes
Nightlife:

Pool:

Buffet:
---
Book now for great deals!!

Other Hotels like LVH Hotel Las Vegas
LVH Hotel Las Vegas Deal Finder
* Room Rates shown above reflect the average nightly rate for a 2 night stay with the calendar date as the check-in date, our visitors should verify actual rates, promotions and deals directly with the hotel as we make no guarantees regarding rates, but only provide them as a convenience.
Book Now
The Skinny
This hotel next to the convention center is mostly for business people taking up bed space. The place resembles an Off-Strip casino in many ways, some of them good (like the decent video poker selection and great sports book), and some of them bad (the sleepy-feeling casino) Expect a nice, if quiet, time if you stay or play here.
Reviews
Most Recent Reviews
Our user reviews are from real registered users.
Quick Facts
Check-in at 3pm
1000+ Rooms
Check-out at 12pm
High-Speed Internet
On-Site Restaurant
Check-In Age - 21+
Info
Location:
3000 South Paradise Rd.
Las Vegas, Nevada 89109
View Map
Website:
www.thelvh.com
Room Quality:
The rates at LVH Vegas Resort are quite competitive for the rooms, which are nice, well-appointed, bland and spacious. The range of different rooms is wide, with Standard, Grand, Suites, Park Executive Suites, etc. What we do know is renovated rooms with better beds and linens are called Grand or better. The Grands are all renovated and in the North Tower. The king-bed rooms have sofas, the doubles don't. They all have sitting areas, small TVs and average-sized bathrooms. Not too bad for Las Vegas hotel rooms. All rooms have hairdryers and ironing boards. But, let's be honest, we don't iron our clothes when we're home so why would we iron them while on vacation?
Service Quality:
Very good. The LVH Hotel and Casino Las Vegas handles a lot of business travelers and convention attendees because it's right next to the convention center, and the joint is set up to serve their every whim. Lots of executive services. Check-in can be a bear. We have waited over thirty minutes to check-in at midnight on a Thursday.
What You Get Bottles of in the Bathroom:
LVH formerly the Las Vegas Hilton gives you high-quality shampoo and lotion. Be sure to take the bottles and put them in your toilet kit every morning, or they might not give you more.
Clientele:
Folks late 30s and up, many of whom are very serious because they are businessmen in town for conventions. There are occasionally some young folks, but they're the exception. Overall, a well-behaved crowd that hoots and hollers little.
How's the Pool?
It's good and it's on the roof of the casino, but it's not themed. If you want Palm Springs style, try here. If you want a tropical paradise, try the Vegas Strip. They also have tennis courts and a jogging track.
Resort Fee:
Oh, no they didn't! But yes, yes they did, and Casino Boy is not happy about it. LVH, as of June 1st, 2013, will be charging a resort fee. They plan to charge a resort fee of $18 plus tax. With rooms starting at $49.95, this seems a little off....don't ya think? Looks like Casino boy will have to look for some other Las Vegas deals! For more ways to save cash in Las Vegas, check out our Vegas promo codes.
Is it Worth It?
Worth it if you're a traveling business person, otherwise you can do better.
Hotel Amenities
Room Service
Sauna
Restaurants
Fitness Center
Bar/Lounge
Air-conditioning
Business Center
Car Service
Conference room(s)
Express Checkout
Doorperson
Multilingual Staff
Security Guard
ATM/Banking
Dry Cleaning
Shoe Shine
Ballroom(s)
Concierge Service
Jacuzzi
Spa
Parking Garage
Table Games:
You'll find all the usual suspects at LVH Hotel and Casino Las Vegas. Blackjack, craps, roulette, pai gow, Let it Ride, etc. Mostly it's average to better-than-average table gaming. The single-deck blackjack pays the lousy 6:5 instead of 3:2 - skip it.
Bet Minimums:
$10 and up. During conventions we heard rumors of $100 minimums. Craps can be as low as $5, but at that rate, they only give you 3, 4, 5x odds. Roulette chips are worth a buck apiece, and tables have $10 minimums.
Machines:
From those silly pennies to through the roof. An improved selection of video poker with decent full pay. They don't have full-pay double bonus, but they do have full-pay video poker, even at the nickel level.
Cocktails?
Pretty good, but they're really going after businessmen who drink in moderation. Unlike some places, they're goal isn't to get you loaded. This should be the goal of every man and woman, though.
Who Gets Comps?
The slot club is quite generous, and that's great for the serious players. For table games, this is a high-roller place when it comes to comps, so unless you're throwing around green and black chips, don't hope for much more than a buffet comp.
Number of TVs:
More than 50, 28 of which are nice and big. They split them up about half and half between sporting and race events. They also have three medium screens and some smaller ones in the "Fan Cave", a smoke-free room for watching sports.
Number of Seats:
About 300. Most (around 200) are for race bettors, with individual TVs. Some of the seats are reserved, but not a whole lot. Every single one of them, though, is above average in terms of comfort. They're made of nice soft cloth that will make your bottom feel just fine. Sports bettors get about 80 comfy seats and 50 bar-table style seats. Poor sports bettors.
Number of Betting Windows:
22, with as few as five being open during slow times. Eight are for sports with the rest for races. Great big electronic scoreboards help you keep track of all your wacky parlays. Seriously, man, take it easy with those.
Free Drinks?
Race bettors definitely get to drink up for free, and maybe sports bettors, although that's less likely.
Snack Bar?
At the back of the room, look for the sports book deli with mid-priced sandwiches. Or don't. Truly, it doesn't matter to us.
Other Notes:
The room at LVH Hotel and Casino Las Vegas is massive (they claim it's the world's largest, and we can't think of any reason to dispute them, other than general orneriness). We're not sure if all the lights just happened to have burned out every time we visit or what, but this is one dark room. In addition, the little smoke-free "Fan Cave" is a comfortable spot to watch sports. There are a number of good video poker machines nearby. It's a good book, it's just too bad it's inconvenient to truck all the way out here.
Number of Tables:
Well they use to have 11 tables in total with four to six going most of the time, but now they have ZIPPO. The weekends use to get fairly busy, but LVH doesn't have a poker room! BUMMER. Looks like we're going to have to find some other Las Vegas poker rooms. At least they now have the Las Vegas Fan Cave instead!
Comfort of Chairs:
The chairs are average in comfort but above average in fanciness. It's been our experience that if the chairs are too comfortable we fall asleep and start drooling on the felt.
Closed Room or Open to Casino?
It is near the sports book and relatively small, especially considering the number of tables. It is not closed off, and can be pretty noisy, especially during major sports events.
Game Spreads and Limits:
Lots of Texas Hold 'Em in 3-6 and 4-8 and there is usually at least one no limit game going, mostly at $1/$2. They also claim to deal Omaha and Stud, but it's not very often and I wouldn't come out here expecting to see it.
Beginner Games or Classes:
Nope, this place is used to business men with a keen eye for when to spend their money and when to get the hell out of Dodge. You won't see many naive college kids in need of a lesson or two - go to the Strip if you want to fleece them suckers.
How Crowded is the Room?
Generally not crowded on weekdays, but it can get pretty packed on Friday and Saturday nights. Expect waits of up to 30 minutes at these times, especially if you want the No Limit game.
Comps?
The standard $1 per hour applies. So, play for about 12,000 hours and ask them to buy you a car.
How Good Are the Players?
There are a few good players always present at LVH Hotel and Casino Las Vegas, and lots of business tourists staying at the hotel. Steer clear of the sharks and divvy up the wallets of the fish with them. Just remember to spot the best players and play away from them.
What Else Do I Need to Know?
The low rake is a nice touch because it's lower than many others. They also have tournaments, so check with them for the schedule.
LVH Hotel Las Vegas Guest Rooms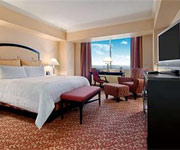 Standard Room
Available with one king or two double beds, the Standard room at LVH Vegas Resort is a typical Vegas room decked out with the bare minimum. A stale smokey odor compliments the tacky black-out drapes and small supposed "living space." This room includes a 37-inch TV with cable/satellite channels, pay movies, and a video game console. The room also has air-conditioning and wireless Internet (for an additional fee).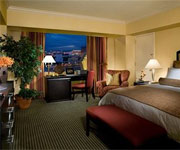 One Bedroom Suite
There is nothing sweet about this Vegas suite. If anything the smell of mildew leaves a sour taste in your mouth. One king bed, TV with cable/satellite channels, black-out drapes, lap-top compatible safe, clock-radio, and air-conditioning come standard and there is wireless Internet available with an extra charge.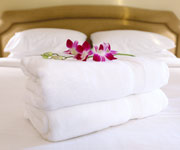 Classic Suites
The Classic Suites Collection at LVH Vegas Resort is basically a collection of suites with really tacky decor. They all have individual themes from bad to worse. If you want something cool that's actually worthy of being called a "suite" try the JW Marriott. Now THAT'S a suite!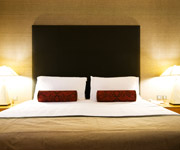 Sky Villas
Holy hell these are gaudy. We were embarrassed to have booked this 15,400-square foot "villa". Just turn all the lights off and close the black-out drapes and maybe, just maybe, it will look OK. It looks like "Old World Venice" threw up in here. Seriously. Marble floors, hand painted ceilings, stone-work, and courtyards with pools. Sounds cool right? Wait 'til you see it.
User Average Review
Overall:
Service:
Cleanliness:
Location:
Room Quality:
Based on 3 reviews
Rating Distribution
67.0% recommended it
LVH Hotel Las Vegas Reviews