Bally's Vegas
Jeepers creepers! This place sure is homey!
---
A Quick Look
Location: The Strip
Hotel Class:

Room Price:

Hotel Size:2,814 rooms
Casino Size:56,000 sq. ft.
Gaming:Yes
Nightlife:

Pool:

Buffet:
---
Book Now

Bally's Vegas Deals
Bally's Las Vegas for 15% Off!
15% Off!
Full price? No way! Bally's Las Vegas has rooms available through May, 2013 for 15% off! Book a minimum 2-night stay with this promo code for rooms as low as $40 a night.
Booking Directions:
Click on the green "Use Promo" button...Locate and Click Check for promotions...Show the details of your chosen promotion...Choose your dates, and book your deal!
Offer Expires: 106 days
Promo Code: 15OFF
Use Promo
Classic Jubilee! Package at Bally's
Tickets and a Room!
Enjoy a one-night stay at Bally's Las Vegas, plus receive two tickets to Jubilee! - the classic Vegas topless revue that's entertained for more than three decades - as well as two cocktails from the Tequila Bar! Rooms available through May, 2013 - this show goes dark on Fridays.
Booking Directions:
Click the green "Use Promo" button to the right... Locate 'Room Deals' in the left hand column, click on 'Packages: View all packages', click on your desired package, choose your dates and book your deal!
Offer Expires: 105 days
Promo Code: PKGBJUB
Use Promo
Classic Relaxation at Bally's
From $135
This classic package from Bally's includes a one-night stay, one spa treatment at their on-site spa, one spa access pass and 10% off spa retail items for as little as $135 a night! Relax and unwind with the Classic Relaxation Package from Bally's!
Booking Directions:
Click the green "Use Promo" button to the right... Locate 'Room Deals' in the left hand column, click on 'Packages: View all packages', click on your desired package, choose your dates and book your deal!
Offer Expires: 318 days
Promo Code: PKGBST2
Use Promo
The Skinny
Sure, Bally's Vegas looks sort of classy, with the Sterling Brunch and shiny casino ceiling. This is your father's casino, a middle-of-the-road joint on the Las Vegas Strip. The location is great, though, the rooms are spacious and rates are good compared to its high-falutin' neighbors.
Reviews
Most Recent Reviews
Our user reviews are from real registered users.
Quick Facts
Check-in at 4pm
Check-out at 11am
Check-In Age - 21+
Pets Allowed
On-Site Restaurant
Near Restaurants
Parking
High-Speed Internet
2000+ Rooms
Near Attractions
Info
Location:
3645 Las Vegas Blvd. South
Las Vegas, Nevada 89109
View Map
Room Quality:
Big, clean, sedate rooms; the joint does not scream or holler. Bally's Vegas Hotel just goes quietly about its business of having very clean, large and better-than-average rooms. The Deluxe rooms are the updated rooms. The king-bed rooms have little sofas to pass out on. The rooms have big windows and built-in safes. If you like Hilton hotels, you'll love Bally's Las Vegas. Two-bed rooms have queens. The South Tower may give a better view of the Bellagio fountains if you can get one facing that direction. The North Tower rooms are bit nicer, though, and easier to get in and out of. The bathrooms have all you would expect, including hair dryers, and are a bit nicer than average. Also, this hotel's location at a prime intersection is hard to beat.
Service Quality:
Good. In general, the workers at Bally's Vegas Hotel and Casino seem to think Bally's is something special, which encourages everyone else to believe it too.
What You Get Bottles of in the Bathroom:
Shampoo, conditioner and lotion, and it's not generic crap. This is honest to goodness brand name stuff with pretty smells.
Clientele:
Bally's Vegas Hotel attracts people who aren't going for flash, just someplace plain but better than average. The crowd is mostly late-30s on up to about 110. There's no age segregation here. The young adults tend to go heavy on the face paint and courtin' duds, while the older folks go for casual sportswear.
How's the Pool?
It's a ginormous sort-of rectangle and is fine for swimming and sunbathing, but not for swinging vine to vine, although the landscaping is pretty nice. The pool doesn't get too crowded, and there is a nice snack bar there. One other big advantage of staying at Bally's Vegas Hotel is that the pool is deeper than 3 feet; it actually has a 12' deep end, and that is rare in Vegas. This place also has tennis courts and another really shallow pool for kids.
Resort Fee:
At Bally's Hotel and Casino Las Vegas, there is no resort fee. If you want to use Internet, well, you'll have to pay for that by the night, but at least they make it an option!
Is it Worth It?
It's a pretty standard hotel on the Strip, not too heavy on your wallet, unless you spring for all the extras.
Hotel Amenities
Air-conditioning
ATM/Banking
Ballroom(s)
Bar/Lounge
Business Center
Business Services
Car Service
Conference room(s)
Dry Cleaning
Event Catering
Express Checkout
Free Guest Parking
Multilingual Staff
Pets Accepted
Restaurants
Room Service
Sauna
Security Guard
Spa
Wedding Services
Table Games:
Blackjack, craps, roulette, Let It Ride, Pai Gow, and others. There's nothing that will surprise you, but they do have a large Asian customer base, and a wider selection of Asian table games.
Bet Minimums:
$5 at the slow times, moving up on weekends and during holidays. Craps can be as low as $5 with that 3x4x5x brand of odds that rolls off your tongue and makes a dent in your wallet.
Machines:
From a nickel on up to the "Champagne" slots at $100. Heck, if we had $100 we would be hustling three-card monte on the bridge in front of the Bellagio.
Cocktails?
Fair cocktail service. They might not bring them around often, but when they do they sure are strong.
Who Gets Comps?
$25 a hand bettors might see some buffets. You may get lucky and get comped a rooms or something along those lines if you bet more than that pretty consistently. The slot club for owner Harrah's links a lot of properties. It is nice to be able to gamble several places with a single card.
Number of TVs:
They have five big projection screens, about six large HD TVs on the wall and a handful of smaller TVs at the bar. The wall-mounts are for the horses and the others are generally for the sports.
Number of Seats:
Around 250. All seats in the front are at long desks with individual TVs.
Number of Betting Windows:
12 or 13, backed up by big electronic signboards, even for the ponies.
Free Drinks?
High-limit sports bettors and every chump with a race ticket get drinks. They seem to be strict about this, or at least they were with us.
Snack Bar?
No snack bar here. Look for some Bally's Las Vegas Coupons and buy a few extra hot dogs or sandwiches to stuff down your pants from the nearby Nathan's Deli.
Other Notes:
For you high-rollers, there is a super swank VIP room with sofas and real nice TVs. It's cavernous and a bit noisy because of the floors and high ceilings. And, obviously, you want your sports book quiet as a church. Still, it's one of the best in town. It's not near the casino, but at the back of the property behind the Avenue Shoppes, on the way to the monorail.
Number of Tables:
They have about ten tables in a fairly roomy room near registration. On weekends, you may see almost all the tables going. It's non-smoking, but it's a big deal when the casino around you is lighting up.
Comfort of Chairs:
Not too bad, actually. Our bums complained less than usual while resting on them while losing all our money at Bally's Hotel and Casino Las Vegas.
Closed Room or Open to Casino?
It's not closed, it's just an area off the floor. It's near a bar and some table games, so it can get noisy at night.
Game Spreads and Limits:
Mostly Hold 'Em at $3-$6, and no-limit at $1-$2 (occasionally $2-$5). You better know what the heck you're doing at the no-limit or the sharks will eat your shorts and shoes. Maybe your socks too. We once saw one guy eat another guy's sweatshirt.
Beginner Games or Classes:
Not here, but weekdays are quiet enough for a beginner to get some help, just be careful who you ask.
How Crowded is the Room?
This is a successful room with enough players to keep it busy 24/7. Expect waits on weekends and the occasional weeknight.
Comps?
A buck an hour plus a few Harrah's tier points, standard for the Harrah's joints.
How Good Are the Players?
Some decent players at all levels, but definitely beatable tourists at the $3-$6 and sometimes the No-limit. The good news is, the bad players keep playing until all their dough is gone.
What Else Do I Need to Know?
A rather plain room, but the action is good. This room reopened in a casino that gave up poker once already. When poker stops being popular on TV, expect this room to go away again.
Bally's Las Vegas Guest Rooms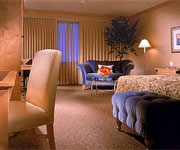 Classic Room
One king or two queen beds in rooms with more than 450 square feet. These rooms are trying to be elegantly decorated with their lavish furnishings. High-speed Internet access is available for a daily charge and cable TV and pay movies will keep you entertained when you're not parading around the casino floor or Vegas Strip. The in-room safe will house all your precious gems while you're out, but of course there's a surcharge for that as well.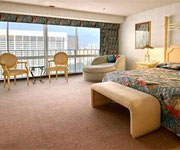 Deluxe Room (Pet or Not)
This room is full of choices! One king bed or two queen beds. Smoking or not. Iron your shirts or dry clean them downstairs! Actually, you get that option in every room. This is 450 square feet with an Art Deco decor with plush chairs and sofas. You get all the other standard features you'd expect in a hotel room, so take advantage of your wide variety of options. There is also the Deluxe - Pet Stay which is the same room, but allows pets.
User Average Review
Overall:
Service:
Cleanliness:
Location:
Room Quality:
Based on 6 reviews
Rating Distribution
100.0% recommended it
Bally's Las Vegas Reviews