Arizona Charlie's Decatur
Arrrr! We Old West bandits just love it here!
---
A Quick Look
Location: Off-Strip
Hotel Class:

Room Price:

Hotel Size:258 rooms
Casino Size:57,000 sq. ft.
Gaming:Yes
Nightlife: No
Pool:

Buffet:
---
Book now for great deals!!

Other Hotels like Arizona Charlie's Decatur
Arizona Charlie's Decatur Deal Finder
* Room Rates shown above reflect the average nightly rate for a 2 night stay with the calendar date as the check-in date, our visitors should verify actual rates, promotions and deals directly with the hotel as we make no guarantees regarding rates, but only provide them as a convenience.
Book Now
The Skinny
The locals seem to love this dim, smoky, low-roller joint because it offers a fair game, dirt cheap food and a good lounge. Few tourists visit Arizona Charlie's Decatur Las Vegas because it's pretty far off the Strip and it certainly isn't scenic. No waterfalls or volcanoes here.
Reviews
Most Recent Reviews
Our user reviews are from real registered users.
Quick Facts
Check-in at 3pm
Check-out at 11am
200+ Rooms
High-Speed Internet
Parking
Info
Location:
740 S. Decatur Boulevard
Las Vegas, Nevada 89128
View Map
Website:
https://www.arizonacharliesdecatur.com/
Room Quality:
The rooms at Arizona Charlie's Decatur Casino Hotel are small and sparsely decorated but they're always clean. For some reason, they claim their rooms are "Northwest" themed, and as far as we can tell, they must mean the fabled Super 8s of the Northwest. To be true to its theme of Yukon con man AZ Charlie, we suggest dirt floors and straw-mat beds. We have no idea why the hotel didn't go for our master plan. The "Players" guest rooms at Arizona Charlie's Decatur Hotel and Casino are marginally better than the most basic room, but don't pay a lot more for them. The mini-suites are pretty ugly, but larger, have jacuzzi tubs, sitting areas, closed-off bedrooms and more space. If you're rich but have moderate tastes, go for the swank deluxe Penthouse suites.
Service Quality:
Arizona Charlie's Decatur Casino Hotel and Suites caters to blue-collar locals and seniors, and those folks usually don't demand a lot of attention so this is not a business hotel or a place to be pampered. The staff we have dealt with are pleasant and friendly. Even to us.
What You Get Bottles of in the Bathroom:
They give you the regular shampoo and soap freebies at Arizona Charlie's Decatur Hotel and Casino. It's not much so take the money you saved by not staying at one of them high-brow Strip places and buy your own toiletries.
Clientele:
Lots and lots of seniors and blue-collar locals flock to Arizona Charlie's Decatur Las Vegas. This place is to the working man what Caesars Palace is to high-falutin' fat cats in tuxedos and fancy underwear.
How's the Pool?
Unsurprisingly the pool at Arizona Charlie's Decatur Las Vegas is pretty plain. It's very small, but not heavily used, so there might be a chair for you. They even have a jacuzzi and they'll give you towels, but not to keep.
Resort Fee:
One of the many perks of cheap rooming at Arizona Charlie's Decatur Casino Hotel is there there are absolutely no resort fees.
Is it Worth It?
Arizona Charlie's Decatur is not a hotel to stay at if you want all the glitz and glam that makes Vegas so famous, but if you're looking for cheap rooms and a fair casino, this is definitely worth the cash.
Hotel Amenities
Air-conditioning
Bar/Lounge
Free Guest Parking
Multilingual Staff
Restaurants
Table Games:
Arizona Charlie's Decatur Las Vegas has blackjack, some double deck games and other decent rules. Craps, roulette, Pai Gow. They also have bingo. Gosh, there are just so many ways to lose. Oh, they have a huge bingo hall, too, and, technically, it's played on a table.
Bet Minimums:
The craps game is $2 minimum at slow times with 5x odds. They have pretty low limits in the rest of the casino. Some $4 blackjack (yes, we double-checked, they have the only $4 games we've ever seen), $10 Pai Gow, and dollar roulette with a $4 minimum are available.
Machines:
A lot of video poker, with a a few full-pay, can be had. Plenty of old slots. Overall, a good selection for the nickel and quarter players. But for you high-rollers there is a salon with machines up to $5 a pop.
Cocktails?
Good. There's plenty of booze flowing in this joint, and maybe you can get your mouth around some of it.
Who Gets Comps?
Just about anybody. You don't have to play much before they start in with the promotions. They do a lot of goofball stuff like giving free points and point multipliers to slot club members. The A.C.E. club is how you get your comps.
Number of TVs:
34, half of which are for sports. The rest are for the ponies and dogs. There is one big projection screen in the joint.
Number of Seats:
About 75 decent, upholstered chairs. They have about thirty seats with individual TVs, but no free breakfast cereal. The seats do have individual desk lamps. Send the kiddies here to do homework.
Number of Betting Windows:
About eleven. Odds posted on white slate boards.
Free Drinks?
Yes, in fact the waitress didn't even ask to see a bet stub. Maybe she figured we would bet once we got a little juice in our gullets.
Snack Bar?
Not right in the book, but you can grab a sandwich at Subway nearby. Or, if you're a true gambler, try the Noble Roman's. In the book there are vending machines for ice cream bars and cigarettes. Everything you need to do a party right.
Other Notes:
Minimum bets are $5 for sports, $2 for races.
This is a pretty small room, but it's okay. Still, don't come out here unless you want to feel small and just okay.
Number of Tables:
Three tables, and we suspect they only have the second and third to keep the first from getting lonely.
Comfort of Chairs:
Pretty awful. They're covered in cloth, but not in great shape.
Closed Room or Open to Casino?
Open, and moderately smoky and noisy. It's right smack dab between the pizza joint and the sports book. There's enough action in the nearby sports book to be a bit of a nuisance. There is a half wall surrounding it. That at least keeps out the children and very small dogs.
Game Spreads and Limits:
Structured 4-8 Hold 'Em is the main game you can expect in this joint. They also claim to deal $1-$2 No Limit, but only at night.
Beginner Games or Classes:
You won't find any classes here but there are some lovely electronic bingo games that are perfect for beginners, if real gambling isn't really your thing, that is.
How Crowded is the Room?
They don't get a ton of business, so it's rare that you have to wait for a seat, unless only one table is running.
Comps?
Free drinks while playing. $5 discount at their restaurants after three hours.
How Good Are the Players?
These are locals who tend to play tight and the familiarity level is high. They have cheap tournaments some days.
What Else Do I Need to Know?
They got some swell cash bonuses for high hand and bad beat. Of course, you have to play both cards out of your own hand to win them. The three of a kind on the board never gets any respect.
Arizona Charlie's Decatur Guest Rooms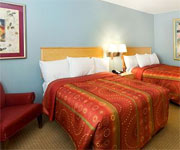 Standard Meadow Tower
Standard Meadow Tower rooms are the ones in the original Arizona Charlie's Boulder Decatur Las Vegas. You get your choice of one king bed or two queen beds and each room is about 365 square feet. Arizona Charlie's Decatur Casino Hotel offers Internet, but there's a surcharge, so if you want to check your email, find a friend with a smart phone and save a few bucks.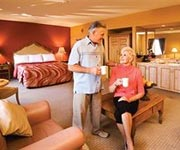 Deluxe Klondike Tower
The Klondike Tower is the new tower at Arizona Charlie's Decatur Las Vegas which means it's slightly less dingy than the rest of the hotel. Each room here has two queen beds and is a rather modest 365 square feet big. High-speed Internet access is available for a surcharge. This tower steps outside of the box and has some non-smoking rooms available, too.
User Average Review
Overall:
Service:
Cleanliness:
Location:
Room Quality:
Based on 1 review
Rating Distribution
100.0% recommended it
Arizona Charlie's Decatur Reviews