Vegas Tips; The Top Mistakes People Make in Vegas and How To Avoid Them
---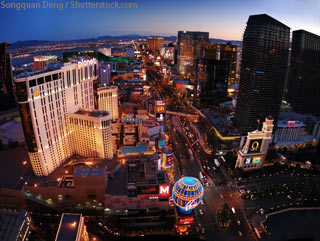 So many of us go to Vegas thinking we're a hot shot, ready to win some money and score some babes. (#pipedream) Some people just don't plan for the added fees and shenanigans of Sin City. Here are some tips for a Vegas vacation to help you avoid all the common mistakes people make in Vegas...
Not Sticking to Your Budget:
Before you go to Vegas, you save your money and give yourself a limit, right? That's what Casino Boy does, which is how he gets so much done all the time. (Gambling, drinking, etc.) Here are his three biggies: Pay for your hotel in advance, give yourself a budget, and stick to it. Granted, these Vegas tips seem easy, but sweet temptation lurks around every corner!
Not Learning the Rules of the Game:
Don't expect to make your fortune if you don't know the game. Or if you don't know it as well as the people you're playing with.
Booking It All Wrong:
Vegas is full of regret, and most of it starts before you even get there. How many people have you talked to that booked a hotel in Vegas and then said they spent all their time in a different Vegas hotel, wish they had stayed closer to certain attractions, or regret that they didn't book enough in advance to take advantage of all the discounts. And trust us - Las Vegas hotel discounts are available everywhere.
Not Staying Hydrated:
Lots of drinking, lots of dancing, and plenty of pool parties - that's how Las Vegas does. But make sure you're drinking a little water there, too. The good news is that there are usually guys with coolers offering $1 waters all over the Strip, so this one's on you, Cheapos!
Missing the Best Parts:
If you stay cooped up in the casino the entire time, can you really say that you've been to Las Vegas? Sure, other than the casinos, all of the best Vegas travel guides will point you to the much acclaimed Vegas nightlife and famous Vegas restaurants, but there are so many more things to see and do here!
So there you have it. All the mistakes that the dummies that came before you made, and possibly you yourself on previous trips, but also, Las Vegas tips for your next trip to Sin City. You don't have to live with all the regrets that so many do. (And we've been there - trust us.) Unfortunately, we will not be able to prevent the regrets of the Vegas hookups, but if you need a pat on the shoulder and a drinking buddy to wash that little memory away, Casino Boy is always available!
What are your tips for Vegas travelers that you've learned from experience? Let us know in the comment section below, but please, we don't need all of the gory details. Some things are better left learned from and forgotten.